Kentucky Softball counts four NFCA All-Region Recipients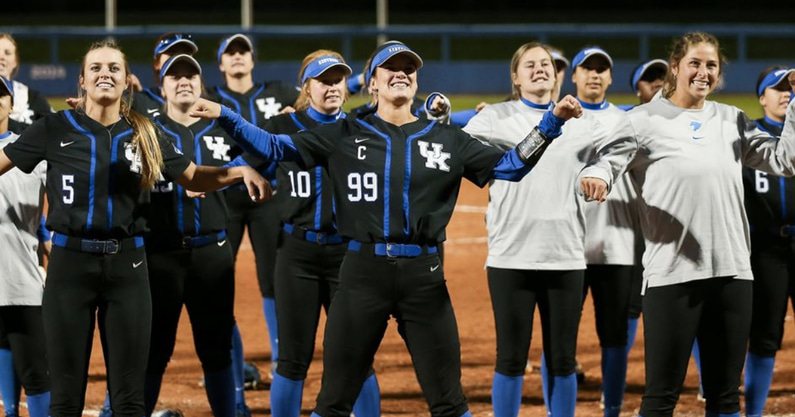 Kentucky Softball is rounding up a historic season with four athletes named to the National Fastpitch Coaches' Association's All-Region Team.
Wildcats Erin Coffel and Kayla Kowalik were both named to the First Team All-Region. They were both named First Team All-SEC earlier this season. Coffel also set the record for most RBIs in a season at Kentucky with 67 RBIs.
Outfielders Lauren Johnson and Renee Abernathy were both named Third Team All-Region. Johnson was named First Team All-SEC as well, with Abernathy named Second Team All-SEC.
This qualifies them for All-American status, to be named later this month.
Abernathy and Coffel set a program record for most home runs scored by a duo in a season at 34.
Erin Coffel, First Team All-Region
2022 First Team All-SEC
Two-time SEC Player of the Week
NFCA National Player of the Week
Hitting .412 with 17 HR and 58 RBI
Kayla Kowalik, First Team All-Region
First Team All-SEC
SEC All-Defensive Team (C)
Hitting .413 with 5 HR and 26 RBI
Nine doubles, two triples
Renee Abernathy, Third Team All-Region
CATSPY Winner for Scholar-Athlete of the Year
Second Team All-SEC
4.00 GPA in Health Human Sciences
12 multi-hit games this year
Lauren Johnson, Third Team All-Region
First Team All-SEC
.390 batting average with 8 HR's and 39 RBI
Seven three-hit games
The NFCA recognition comes after a historic season for the 'Cats.
Kentucky finished up their season after an exciting comeback win against Virginia Tech before eventually losing out in the Blacksburg Regional Final to the Hokies 5-4.
The'Cats set five records during the 2022 season, including batting average, hits, home runs, RBIs, and total bases.
The 'Cats also tied the record for runs scored at 381 for the 2022 season. Kentucky closes the season with a 38-19 overall record in head coach Rachel Lawson's 15th season in charge.