Kentucky splits Friday doubleheader; in SEC Tournament with Saturday win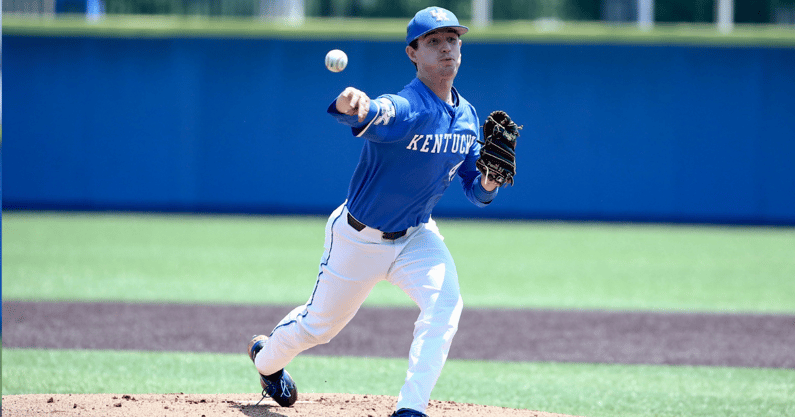 This weekend's do-or-die series against Auburn got off to a bit of a disappointing start with the cancelation of Thursday's game. However, Kentucky Baseball was able to come out and split the doubleheader against the Tigers on Friday, keeping UK in a favorable position to clinch a berth in the SEC Tournament on Saturday.
Combined gem in Game 1 leads the way
The delay and subsequent postponement of Thursday's game didn't appear to have much of an impact on Kentucky. The 'Cats played a complete game one all the way around as they inched closer to clinching a spot in the SEC tournament with a 5-1 win over Auburn.
Despite being slated to start on Thursday, Zack Lee still went out to the bump to start the doubleheader. The junior right-hander had a bit of a mixed performance in his short stint.
The bottom line is that he didn't allow a run while he was on the mound, pretty much the whole goal of pitching. He wasn't exactly mowing down the Auburn lineup though, giving up five walks and a hit in just over three innings of action.
Daniel Harper and Sean Harney combined to toss the final 5.2 innings, allowing only one run during that span.
The 'Cats went up early and often in the series opener, scoring in three of the first four innings to open up a pretty substantial lead.
"I thought we played another complete game, which we've been doing a lot lately," Head coach Nick Mingione said after the win. "We pitched, we defended at the high level and we got some timely hits."
Chase Estep tallied his team-leading 48th RBI of the year to kick off the scoring in the first inning. The Corbin, KY native ripped a double into left-center that scored Daniel Harris all the way from first base.
John Thrasher might've been the star of the game. Thrasher laid down a perfectly placed squeeze bunt in the second to score another run, only to follow that up in the fourth with an RBI double that gave Kentucky a 4-0 lead at the time.
"I thought our staff did a great job," Mingione added. "When you think about Zack Lee, he held them right there. Then we went to Harper and Harney and they did a great job."
Bad luck kills Bat 'Cats in Game 2
The fantastic thing about baseball is that you can fail 70% of the time and still be considered an all-time great. Decisions from a coach shouldn't be that lopsided, but you can't expect them to make a perfect move every time.
Tyler Bosma got the start in game two and couldn't even make it through three innings. Though he hadn't allowed a run, Bosma looked like he was laboring, allowing four hits and a couple of walks in his short outing. Seeing that, Mingione decided to yank the lefty out early in favor of Wyatt Hudepohl.
"He's had the arm thing. He threw last weekend for the first time and this time he got over 40 pitches. We just felt like, you know what? He wasn't executing as sharply and we just felt like it was time to get him out of there." Mingione said.
The sophomore didn't exactly shine, but his stat line wasn't entirely indicative of his performance. A botched double play ball that would've ended the third frame kept the inning going. Auburn took advantage of the defensive miscue, lining back-to-back RBI hits to give the Tigers the lead.
In the following frame, Thrasher lost a line drive in the sun that eventually allowed two more to score, making it a 5-1 game after four innings.
It didn't start off this bad for Kentucky in the second game. Ryan Ritter gave the 'Cats the initial lead with an absolute bomb into the bullpen in left field, his eighth home run of the season.
Ritter followed that up with a double into the left field corner a couple of innings later that scored Estep all the way from first. The star shortstop had a rough game one but finished the second with a 2-4 line
Adam Fogel launched a solo shot in the seventh to cut the lead, but that's all the 'Cats could muster in the 6-3 loss.
"One of my favorite teams I've ever coached," Mingione said about his team after Senior Day. "Just a bunch of men who handle their business and man I love being around them."
Barring some unfortunate finals from some other games going on this weekend, Kentucky will look to secure both the series and a spot in the SEC tournament on Saturday afternoon. If they beat Auburn, they're in the SEC Tournament. A loss from Missouri would also push UK through.
The 'Cats kick off their final game of the regular season at 2:00 p.m. EST on Saturday. It will be shown on the SEC Network+.