Kentucky staff visits 2024 5-star center Flory Bidunga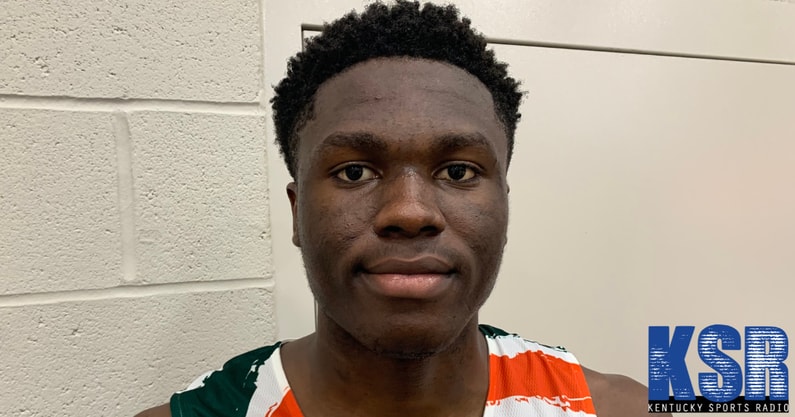 The Kentucky coaching staff will be in attendance to see the most dominant center in high school basketball this evening. Head coach John Calipari and lead assistant Orlando Antigua are making the trip to Kokomo, Indiana to watch 2024 five-star center Flory Bidunga take the floor, multiple sources tell KSR.
The 6-foot-9, 210-pound center received a scholarship offer from Kentucky back on October 11.
Purdue will also be in attendance to see Bidunga in Kokomo's matchup vs. Zionsville on Tuesday, KSR has learned.
Bidunga is rated as the No. 3 overall prospect and No. 1 center in the junior class. He is one of nine prospects in the class of 2024 holding offers from Kentucky, joining Ian Jackson, Tre Johnson, Boogie Fland, Karter Knox, Tahaad Pettiford, Airious "Ace" Bailey and Travis Perry.
The standout out of Kokomo has not yet taken a visit to Lexington, but one is in the works, a source close to Bidunga tells KSR. He previously visited Michigan, Cincinnati, Indiana and Michigan State unofficially while taking an official visit to Auburn back in November.
"We've heard from Kentucky," Kokomo head coach John Peckinpaugh told KSR over the summer. "They like what everyone likes (about him). His motor's unbelievable and he's skilled around the rim. He plays extremely hard."
Bidunga showed off that motor and skill in a breakout summer on the Adidas 3SSB 16U circuit with Indiana Elite, averaging 18.8 points, 8.9 rebounds, and 3.1 blocks per game on 76.4 percent shooting. Strong with a college-ready frame, he's a two-way force capable of taking games over in the paint on both ends of the floor.
What will the dominant center be looking for when it comes time to make a college decision down the road?
"He's learning college basketball, what level he's going to be productive at, what kind of system he needs to play in to be productive," Peckinpaugh told KSR. "So he's definitely kind of taking it slow and trying not to let it become an overwhelming process, which it can be. Just kind of figuring out league, what system, what coaching staff is going to help him get to that next level."
John Calipari, Orlando Antigua, KT Turner and Chin Coleman would like to be that staff.