Tickets for Kentucky vs. UCLA in CBS Sports Classic on sale Thursday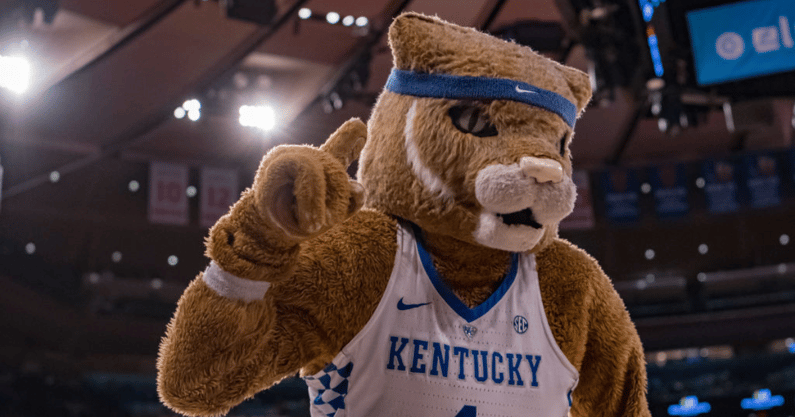 After watching Kentucky Basketball dominate in the Bahamas, it's going to be a long two and a half months until the real games begin. If you want to make plans to see the Cats in person this year — at one of the most iconic venues in all of sports — we've got an important date to pass along.
Tickets for the CBS Sports Classic, which features Ohio State vs. North Carolina and Kentucky vs. UCLA at Madison Square Garden on Dec. 17, go on sale this Thursday at Noon ET on Ticketmaster and MSG.com. If you don't want to wait that long, if you register for direct email alerts regarding ticket news and other event updates from CBSSportsClassic.com by Tuesday, you'll be eligible for an exclusive 24-hour presale beginning on Wednesday.
This is the first time that Madison Square Garden has hosted the CBS Sports Classic. This year's doubleheader tips off with Ohio State vs. North Carolina at 3 p.m. ET, followed by the Cats vs. the UCLA Bruins. If you can't make it in person, it will be broadcast live on CBS and Paramount+.
Kentucky is 4-4 in the CBS Sports Classic. The last time this set of matchups was featured in the event was 2017, when North Carolina defeated Ohio State, 86-72, and UCLA knocked off Kentucky, 83-75 in the Smoothie King Center in New Orleans. Time to finally avenge that loss, which also included me twisting my ankle stepping off a riser on the way to John Calipari's press conference.
So, Thursday, Noon ET. Set a reminder. Or, sign up for that email alert by tomorrow and get it taken care of on Wednesday.
Kentucky's 2022-23 Non-Conference Schedule
Kentucky still hasn't released the complete 2022-23 non-conference schedule. That said, we already know the highlights:
TBA: Duquesne | Rupp Arena, Lexington, KY
Nov. 15 (Tue.): Michigan State (Champions Classic) | Gainbridge Fieldhouse, Indianapolis, IN
Nov. 18 (Fri.): North Florida | Rupp Arena, Lexington, KY
Nov. 20 (Sun.): Gonzaga | McCarthey Athletic Center, Spokane, WA
Nov. 29 (Tue.): Bellarmine | Rupp Arena, Lexington, KY
Dec. 4 (Sun.): Michigan (Basketball Hall of Fame London Showcase) | The O2 Arena, London, England
Dec. 17 (Sat.): UCLA (CBS Sports Classic) | Madison Square Garden, New York, NY
Dec. 31 (Sat.): Louisville | Rupp Arena, Lexington, KY
Jan. 28 (Sat.): Kansas (Big 12/SEC Challenge) | Rupp Arena, Lexington, KY