Kentucky's unexpected lack of energy led to disappointing South Carolina loss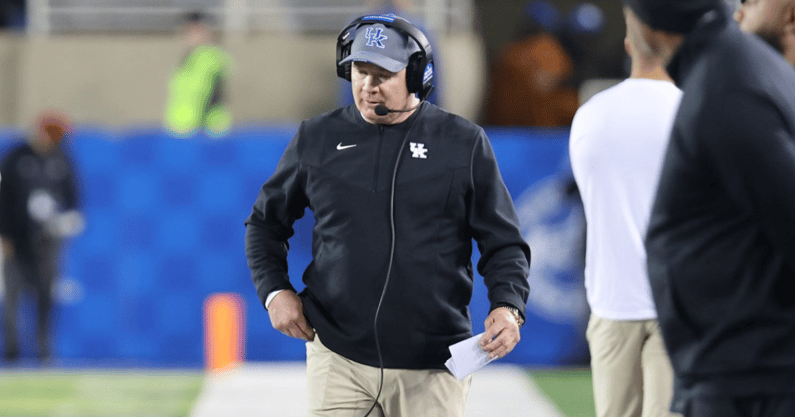 Coming into Saturday night, Kentucky football had won seven of its previous eight games against South Carolina. Since 2014, Mark Stoops has had the Gamecocks' number. No matter how much preseason hype — deserved or not — was showered over South Carolina, the Wildcats would almost always come away with the win.
Perhaps that's why the team was so unenthusiastic on Saturday. Did UK just expect to win? They've owned the series in recent history and are the more talented team of the two. But Kentucky came out and played arguably its flattest game ever under Stoops. UK fell 24-14 at home to an unranked South Carolina squad that entered the game with a 3-2 record. It was nothing like the Stoops-led teams the Big Blue Nation has known to respect over the last decade.
"Our energy was down. We've just got to bring the energy all game. That's it, it's all energy. Nobody had no juice to them," Kentucky linebacker JJ Weaver said following the loss. "Just tell them to keep ya'll head. Next play, next play after next play. They're gonna get good shots, they're gonna run the ball hard — it's the SEC. Just gotta bring the energy.
"Nobody had no energy on the sideline, and everybody was laid back and stuff like that. I don't like that."
The opening play of the game surely didn't help the energy levels, either. Without starting QB Will Levis, backup Kaiya Sheron was thrust into a nearly impossible situation. Kentucky tried to get cute on the first play of the night, but it was botched, and it resulted in a fumble that was recovered by South Carolina. The Gamecocks would then score on its first play.
Kentucky, without its NFL quarterback, was already down 7-0 not even 15 seconds into the game. The night could have been called then and there. The Wildcats responded, but never fully rallied. A blocked punt and missed field goal that boinked off the upright were the icings on the cake. UK scored just 14 points, its lowest total of the season, and registered under 300 total yards for just the second time this year.
"I just don't think we sustained that intensity," Stoops said postgame. "And we got to find ways to win like we've found ways to win over the years. And we didn't do that tonight."
The entire Kentucky football team — from the players to the staff — understandably took exception to being called "soft" earlier in the season. But a program that typically never runs out of chips on its shoulder played borderline scared against an average-at-best South Carolina team. The product on the field Saturday night was not up to Stoops's standards, and he would agree.