Kentucky uses trip to Bahamas to prove it has a chance to be special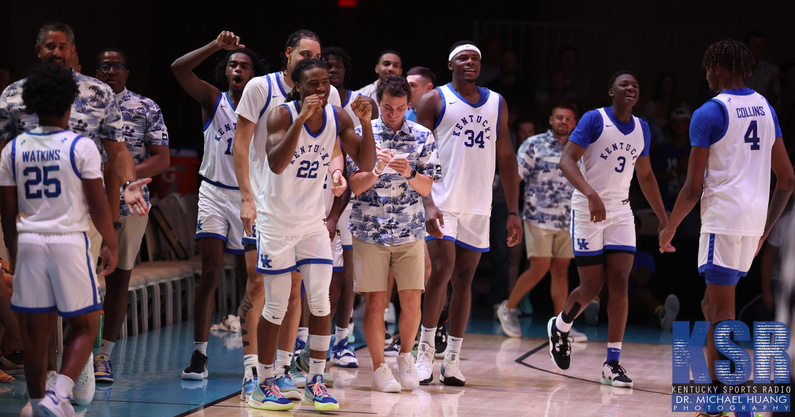 "You're going to have to go in and fight like hell and have fun playing and competing at a high level. I'm anxious to see it. I don't know what will happen, but I think people will say, 'Wow, this team has a chance.'"
It's the first message John Calipari had for his team when the Wildcats arrived in the Bahamas for their four-game exhibition tour. Players were huddled together on the sectional sofa and surrounding cozy seats in the Kentucky head coach's palatial suite, wide-eyed with open ears hearing their first official pregame meeting of the season.
A bit on the opponent — "You're going to be playing older guys" and "They're professionals," Calipari said — but more so the big picture. With all eyes in the college basketball world watching closely, he wanted his players to show they could play for each other, play hard, play with speed and have fun.
"If you do the right stuff, you'll be fine," he said.
Four wins in five days
Four tests of varying levels of difficulty, each passed with flying colors. It started with a 52-point win against the Dominican Republic National Select Team, a team with Division I college and foreign professional talent. Not a star-studded roster, but one with size — seven players 6-5 or taller, six at least 200 pounds — and experience. Calipari compared it to a mid-major squad, a level of talent Kentucky will face early in the regular season three short months from now.
And the Wildcats ran them off the floor, with six players scoring in double figures and the team shooting 56.8% from the field, 42.3% from three and 92.9% from the line.
"I couldn't see the score, I didn't know it was 50 until we turned on the TV here (in the hotel)," Calipari told the team during a private postgame film session. "I'm like, '50? How in the hell did we do that?' Brennan (Canada) is jacking up threes! That was against a mid-major team, and you should beat mid-major teams like that."
The opposition was overwhelmed with Kentucky's — well, everything, really. Skill, shooting, length, depth, athleticism, all of it. Individuals on the DR National Select Team told Calipari after the game they "did not expect" such a dominant effort in the Wildcats' first unofficial game together as a unit. And that's not even accounting for five-star freshman center Ugonna Kingsley Onyenso, who is set to arrive on campus in the coming days.
"They were all stunned in what happened that game," Calipari told the team during the film review. "They thought we would beat them, but they didn't think it would be that. … They're like, 'Holy shit.'"
The UK head coach started with the bad during the postgame film session — the first thing players saw when they walked into the hotel room was a bright blue, bold graphic on the television that simply read "BAD DEFENSE."
As one would expect in a 52-point blowout victory, the segment wasn't long. The one highlighting poor offense was even shorter.
When it came time for the good, Calipari practically drooled to the floor. Again, this wasn't some put-together squad for a Saturday morning hooping session at the local YMCA — that was closer to Kentucky's second opponent — it was a solid group of pro talent. The eye test was backed up by the numbers and analytics, then the film spoke for itself.
"We're going to block shots — we had 11 blocks. We had 28 assists and five turnovers," he said. "We can say what we want to say, that's like playing a mid-major team. That wasn't like a high school JV team, that was a mid-major team. 28 assists, five turnovers — woo-hoo. It's August 10, are you shitting me?"
If Kentucky could do that, and do it now, how would the team look in November when regular season play begins? And in the short term, what were the Wildcats going to do to the three poor souls left on their four-game schedule in paradise?
"We're worried about us."
The focus quickly shifted in the team meeting led by Calipari. Rather than stressing over individual matchups or opposing players, it became about "us"
"All we're worried about — forget about the opponent — we're worried about us," he said. "As a team, we're playing to be our best. We're not worried about these other teams. What are we doing defensively? How can we get better?"
Game two, a name-your-score matchup against Tec de Monterrey, a team featuring just one player taller than 6-5. Kentucky wins 102-40, a 62-point demolition in which the opponent shot just 25.8% from the field, 26.9% from three and 16.7% from the line while also being outrebounded 65-22.
Game three, a battle against Canadian powerhouse Carleton University, a giant killer known for battling against — and even beating — high-majors. With 16 national championships over the last 19 years and previous exhibition victories over Syracuse and Wisconsin, it was the best matchup on paper when the tour was originally announced.
Thing is, the Ravens were banged up and behind defensively. Carleton's head coach Taffe Charles joked with KSR that Kentucky may win by 70 following an underwhelming shootaround the day before. After seeing the Wildcats' speed, athleticism and length on full display in their first two games, he didn't like his team's chances.
UK won by 62.
The Wildcats finally found themselves in a battle to close out the event. The Bahamas Select National Team featured starters that were 22, 30, 32, 35 and 36 years old, all bringing professional experience to the table — hell, a grown man with a grey beard came off the bench. Kentucky found itself down by as many as eight points in the first half and led by just one at the break, looking like a team that had been in the hot sun all week and was playing on tired legs. The Wildcats needed a 3-point explosion from Antonio Reeves to break things open after intermission.
Early battle or not, UK still rolled to a 24-point win, giving the team an average margin of victory of 50 points across the four-game stretch.
"It's about being dialed in," Jacob Toppin told KSR. "When you're up by 50, you tend to let go of the rope and become silly — that's (the term) coach uses. We try to stay away from that, stay locked in and worry about what we need to work on as a team. I think we did that."
Further along than anticipated
Calipari hoped his players would make a statement in the Bahamas, proving they had a "chance" to be special. It was the very first message he shared with the team the night before game one.
After four exhibition matchups in paradise, the Wildcats believe they did just that.
"I think we're doing great," senior guard CJ Fredrick told KSR. "For it to be August, as smooth as we're playing right now, I'm a little surprised. I didn't think we'd look this good right away. For August, with young guys, new pieces coming together, we look pretty solid right now."
"A chance to be a special team? Yeah," senior guard Antonio Reeves added. "These games, we're trying to show how good we are. I'm very confident in that. I see it in practice every day how good of a team we can be. Now it's about falling back on our training and showing out on the floor."
"I came to have fun and see how my team is going to look," senior center Oscar Tshiebwe said. "I'm very impressed with what I've seen from my team. The teams we're playing, they're professional, older guys. I'm loving it. I can't wait to see more."
"Scored 100 points three games in a row. We're sharing the ball," senior guard Sahvir Wheeler added. "It's good basketball no matter how you look at it, how you shape it, how you form it."
Building early chemistry
How were things able to come together so quickly for this team, who has only been together since June? It's a group of like-minded individuals with common goals.
"It starts with having personalities that fit," Wheeler told KSR. "Sometimes you don't have personalities that fit or mesh together, but we're a group of guys all about having fun, all about each other who are selfless naturally. Because of that, stuff like this can happen early and it's great to see."
The Wildcats have had two months to get to know each other and build early chemistry, but nothing compares to the quality time they were able to spend together in the Bahamas. It started with waterslides and pool time, along with a team welcome dinner on night one. From there, a team boat ride out on the ocean on day two. After back-to-back days of games, the Wildcats then came together for a youth camp and community service event with Samaritan's Feet. There, the team washed the feet of local underprivileged children and handed out new shoes to each participant.
"Samaritan's Feet, it's a big deal," Calipari said in a private team meeting.
After that, a team lunch and trivia. Then more waterpark, pool and boat time, whatever the players wanted to do on their day off.
And that's not even counting late-night time in the casino and walking around the resort before curfew.
"They really like each other, and I've coached teams that didn't get along with each other," assistant coach KT Turner said. "On and off the court, they hang with each other and have fun. It's a really, really fun team to be around."
"This is what it's all about, the camaraderie," assistant coach Chin Coleman said. "We've got guys going fishing, we've got guys going to the waterpark, we've got guys making sand castles. That's how you win basketball games. The game is won before it's even played. If you win your locker room and your guys are connected — we talk about connectivity, it's won off the court. … It's so invaluable to our season. This is the stuff that wins basketball games."
The players agree.
"Honestly, this team really got close a week or two before we got to the Bahamas. At first, it was a little iffy, but now, I get the same feeling as last year's team with how close we are," junior forward Lance Ware told KSR. "We're always together, we're always doing stuff together. The Bahamas definitely helped us a whole bunch, just hanging around at the beach, at the waterpark, doing our thing. Just to be able to be around them in this environment, having fun. That's what Chin is talking about, winning the locker room."
"Just continuing to build that team camaraderie on and off the floor, it's going to help us through adverse times," Wheeler added.
Business taken care of while also having fun
It was a business trip for basketball reasons, but a vacation in paradise for team bonding reasons.
"I thought it was an unbelievable trip," associate head coach Orlando Antigua said to close out the event. "For the team bonding aspect of it, from the competitive side of it. Just, the practices, allowing us the practices, doing the things we were able to do. We were able to see some different lineups and try some different schemes. It was a very positive week."
The off-court fun and bonding bled onto the basketball floor, with the Wildcats "having a ball laughing, smiling at each other" during the games, Calipari said. The focus was on growing together as a unit and worrying about "us." Mission accomplished.
"Every game we play this year, if we have more fun than the other team — because they're going to want to beat you. They're going to spend a week wanting to beat you," Calipari said. "No, we're thinking about us. You all should be playing against yourselves — yourself. You play against you, you know what you can do."
More to prove
Wins of 52, 62, 62 and 24 points across four games. Absolute domination from start to finish, excluding a sloppy first half on the final day where the team had its bags packed, scheduled to leave for the airport an hour after the final buzzer. Everything the team hoped it would get during its trip to paradise, it got.
And yes, optimism is high around the program. The Wildcats undoubtedly took care of business in their first four exhibition games together as a team. There's no denying that.
"The team's ceiling is — man, everyone can go get 20 and 10," Reeves told KSR. "There's not just one person on the team that can do that. We have a lot of good players who can do a lot of good things out there and it's showing. … I don't think anything can go wrong really, man. I believe that if we come together as a team, nothing can go wrong."
"Honestly I think we have a chance to be really, really good this year," Turner said.
That doesn't mean the work stops here. National titles aren't won in August. As impressive as Kentucky was over the course of one week in the Bahamas, there are still three months to go before regular season play begins. Then four months from there before postseason play opens up.
The Wildcats have title dreams, and there's a long road ahead before they hit that point.
"I still feel like we have more to improve on, more things to learn," freshman guard Cason Wallace told KSR. "It's still early, so we haven't gotten anywhere near what we're going to be mid-season or by the end of the season."
"It's still early, it's preseason, so you don't want to be too arrogant with how we did," freshman forward Chris Livingston added. "We played well, but there are still a lot of things we need to improve on. But the team has crazy potential, we're really deep and I'm really excited to be a part of it, honestly.
"We're looking for No. 9 and that's the end goal, for sure."