Kentucky volleyball enters 2022 season ranked No. 11 in the country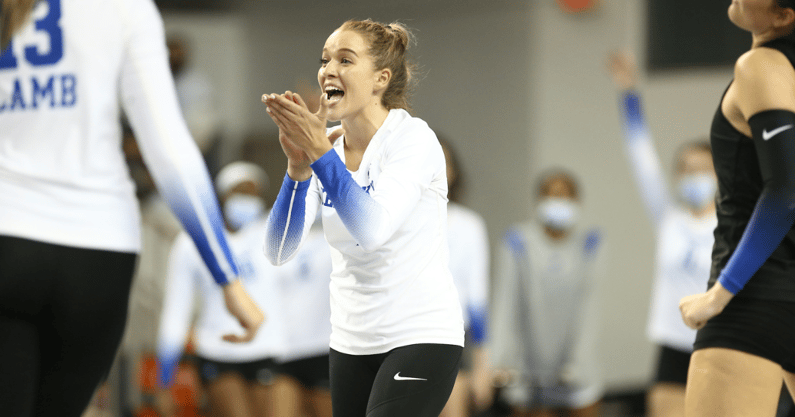 Head coach Craig Skinner is about to embark on another season with high expectations for his Kentucky volleyball program.
On Monday afternoon, it was announced by the American Volleyball Coaches Association (AVCA) that the Wildcats will enter the 2022 season ranked No. 11 in the country. Kentucky is the top-ranked school from the Southeastern Conference and is scheduled to face off against six different programs ranked among the top 25, including three of the top four overall.
Kentucky's loaded schedule consists of matchups against No. 1 Nebraska, No. 3 Wisconsin, No. 4 Louisville, No. 15 Florida, No. 18 Creighton, and No. 24 Southern California. Contests against Nebraska (ESPNU), Wisconsin, and Louisville (ESPNU) will all be played in Lexington at Memorial Coliseum and are available for sale through a three-game package. In total, the 'Cats will appear on various ESPN channels eight different times this year.
Earlier this summer, the SEC head coaches voted Kentucky as the favorite to win the conference. UK also placed a league-best four players on the All-SEC Preseason Team. 2021 SEC Libero of the Year Eleanor Beavin, SEC Freshman of the Year Emma Grome, All-American Azhani Tealer, and Reagan Rutherford all made the prestigious list.
The college volleyball season will officially begin on Friday, August 26. Kentucky will play Marquette at 7:00 p.m. EST in Memorial Coliseum. You can check out the Wildcats' full 2022 schedule through the link here. Season tickets can be purchased at the UK Ticket Office or by clicking this link.
AVCA Preseason Top 25
Nebraska (Sept. 18, Lexington)
Texas
Wisconsin (Sept. 9, Lexington)
Louisville (Sept. 14, Lexington)
Minnesota
Pitt
Ohio State
Washington
Georgia Tech
BYU
Kentucky
UCLA
Purdue
Stanford
Florida (Nov. 19 & 20, Gainesville)
Baylor
Illinois
Creighton (Sept. 3, Omaha)
Oregon
Penn State
Western Kentucky
Utah
Kansas
Southern Cal (Sept. 3, Omaha)
San Diego