Kentucky Volleyball scheduled for 8 matches on ESPN networks this season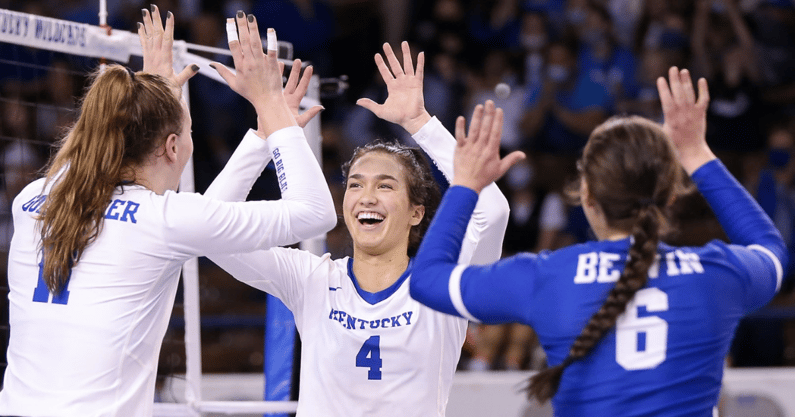 Head coach Craig Skinner's squad plans to enter the upcoming season as a nationally ranked program, and you'll have plenty of opportunities to watch them live.
On Friday, the Southeastern Conference and ESPN announced the national TV schedule for the 2022 upcoming season. Kentucky Volleyball is scheduled to play in eight games across the ESPN family of networks, including two major matchups against Nebraska and Louisville, both of which are considered top five preseason teams.
According to the NCAA's preseason Power 10 rankings from August 1, Kentucky is considered the No. 10 overall team in the country heading into the new year. Earlier this summer, the SEC head coaches voted Kentucky as the favorite to win the conference. UK also placed a league-best four players on the All-SEC Preseason Team. 2021 SEC Libero of the Year Eleanor Beavin, SEC Freshman of the Year Emma Grome, All-American Azhani Tealer, and Reagan Rutherford all made the prestigious list.
The college volleyball season will officially begin on Friday, August 26. Kentucky will play Marquette at 7:00 p.m. EST in Memorial Coliseum. You can check out the Wildcats' full 2022 schedule through the link here.
Below is more information on the school's national TV schedule, courtesy of UK Athletics.
---
All SEC matches and non-televised home matches will be shown live on the SEC Network+, ESPN+ and the ESPN app.
UK's slate of matches on linear TV begins with an out-of-conference showdown against the Ohio Bobcats at 4 p.m. ET on the SEC Network the second weekend of the season on August 28.
ESPNU will carry two of UK's featured non-conference matches as the Wildcats host Louisville on Sept. 14 at 8 p.m. ET and Nebraska on Sept. 18 at 3 p.m. ET.
SEC opening weekend will see UK play LSU in Memorial Coliseum and the second of the series, Sept. 25, will be televised live on the SEC Network.
Kentucky will be featured twice in the month of October on TV with its Oct. 12 match vs. Ole Miss airing at 8 p.m. ET on SECN and a 3 p.m. ET first serve against Texas A&M on ESPNU Oct. 23.
November will see the Wildcats play SEC co-runners up Florida and Mississippi State on TV. UK plays at Miss. St. on SEC Network at 9 p.m. ET on Nov. 11 before the penultimate series of the year at Florida's second match will air at 2 p.m. ET on SEC Network, Nov. 20.
2022 Kentucky Volleyball Television Schedule
Aug. 28 – vs. Ohio (4pm ET, SEC Network)
Sept. 14 – vs. Louisville (8pm ET, ESPNU)
Sept. 18 – vs. Nebraska (3pm ET, ESPNU)
Sept. 25 – vs. LSU (Noon ET, SEC Network)
Oct. 12 – vs. Ole Miss (8pm ET, SEC Network)
Oct. 23 – at Texas A&M (3pm ET, ESPNU)
Nov. 11 – at Mississippi State (9pm ET, SEC Network)
Nov. 20 – at Florida (2pm ET, SEC Network)