Kentucky Volleyball opens SEC Play with 3-0 sweep over Missouri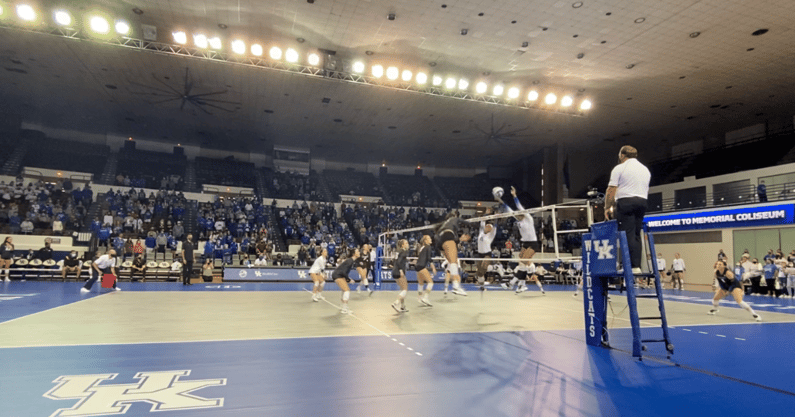 It certainly wasn't their best performance, but No. 7 Kentucky Volleyball came out and swept the Missouri Tigers 3-0 to open SEC play on Friday night.
Behind another impressive performance by Azhani Tealer and big plays by seniors Lauren Tharp and Alli Stumler, the 'Cats took care of business to advance to 8-3 on the season and 1-0 in league play. Here's how it went down:
First Set
Kentucky team came out flat, if we're being blunt. They were minus-6 at the service stripe in the opening set, hit well below .200 and allowed the Tigers to grab a commanding 19-11 lead.
When Craig Skinner noted Thursday that his team just wasn't prepared in games vs. Louisville and Creighton, well, this game seemed to be headed that direction early on.
However, this year's Kentucky Volleyball team did what it routinely has when their backs are against the wall: respond! Following a service ace from Mizzou star Anna Dixon, UK setter Emma Grome found Elise Goetzinger for consecutive kills to recapture some momentum.
A few plays later, a block by Goetzinger trimmed the Tiger lead to just three at 21-18. From there, Kentucky used a quadruplet of kills by Alli Stumler and Azhani Tealer to cut it to 24-23, with another Goetzinger kill which evened the game at 24-24.
The teams traded a point each to reach 25-25 and two more kills from Elise Goetzinger gave Kentucky the first set, 27-25. Memorial Coliseum was rocking:
Second Set
As has often been the case, Kentucky followed up a first-set victory with a hot start to the second. UK got up 5-1 before that lead was quickly snapped back down to 6-5.
But Kentucky found their stride again in the middle of the set. A pair of kills each from Tealer and Madi Skinner broke open a six-point 16-10 lead. 'Cats looked like they were cruising.
Missouri's Anna Dixon stepped to the service stripe a few plays later and helped rattle off a 6-0 run to tie the game at 18 apiece. There went the momentum of the last set and a half. Missouri even took the lead late, 21-20, on a serve-receive error from Kentucky. Something they struggled with all night.
Kentucky regained the lead with Lauren Tharp at the stripe, then finished off the set with a kill by Alli Stumler that was reviewed for quite a long time but eventually upheld. 'Cats take a 2-0 advantage.
Third Set
Following the exact script of the second set, Kentucky stormed out to a 5-1 lead. An likewise lost the lead later on in the game. Service errors bit Kentucky in the tail again as the Tigers climbed right back into the third set.
UK retained the lead at 11-9 but allowed a self-inflicted 6-0 run. The run went…block error, attack error, serve-reception error, attack error, serve-reception error, and kill for the Tigers.
You can probably guess what the 'Cats did after falling down 15-11. That's right, they slowly but surely erased the Mizzou lead. After playing even ball for the next few points, Kentucky took their stand with the Tigers up 19-15.
With Lauren Tharp at the stripe yet again, the 'Cats pounced with a 7-0 run. The final five points of the run: two kills from Stumler, an ace from Tharp and two kills from Tealer.
Stumler added another after Missouri sided out, and Tealer, Grome and Madi Skinner combined on a pair of blocks to cap off a 3-0 sweep to open SEC play. (You can check out the rollicking match-point block down below).
Stats & Recap
After a rocky start offensively, Kentucky once again eclipsed that magical .300% hitting percentage mark that Craig Skinner aims for. They finished at .306 while holding Missouri .165 (and Anna Dixon to .086 individually). That's a stellar two-phase performance offensively and defensively against one of the better SEC teams.
Where they lacked was in the third phase: serving. Kentucky recorded 12 service errors over three sets (BIG yikes) to Missouri'sfive5. They also allowed nine aces to the Tigers and served just four of their own. Overall, that's a minus-12 point differential just in the service categories. Against stiffer competition, that's a knife in the back.
Craig Skinner commented, "We didn't serve and pass the way we normally do. The most important part of the game is serving and passing." But Skinner noted they compensated in other areas. "We got some blocks late, we had 32 transition kills and they only had 12 or 14."
Given that his team overcame late leads in all three sets, Skinner also noted, "We made the game-changing plays at the right time later in the sets. It's reassuring to know that when we need something, we can make a play."
This group may not be polished or very experienced yet, but there's no doubt that this group has playmakers that can alter the results of sets and entire matches. Tonight, those players were Alli Stumler, Azhani Tealer and Lauren Tharp.
Tealer led the way for Kentucky on the attack for the second straight match. She recorded 14 kills and hit a blistering .571%. Stumler finished with a 10-kill, 10-dig double-double as she continues to grow as an all-around star.
Freshmen Eleanor Beavin and Emma Grome had big performances as well. Beavin lead the team with 16 kills. While Grome recorded 41 assists and absolutely roofed Missouri on a couple blocks in the second and third sets.
Overall, another remarkable night of fun at Memorial Coliseum as the 'Cats began SEC play with an encouraging 3-0 victory. They'll be back in action Wednesday on the road against Ole Miss. You can watch that one on everyone's favorite channel: SECNetwork+.