Kentucky Volleyball rounding into shape as SEC play begins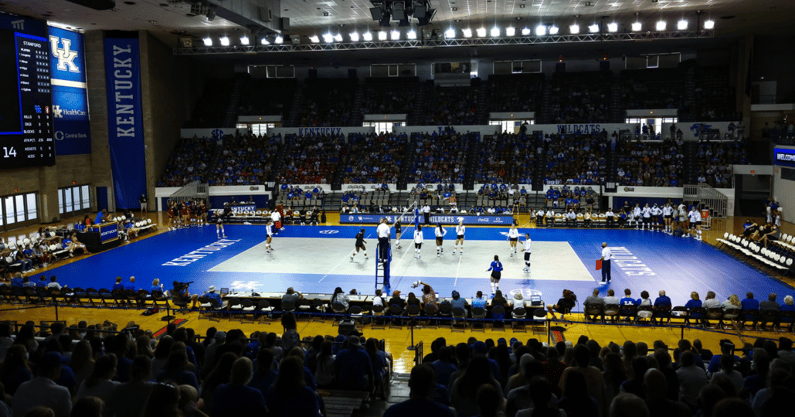 Kentucky Volleyball coach Craig Skinner met with the media on Thursday to preview Friday's home match vs. Missouri (7 p.m. on SECNetwork+) and the transition from non-conference play to the SEC slate.
Check out some of Skinner's comments below, where he touched on the start of the SEC season, the loss vs. Louisville and the win over Stanford, as well as which players he's been impressed with through the first 10 games of the season.
The Start of SEC Play
Kentucky Volleyball finished the non-conference slate 7-3 against one of the toughest schedules in the country. They collected impressive wins over no. 14 Stanford and Marquette — who sits as the 26th highest vote-getter in last week's poll — and fell to two top-five teams (Wisconsin & Louisville) as well as no. 16 Creighton. (You can read about those matches with a click of the link.)
All in all, a bumpy but encouraging first 10 games ahead of non-league play.
Head coach Craig Skinner had this to say ahead of the shift in the season: "Things are starting to slow down. We're starting to make clearer decisions, and that takes a long time to work out, especially when you have some of the younger players we do."
The youth and lack of experienced depth have been a major point of emphasis throughout the first month or so of the season for Kentucky Volleyball, and it sounds like Skinner's group of freshmen is starting to settle in.
A tale of two fifth sets
Last week, Kentucky split its matches vs. no. 5 Louisville and no. 16 Stanford. In the mid-week road game vs. the Cards, Kentucky battled hard like they did vs. Wisconsin but ultimately came up short–and in gut-wrenching fashion. Louisville shut Kentucky down with an 8-0 run to end a roller-coaster road match for the 'Cats in their first five-set match of the season.
On Sunday, though, UK returned home and battled Stanford in a thrilling five-set victory in front of more than 3500 fans at Memorial Coliseum.
Aside from the obvious contrast of having thousands of fans screaming for you vs. against you, Skinner thought the difference in the endings of the two matches was in the preparation leading up.
Leading up to the Louisville match, Skinner said, "We did not practice well. It was not a good two days. We weren't executing the way we normally do and the energy wasn't where it needed to be." He also added, "I take responsibility for us not being ready against Louisville."
But ahead of their game against Stanford: "We had great practices. There was a lot more energy, a lot more rhythm to our practices."
As is common in sports, a team's preparation often predicts its play. Sounds like that was the difference in Kentucky Volleyball's two matches this week.
Invidual Player Improvements
A 10-game non-conference slate littered with ranked matchups was a great opportunity for Craig Skinner to learn about his team and allow his players to develop against the best of the best. When asked which player had improved the most, Skinner did what coaches typically do and named about half-a-dozen girls who've taken individual leaps.
Let's run through his comments on some of the Kentucky players he's been impressed with so far:
Madi Skinner: "She's eager to learn. Wants to be really good at everything. As she goes through each match, she starts to add layers of belief and confidence." The sophomore hitter has taken on a larger role, playing all six rotations in the last three matches for the first time in her career. "We're equally impressed with her defense."
Alli Stumler: "She is doing things that she hasn't done before, even though she wishes she was playing better."
Azhani Tealer: "Offensively, had her best match of the year," vs. Stanford, even though he noted earlier that "our blocking has to be better." She's been incredibly efficient as an attacking blocker after being near the top of the NCAA in hitting percentage last year.
Eleanor Beavin: "Probably most impressed with her composure. Libero may be the hardest position to play as a freshman. It's so much harder to serve-receive in college than it is in high school. Decision-making is so fast, the ball is hit so much harder."
He also mentioned briefly that Lauren Tharp and Emma Grome have improved since the beginning of the season as well.