Kentucky Volleyball: Takeaways from Opening Weekend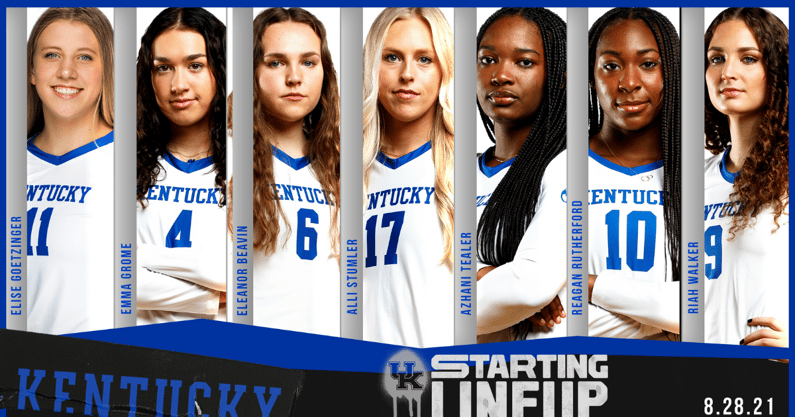 The Kentucky Volleyball team began their title defense with perfection. In their three games at the multi-team event, the Dayton Invitational, the 'Cats swept all of Texas State, Dayton and Cincinnati three sets to zero.
Craig Skinner's club returns to Lexington with a 3-0 record and A TON of positive momentum. Here were some of the highlights of the weekend:
Defense Wins Championships?
Craig Skinner said at media day about his team's back row: "That position group is probably the best we've ever had here."
They do lose Gabby Curry — a four-year starter and third-team All-American. However, her replacements may be even better.
Lauren Tharp was expected to take over the libero role after serving as the no. 2 defensive specialist in 2020. She has every ability to be just as good as Curry, and she perhaps is.
But, sophomore Riah Walker has taken a leap that is scary impressive. She showcased enough talent in the preseason to unseat the senior Tharp. And after three games, she looks the part of a Libero of the Year candidate. I can't emphasize enough: she is extraordinarily talented.
There's also Eleanor Beavin, a freshman back row specialist whose talent already demands playing time.
The rotation of back row players has experience and youth but is defined by their immense talent. Balls will not hit the floor very often with these girls rotating through the back.
With a small step back expected in their attack, their defense may be the powering force on the 2021 Kentucky Volleyball team.
Replacing Madison Lilley
I'm out of superlatives and compliments to write about Madison Lilley. If you've followed my Kentucky Volleyball coverage, you've heard me compare her to Anthony Davis dozens of times. I've told you that she is arguably the greatest and most accomplished female athlete in the history of this school.
That said, Emma Grome is an exciting replacement. Unfortunately, most of this weekend's action was not available to watch, but she is already putting up Madison Lilley assist numbers. As a passer, she has the gift.
She's also an extraordinary physical athlete with great balance and tracking instincts. Grome will need to develop in other aspects to eventually reach the prestige of a Lilley, but purely as a setter, she already looks seasoned.
Figuring out the hitting rotation
The Kentucky Volleyball attack is going to take a step back with Madison Lilley and Avery Skinner gone. Now, they will still be elite, just not quite as great as last year's unit and less experienced.
Alli Stumler didn't have her most efficient weekend, but the two-time All-American senior is one of the best and most proven hitters in the country. She's a known quantity.
As is Madi Skinner. She's the most talented hitter behind Stumler and is in line to follow up her terrific freshman campaign.
After her, there are a lot of young pieces competing for spots.
Reagan Rutherford appears to have stepped into a major role as a sophomore. The lefty finished fourth on the team in kills this past weekend behind Stumler, Skinner and Azhani Tealer — a middle blocker who may be Kentucky's deadliest attacker as well.
Fellow 6-5 sophomores Sophie Fischer and Elise Goetzinger are battling for rotation spots. Goetzinger is listed as a middle blocker like Tealer, but also provides hitting ability. Goetzinger especially looked impressive in Dayton. She was fifth on the team in kills, recording just one less than Rutherford.
So, as it stands: Stumler, Skinner and Rutherford are the headliners at hitter for the Kentucky Volleyball team. Tealer and Goetzinger are the middle blockers of choice so far and both girls are above average attackers at the position.
That leaves Fischer and freshman Erin Lamb as the odd ones out in the rotation. When given somewhat limited playing time this weekend, both showed flashes.
Lamb likely occupies a deeper bench role in her first year. But Fischer has looked impressive and improved from last season at every opportunity I've gotten to see her.
She would play a prominent role at nearly every other school, but at Kentucky, she's a bench piece trying to crack the rotation.
This Kentucky team isn't quite as loaded or experienced as last year's unit. But hey, that was the best team in the history of the program. This year's group is young, still incredibly talented and fully capable of another deep postseason run.
Hop on the bandwagon.