Kentucky Volleyball wins 3-2 thriller over no. 16 Stanford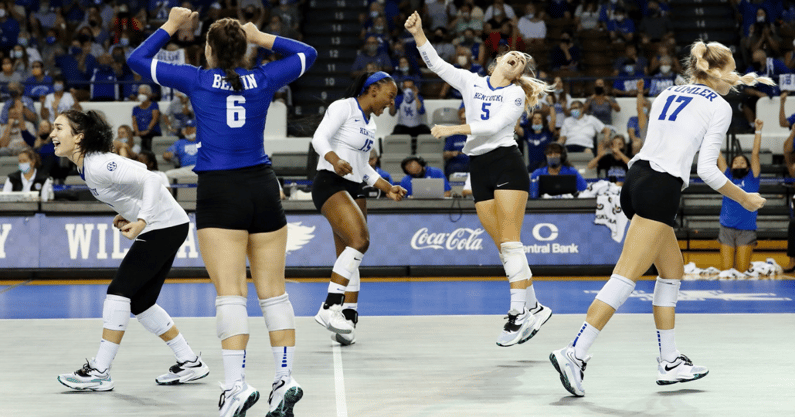 Whew. What a game by the Kentucky Volleyball Team to come out and beat no. 16 Stanford on Sunday afternoon. After losing to no. 5 Louisville in a five-set marathon on Wednesday, Craig Skinner's club responded with a tough victory in another five-set.
Here's how it went down:
First Set
Kentucky came out flat in the first set. They looked nervous, were out-of-system and showed their youth. But that isn't new. Stanford quickly got on top 14-6 as the 'Cats looked disorganized against another talented and more experienced team.
Stanford held the lead at eight through their first 20 points. But a 4-0 run from Kentucky made things dicey at 20-16. Ultimately, they fell 25-20 in the opening set but once again UK showed some fight after getting punched in the mouth.
Second Set
Kentucky came out much crisper in the second set as both teams played neck-and-neck volleyball through their first 14 points. An Azhani Tealer kill broke the final tie of the set to make it 15-14, and then she and Reagan Rutherford combined for a block to take the momentum.
Madi Skinner extended the lead to three with a kill a few plays later. And another kill from her put the Cardinal in danger at 22-18. Kentucky held off Stanford from there, winning the second set 25-20.
Third Set
Kentucky held the lead throughout the first half of the third set, but Stanford was right there. Stanford used a four-point run to gain a two-point lead right before the media timeout. They kept the advantage at 18-16 but the 'Cats dominated from then on.
Kentucky reeled off five straight points to take a commanding 21-18 lead late. Stanford got a point back, but consecutive kills by Tealer, Rutherford and Alli Stumler helped slam the door on a terrific comeback win in the third set. And Memorial Coliseum was rocking. Kentucky Volleyball was on top 2-1.
Fourth Set
Kentucky's start to the fourth was the best of any set. UK got off to a 3-0 run and quickly doubled that lead to 10-4. Then the Kentucky Volleyball team got a little lax. Stanford had sliced the lead to just four by the media timeout and tied it up at 15 in short fashion.
After leading 15-11, UK allowed a 9-1 run to the Cardinal as all of the momentum of the prior two sets vanished. It felt like the Louisville game all over again. Stanford kept their lead and finished off the 'Cats in the fourth, 25-22.
Fifth Set
Kentucky played their worst volleyball in the second half of the last set. And Stanford parlayed a 4-0 run into a quick 6-4 lead to start the fifth. UK was giving off losing vibes. But this team did what they've consistently done when their backs are pushed against the wall–responded!
Kills by Skinner and Stumler helped even the score at 7-7. A service ace by Eleanor Beavin gave UK a 10-8 lead a few moments later and the 'Cats could sniff victory.
Two more kills by Stumler gave Kentucky a 12-9 lead. Stanford got a point back to make it 12-10. Then, three straight kills from Madi Skinner sent Stanford packing. Kentucky Volleyball wins the fifth set 15-10, and the match, 3-2.
Stats & Recap
What a response from UK. They'd lost all three of their ranked matches prior to Sunday's win, and had just been beaten by their rival in a 3-2 thriller on the road. Today's game seemed to be heading down the same direction, but UK's stars at the net — Madi Skinner, Azhani Tealer and Alli Stumler — pulled Kentucky across the finish line against a Stanford program that won back-to-back NCAA Championships before the 'Cats swiped the crown.
Statistically, Skinner led the way with 24 kills. Tealer added 18 and Stumler finished with just 10 — but all 10 seemed to come in HUGE moments for Kentucky.
Stumler and Skinner were also Kentucky's two most reliable back row players, as both played all six rotations. Stumler led the team with 15 digs and Skinner was right behind her with 14. These girls were the reason Kentucky pulled this win off.
As a team, the 'Cats hit .304, a little below their normal mark, and Stanford was a shade higher at .306, a little high for typical UK opponents.
This game was as fun as it was ugly at times, but at the end of the day, Kentucky moves on to 7-3 on the season with their first win over a ranked opponent. They've played four ranked teams so far and a Marquette team that was 26th in Coaches Poll.
Considering the absurd schedule these girls have already faced and the youth they've tried to bring along, 7-3 is nothing to smirk at. Great win today and a lot to love about this team heading into the SEC slate, where they'll get a chance to play some lesser opponents and iron out the kinks before the NCAA Tournament.
They'll be back in action next Friday at 8 p.m. at home vs. Missouri. See you there!