Kentucky vs. Michigan: Numbers You Need to Know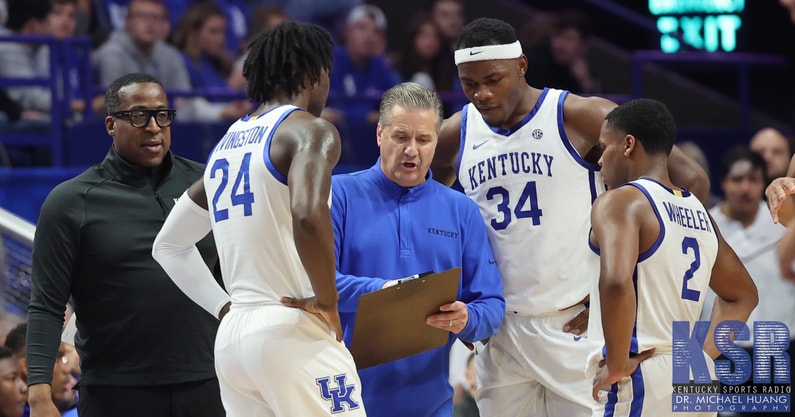 Kentucky is playing on foreign soil, taking on Michigan at London's O2 Arena. Jay Bilas and Karl Ravech will be on the call for ABC when the action tips-off Sunday at 1 pm EST. Before it all begins, enjoy all of the facts, figures and numbers you need to know about the matchup.
5 — Wildcats are averaging at least 10 points per game: Antonio Reeves (14.9), Oscar Tshiebwe(14.4), Jacob Toppin (12.7), Cason Wallace (10.6) and C.J. Fredrick (10.3).
6 — Times Kentucky has played on foreign soil in the regular season. John Calipari has won all four of his games outside of the United States. Kentucky's only loss was in the San Juan Shootout in 1998-99.
7.6 — Assists per game by Sahvir Wheeler. It's the most in the SEC and ranks No. 6 nationally.
8 — Votes for Michigan in the latest AP Poll, making them the 32nd ranked team in the country. The Cats are ranked No. 19.
19.1 — Points per game by Hunter Dickinson leads the Wolverines. It's the third straight season he's been Michigan's top scorer. The 7-foot-1 center is also leading the team in rebounds per game (9.1) and blocked shots (16).
31 — Oscar Tshiebwe double-doubles in 39 games at Kentucky.
34.2 — Percent defensive rebounding rate for Oscar is the best in the country by a full percentage point. He's also leading the country in offensive rebounding rate by a wide mile. Oscar Tshiebwe is in a league of his own.
50 — Three-point shooting percentage for Michigan's Joey Baker. The Duke transfer is 10-of-20 this year.
78 — Percent chance that Kentucky will win, according to KenPom. The advanced numbers predict a 78-69 victory over Michigan. The Wildcats ranked No. 6 in KenPom (16th on offense, 4th on defense), while Michigan is 48th overall.
85.4 — Percent chance Kentucky will win, according to ESPN's BPI.
Numbers You Need to Know