No. 17 Kentucky soccer defeats rival Louisville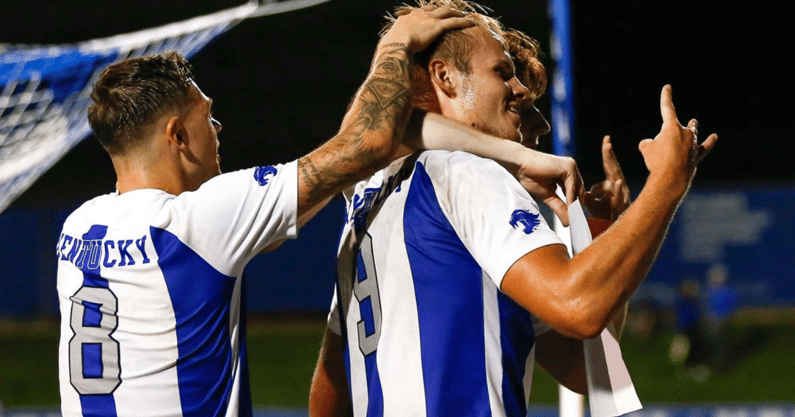 Kentucky getting a win over Louisville is always a good way to get the week started.
On Tuesday evening, Johan Cedergren's 10th Kentucky squad went on the road and took care of Louisville by a count of 3-1 in the non-conference match. Some opportunistic goal scoring combined with a stingy defense led the Wildcats to the victory.
After falling behind 1-0 in the 5th minute, the Wildcats were able to strike shortly after. Louisville (Ky.) Collegiate School product Cameron Wheeler found the back of the net to score his first goal as a Wildcat. Wheeler is a grad transfer who previously played for UofL.
Later in the first half, Louisville put the ball in their own net as a defender for the Cards had a header go awry to give Kentucky a 2-1 just two minutes before the end of the first half. This does not seem like a good idea.
In the second half, Kentucky's defense owned the game until the 81st minute when forward Eythor Bjorgolfsson scored an unassisted goal to put the final nail in the coffin.
Kentucky men's soccer is now 3-0-1 on the season and just recorded their first win at Dr. Mark & Cindy Lynn Stadium since 2012. Before this match, the home team had won every game in this series dating back to 2014. After tying No. 25 Coastal Carolina to begin the season, Cedergren's squad has won three consecutive games by a combined score of 7-1. Tonight was the first time all season that Kentucky's defense has allowed a goal.
On Sunday, Kentucky will return to Wendell & Vickie Bell Soccer Complex to host Duquesne at 7:30 p.m. ET. The game can be streamed on ESPN+.
The Wildcats begin conference play later this month, but it seems clear that this team could make some noise in the NCAA Tournament. Plus, it's always fun beating Louisville.