Kentucky women's basketball announces 2022-23 schedule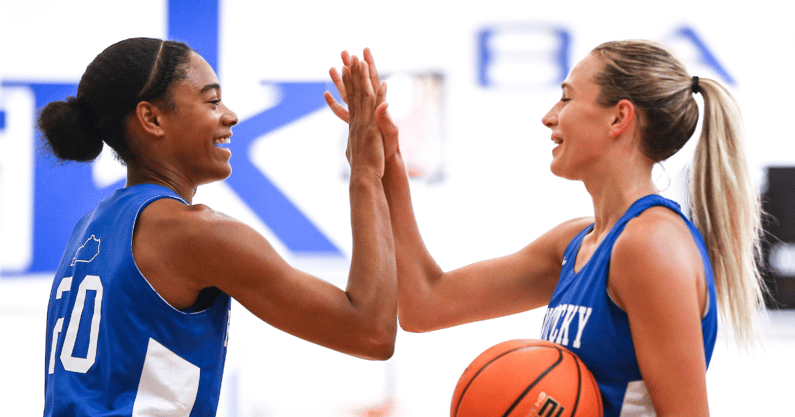 The 2022-23 Kentucky women's basketball schedule has arrived.
The Wildcats will open head coach Kyra Elzy's third-year campaign with one exhibition game in the preseason against Pikeville on Nov. 2 before hosting 15 games at Memorial Coliseum and two at Rupp Arena this season, one of them being an in-state matchup against Louisville. Two games will be in the Bahamas as part of the Baha Mar Hoops Pink Flamingo Championship with the remaining nine games coming on the road. The 2023 SEC Women's Basketball Tournament is set to run from March 1 through March 5 at the Bon Secours Wellness Arena in Greenville, S.C.
UK announced the news on Thursday afternoon.
Some of the scheduling highlights include a road game against Minnesota in December — which could be the first-ever win for UK against the Golden Gophers — along with a home-and-home against the likely preseason No. 1 South Carolina. Kentucky will play both Louisville (Dec. 11) and LSU (Jan. 8) at Rupp Arena. The season finale will come against the Tennessee Lady Volunteers — a likely top 25 preseason team — in Memorial Coliseum.
Below is the entire 2022-23 Kentucky women's basketball schedule. Home games are listed in bold.
Nov. 2 vs. Pikeville | 7:00 PM [EXHIBITION]
Nov. 7 vs. Radford | TBA
Nov. 11 vs. Morehead State | 6:00 PM
Nov. 13 vs. Coastal Carolina | 1:00 PM
Nov. 17 vs. Bellarmine | TBA
Nov. 21 vs.* Virginia Tech | 12:00 PM (Baha Mar Hoops Pink Flamingo Championship)
Nov. 23 vs.* Dayton | 4:30 PM (Baha Mar Hoops Pink Flamingo Championship)
Dec. 4 vs. UNC Greensboro | TBA
Dec. 7 @ Minnesota | TBA
Dec. 11 vs. Louisville | TBA (@ Rupp Arena)
Dec. 16 vs. Murray State | 6:00 PM
Dec. 18 vs. Florida Gulf Coast | 1:00 PM
Dec. 21 vs. Ohio | TBA
Dec. 29 @ Missouri | TBA
Jan. 1 vs. Arkansas | TBA
Jan. 5 @ Georgia | TBA
Jan. 8 vs. LSU | TBA (@ Rupp Arena)
Jan. 12 vs. South Carolina | TBA
Jan. 15 @ Florida | TBA
Jan. 22 @ Mississippi State | TBA
Jan. 26 vs. Auburn | TBA
Jan. 29 vs. Missouri | TBA
Feb. 2 @ South Carolina | TBA
Feb. 9 vs. Alabama | TBA
Feb. 13 @ Ole Miss | TBA
Feb. 16 vs. Georgia | TBA
Feb. 19 @ Vanderbilt | TBA
Feb. 23 @ Texas A&M | TBA
Feb. 26 vs. Tennessee | TBA