Kentucky's offense utilized the tight ends in win over Akron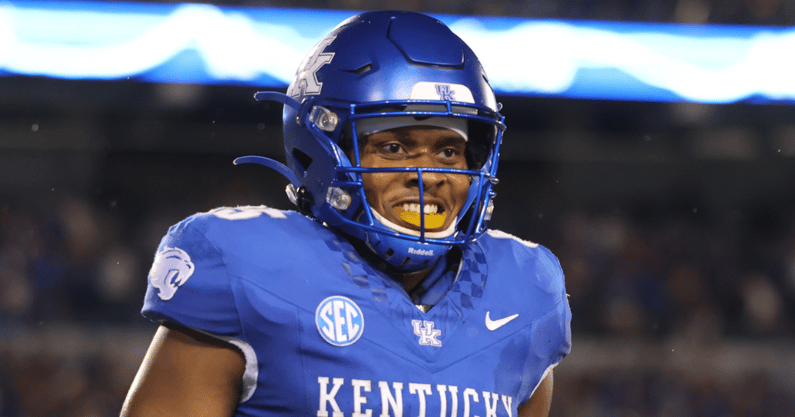 During Kentucky's first two games of the season — wins over Ball State and Eastern Kentucky — the Wildcats rarely involved the tight ends in the passing game. Fifth-year senior Brenden Bates caught a 30-yard pass against Ball State in Week 1 before redshirt sophomore Jordan Dingle hauled in a 16-yard reception in Week 2. It had been a disappointing showing from a position room that is loaded with talent, including a couple of guys who could be playing football on Sundays one day.
That trend shifted dramatically during Saturday's 35-3 win over Akron.
In the 32-point victory, Kentucky tight ends caught a total of six passes for 113 yards and a touchdown. Although the touches were spread between just two players, it was the fact that offensive coordinator Liam Coen dialed up so many plays for the tight ends that should induce some optimism about Kentucky's still-learning passing game, even if they weren't the first option.
Dingle paved the way with four catches for 89 yards while true sophomore Josh Kattus caught two balls for 24 yards and a touchdown. It was Kattus' six-yard catch and dive into the end zone that capped off an impressive opening drive from the 'Cats.
"It honestly felt super good," Dingle said postgame about the tight ends being more involved. "I know the talent we have in that room and it's always great when more guys can show what they can do, and I'm excited to show what we can do in the future. Just trying to be patient and understand that we have a lot of playmakers, so we have to be patient with our time, and you know we love to block."
It wasn't all pretty from the tight ends though. Dingle may have shined at moments, but he also cost Kentucky six points early in the second quarter. He caught a beautiful one-handed pass from quarterback Devin Leary, but instead of going straight down, the Bowling Green product decided to charge ahead for a few more yards. It resulted in the Akron defense ripping the ball out as he went inside the redzone. A 59-yard catch for Kentucky turned into a touchback for the Zips.
"I told (Dingle) it was one heck of a catch," Head coach Mark Stoops said postgame. "We just got to be smart when you are dragging guys, you have to tuck it. I couldn't tell whether he had the opportunity after a one-handed catch to tuck it and put it away. Certainly, as you are spinning, I don't like to see our guys with their backs to defenders, getting hit, stripped."
"I think I got a little too hungry and should have just went down," Dingle added. "But so glad and blessed that the team still believed in me and gave me another opportunity to keep going."
That next opportunity came quickly too. Leary didn't seem to hold the fumble against Dingle. On the very next offensive possession for Kentucky, Leary delivered a 25-yard strike on 2nd and 18 that helped kickstart a 10-play, 70-yard touchdown drive for the 'Cats.
"It was basically the same play; it just had a different formation," Dingle said of the catch. "(Leary) trusted me to do it again, building my confidence right back up, showing me that they trust in me to make the play again and I did and I was able to hold onto the ball that time."
More involvement from the tight ends is certainly a positive development for the Kentucky offense, especially considering the early struggles for sophomore wide receivers Barion Brown and, in particular, Dane Key. It wasn't exactly a point of emphasis for the offense coming into the game either — that's just how the plays unfolded.
"Kinda just the flow of the game honestly," Leary said of getting more involvement from the tight ends. "Those guys, that whole room is very talented, we know that we need to use those guys to the best of their ability, that's gonna help our offense. It was great to see Jordan Dingle catch the ball, great to see Josh Kattus out there, Izayah Cummings, even Brenden Bates doing some good things for us out there. All those guys, each and every week, they're ready whenever their number is called and it was good to see them make plays today."
Kentucky's tight ends have been known to do more blocking than catching over the last several years. And while they're still doing what they've always done in the former category (Dingle has a 72.7 pass block rating this season by PFF), it's the latter area that could take the Wildcats' offense to a new level.
Discuss This Article
Comments have moved.
Join the conversation and talk about this article and all things Kentucky Sports in the new KSR Message Board.
KSBoard