Keshad Johnson trending toward Arizona ahead of announcement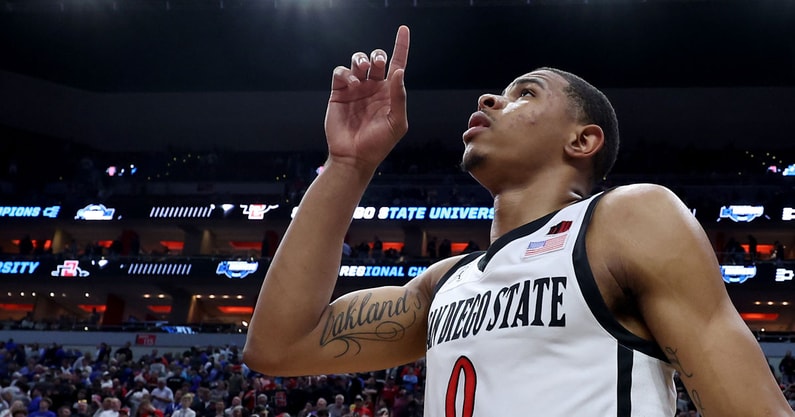 A commitment announcement is coming for San Diego State transfer Keshad Johnson, one that is expected to favor the Wildcats — just not the Kentucky Wildcats.
Coming off a visit to Lexington, the 6-foot-7 wing graduated from SDSU on Sunday before turning to the decision process regarding the second and final stop of his college basketball career. Kentucky joined Arizona — his second-to-last visit — as the clear 1A and 1B options, with Johnson prioritizing winning first and foremost.
"I would say the main thing with him is he's a winner. The connection between coaches and teammates is really important," Johnson's longtime coach and mentor, Don Manning-Fuimaono, told KSR. "Also from a developmental standpoint, he wants to go somewhere he's going to get better. But he wants to win, that's the most important thing for him. He wants to get back to a Final Four, get back to a national championship."
Kentucky has the blue-blood appeal, recruiting Johnson to be a two-way threat alongside the team's top-ranked recruiting class, a complementary plug-and-play veteran piece. Then there's Arizona, another high-profile program pitching a starring role for a contender, a featured standout and go-to weapon. And it's also closer to home on the West Coast for the Oakland, CA native — that doesn't hurt.
Both anticipated finalists have their respective pros and cons. After spending the week thinking things over, though, Arizona has emerged as the likely landing spot for Johnson, multiple sources tell KSR. And that's the ongoing expectation on Kentucky's side leading up to Saturday's announcement, one made alongside friends and family at his graduation party in Oakland.
Arizona sits as the new favorite in the On3 Recruiting Prediction Machine, while three Crystal Ball picks have come in favor of Arizona over at 247Sports, headlined by national recruiting expert Travis Branham — who boasts an all-time hit rate of 93.58%.
Kentucky is expected to pivot in the transfer portal, waiting for a new wave of options to emerge at the conclusion of the NBA Draft Combine, specifically among graduate transfers. The Wildcats are also waiting for final decisions from Chris Livingston and Oscar Tshiebwe, who are currently testing the draft waters.