KOB: King Rex, Coach Strick & Coach O Show Up...Hicks Has Slow Game...Zeke Sits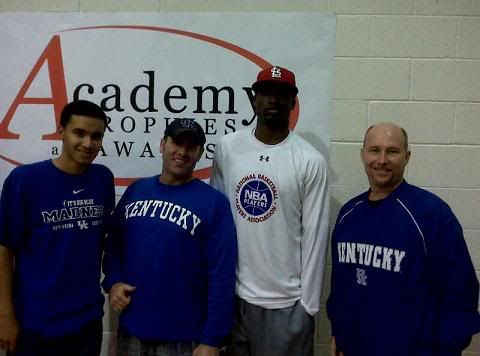 The above picture is of UK fan's Alan Smith, Tim Laubenthal and Chris with UK signee Stacey Poole. Laubenthal said in an email that Poole was "very nice and polite" and that he and his family were excited to see Cat fans at their recent tournament at the Hawk Kreul Classic in Fort Lauderdale, FL. Moments like these are great for UK fans and are usually only possible before the players enter the rather sheltered world of the NCAA. It's one of the reasons why UK fans should really try to get out and see these guys and also represent the University. On top of getting an up-close and, as the picture shows, often personal look at future UK players,
showing support for our future Cats
during AAU and high school tournaments, probably in front of other UK targets, really
shows the great fan backing that our Cats enjoy and goes a long long way in terms of recruiting
. So if you get the chance to go out and see these guys, make sure you do so. The fans are one of UK's greatest possessions and showcasing that to the youngsters around the nation is one of the most effective ways you can help your school. On a similar note, those of you that showed up for the King of the Bluegrass games last night received about all that a UK fan could ask for from a high school basketball tournament.
Coaches, former players and future stars were all there for your viewing pleasure
. Here's a rundown of last night's KOB action and what's coming next:
- After Josh Sewell's Trinity team knocked off Trae Golden's McEachern team, Sewell was awarded with the game's MVP, which was presented by none other than the King himself, Rex Chapman. For those that don't know, his son is playing in the tournament with Chaparral HS. Rex received a big round of applause from a very pro-UK crowd.
- Rex's son, Zeke Chapman, showed up in street clothes again for the second straight night. Zeke will have to try again on Monday when his Chaparral team takes on Lee at 6:00pm in Fairdale's East gym.
- UK assistant's Rod Strickland and Orlando Antigua showed up for the 9:00pm game featuring Darryl Hicks and Shelby County against the Eastern Eagles. Although he was able to score 27 points earlier in the week, Hicks didn't ever seem to get going in this matchup and probably could have afforded to receive quite a few more quality touches. He finished with 4 points but, regardless of the point total, it is easy to see that Hicks has all the tools to be a major star in the future (we're talking major on the national level). Even though you can't tell by looking at his frame, Hicks is a freshman with some freshman tendencies. I'd love to see him go get the ball, clear it out and just take over a game. That'll come with time, and when it does, he'll have the ability to score at will. I'm telling you...get out and see this kid. He may end up being one of the best the state has produced in awhile. Hicks received an offer from Indiana earlier in the week, his first college offer, and I'd bet he ends up seeing the same from UK before his high school career is over. After losing to Eastern, Hicks' Shelby County team will be playing for 5th place, Monday at 4:30 in Fairdale's west gym.
- With Zeke sitting and Hicks not having his usual performance, the highlight videos will have to wait until Monday. I'll be stopping by Fairdale once again and hopefully I'll get some great shots for you guys then.
As a recap, here's the
games UK fans should stop by and see on Monday in Fairdale
:
Shelby County vs Knott County Central  4:30 pm West Gym
Chaparral vs Lee  6:00 pm East Gym