KSR Film Room: Anthony Brown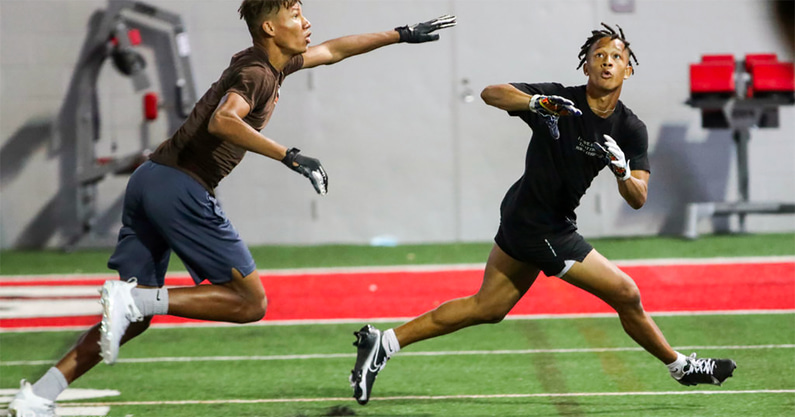 Vince Marrow secured another significant recruiting win in the Buckeye State. Saturday afternoon Kentucky beat out the likes of Oklahoma, Michigan, Cincinnati and Penn State to secure a commitment from Anthony Brown. The Springfield (Oh.) pass-catcher is the second four-star wide receiver to join Kentucky's 2023 recruiting class.
Tasked to resurrect Kentucky's stale offense last offseason, Liam Coen acted quickly on the recruiting front. The Wildcats put an emphasis on speed, signing a couple of track stars in the 2022 recruiting class — Barion Brown, Jordan Anthony and Brandon White. Just because Coen is gone, does not mean Kentucky is abandoning this philosophy when seeking out pass-catchers.
You don't have to sift through Anthony Brown's highlights with a fine-tooth comb to see how the receiver puts his wheels to good use. There are plenty of instances where he simply blows by opponents. This play articulates how he incorporates exceptional route-running into the equation to bust a big play, using a hard jab step to force the cornerback to hesitate just long enough for Brown to break free.
That speed can be put to good use for more than just vertical routes. Projected to play in the slot at Kentucky, the Cats do not rely heavily on tunnel screens, but when effective, they're an efficient way to move the ball. Brown only needed a little momentum on this bubble to be slingshot out of a cannon down the field.
Anthony Brown has plenty of speed, but not a lot of size. Listed anywhere from 5'8.5″ to 5-foot-10, some might say he's a little light in the britches. Even though he does not have the mass or length to get open, he uses his feet and speed to create separation from defenders, then slips away to gain yards after the catch.
There's another way Anthony Brown fits Rich Scangarello's scheme. Kentucky will run a ton of outside zone. The rusher gets horizontal first to stretch out the defense, before planting and running vertically. Brown shows a little bit of that by running various forms of the jet sweep.
After missing out on Karmello English, Kentucky has secured a much-needed commitment from a solid slot receiver with playmaking abilities.