KSR Football Glossary: Vol. 7
All Defenses Are Multiple and Bunch Formations
Mark Stoops and DJ Eliot have frequently spoken of individual players with diverse skill sets. Add that factor to a limited number of game-ready defensive linemen with a youthful linebacker corps and you have the makings of a true Multiple Defense. The term Multiple can be misconstrued. Throughout the Southeastern Conference defenses are designated by front seven structure but commonly adjust due to down-distance and gameplan. Please remember that defensive nomenclature is derived by the number of defensive lineman with the first number and linebackers by the second. The 3-4 for example features 3 DL and 4 LB's.
However; in functionality and actuality all SEC teams execute multiple fronts and coverages. Kentucky is a base 3-4 team. Why do we commonly see four defenders aligned on the line-of-scrimmage? Let's take a look:
3-4 VARIATIONS
Again, no college football team is good or talented enough to line up in the same front/coverage for 70 plays and win. Calculated guesses based of film work and tendencies are all a part of the football chess match. It's also important to note that both the offense and defense call plays. 3-4 variations are numerous; here are two basic alterations:
3-4 Eagle Front
[caption id="" align="alignnone" width="615"]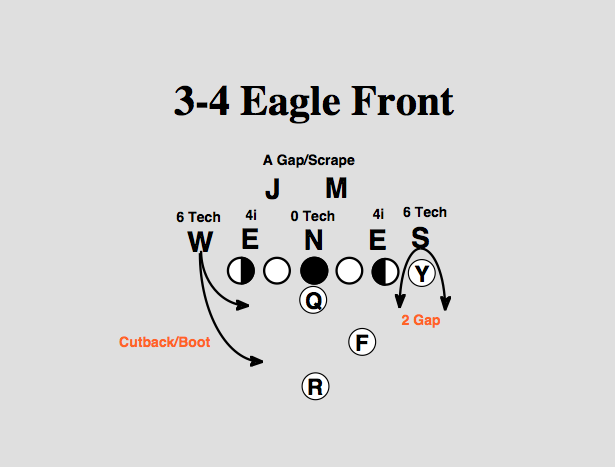 PHOTO BY MATT BOWEN | BLEACHER REPORT
[/caption]
By the eye ball test this front looks and feels like the old-school 5-2 defense. Well, it is; but with diverse players aligned at the defensive end positions. Diverse defined in context to above picture refers to outside linebackers that are walked up to the line-of-scrimmage. Consistent with projected UK starting defensive lineup, from the above diagram the "W" would be OLB Josh Allen and the "S" Denzil Ware. These players have different responsibilities from a traditional 3-4 while offering opposing offenses a disparate look which in turn forces offensive linemen to alter calls and blocking schemes. The more OL talking, pointing, and hesitation you see the better. The 3-4 Eagle front is commonly used as a run-stop method but can also utilized against the pass. 
3-4 Okie Front
[caption id="" align="alignnone" width="614"]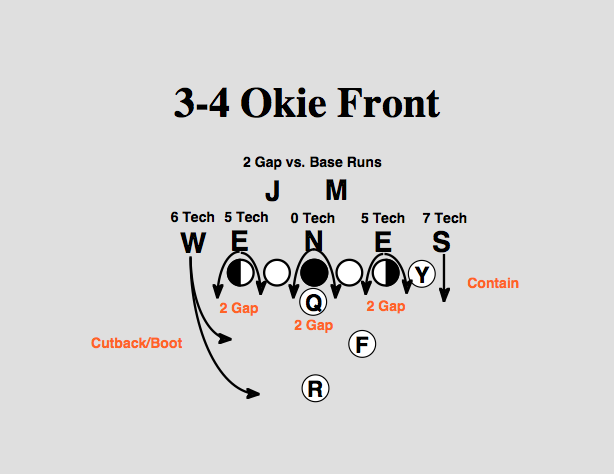 PHOTO BY MATT BOWEN | BLEACHER REPORT
[/caption]
The 3-4 Okie front is another example of multiplicity within a 3-4 scheme. Much like the Eagle look, Okie can be used in both run and pass situations however it's most effective during certain passing downs. In the traditional 3-4, outside linebackers must be able to rush the quarterback. Here you see both are directed to rush up-field. Most likely behind this front lies man-to-man coverage in blitzing situations. Kentucky can benefit from this scheme due to its height and skill level at cornerback.
As you can see, defenses are labeled for personnel and schematic purposes. However, there are many different ways to alter basic fronts/coverages to achieve unique looks to confuse offenses as well as force offensive coordinators to use practice time for preparation. Twists and stunts are executed which adds yet another level of difficulty in both of these fronts.
Mark Stoops has stated that he needs 8-9 defensive linemen to be game ready at all times. Based off simple mathematics the 3-4 is most manageable because at a minimum defensive coordinators must have a capable two-deep rotation. A 3-4 requires six DL in its first and second team. A base 4-3 front would require 8. Due to attrition there is just not enough of the big fellas to go around.
BUNCH FORMATIONS
At times you may see receivers line up behind each other or in a Bunch Formation. Let me simplify; imagine the traditional Trips formation and simply transfer personnel from horizontal to vertical pre-snap alignment. Why would this matter? Well, just like multiplicity in defensive fronts and coverages, stacking or bunching receivers gives the offense a different look for the same route end-state. Bunched or stacked receivers forces natural picks to opposing defensive backs. Starting in a vertical straight line also presents an optical illusion in terms of route depth perception. Eddie Gran has been known to utilize this formation.
[caption id="" align="alignnone" width="1913"]
FishDuck.com
[/caption]
From Alabama to Kentucky, all defenses are multiple. Bunch formation is simply trips in a vertical line. Football is a complicated game; hope this helps.