KSR Monday Huddle: Stage is set for Kentucky football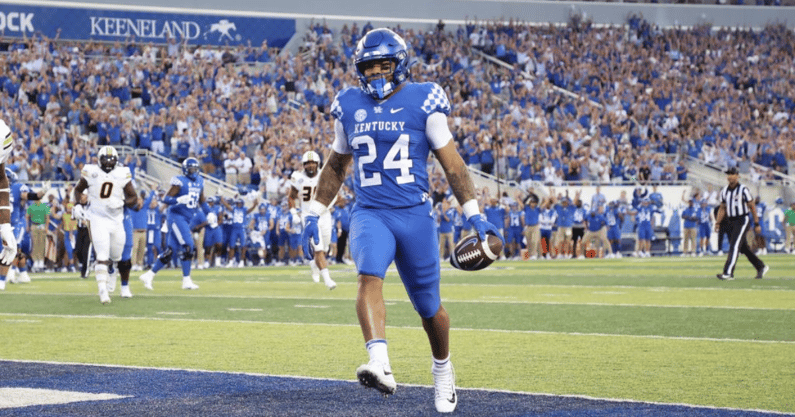 The Kentucky football program entered the 2021 season with sky-high expectations. However, most of those hinged on the Wildcats beating Missouri to begin SEC play.
That box has been checked.
Kentucky now sits at 2-0 and has a chance to head into October with some big dreams. But first, the Wildcats must take care of their FCS opponent on Saturday afternoon before hitting the road for their first true road game in two seasons.
First Down: Offense passes another test
Through eight quarters of football, Kentucky ranks 12th in yards per play offense (7.91), 26th in scoring offense (40.0), 5th in yards per pass (11.7), and 20th in yards per rush (5.65).
Liam Coen has passed every test to this point.
Against their first SEC defense of the season, Kentucky produced an explosive play rate of 21.43 percent while Chris Rodriguez Jr. rushed for over 200 yards. The Wildcats currently look like one of the best offenses in college football.
After throwing the ball all over the yard against ULM, Kentucky adjusted and pounded the rock for 352 non-sack rushing yards against Missouri. Meanwhile, Will Levis was able to make some big throws and runs to extend drives.
Dropped passes and fumbles have been an issue through two games, but those are two areas that can be cleaned up. Coen has shown some real coaching chops as an SEC offensive coordinator and that should get people excited.
Now Kentucky just needs to continue to grow. Let's see this positive offensive momentum roll on against Chattanooga.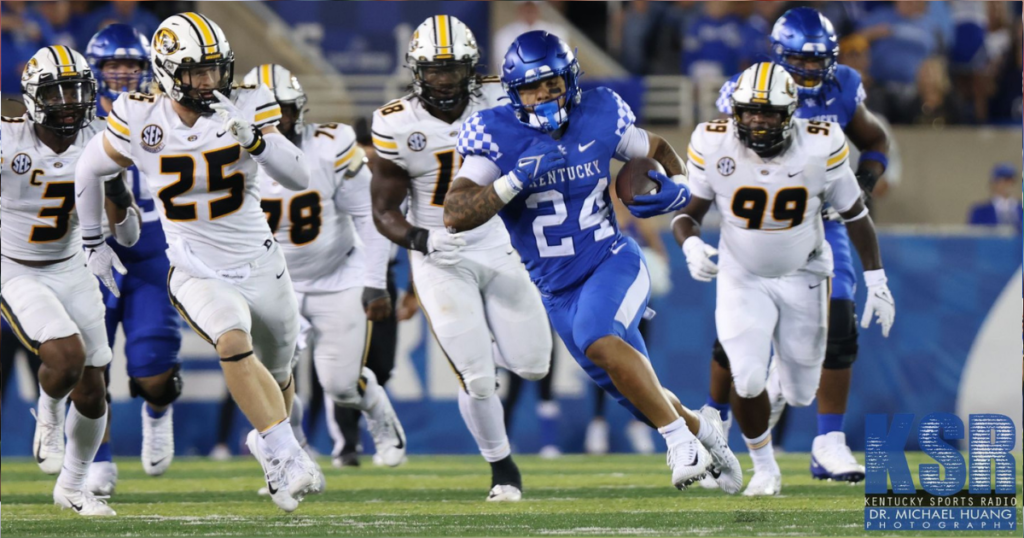 Second Down: Lack of havoc for Kentucky defense
After overwhelming ULM with a ton of tackles for loss and sacks in the opening week, there was some buzz building about the Kentucky defense and the potential playmaking ability of the unit.
However, a lot of that went out the window in the first three quarters against Missouri.
The Wildcats did not record one tackle for loss against through the first 45 minutes as the only havoc plays recorded were an incredible third quarter interception by Jacquez Jones and a handful of pass breakups.
Kentucky was able to become more active in the final quarter logging a 29.41 percent havoc rate on 17 snaps with two non-sack tackles for loss, a sack, a forced fumble, and a pass breakup. Kentucky will need more of that moving forward.
The top goal for the Wildcats will always be to take away the big play, stop the run and make teams use an intermediate passing game to march down the field. The only problem was that was the Missouri quarterback was accurate and patient enough to take the profits over and over. Most offenses and quarterbacks won't be able to accomplish that task over four quarters.
Still, Kentucky must find a way to get teams into advantageous passing situations. Too often, Mizzou was able to stay in third and manageable and that allowed the Tigers to extend drives.
Kentucky's defensive scheme is a winning philosophy, but the Wildcats must find a way to produce some more negative plays.
Third Down: Kentucky must take care of business
On Saturday afternoon, Kentucky will be facing another inferior opponent. Chattanooga plays in the Southern Conference as a part of the Football Championship Subdivision. The Wildcats will have a major talent advantage over the Mocs.
Third-year head coach Rusty Wright is currently 10-9 at his alma mater. The former special teams and recruiting coordinator at Georgia State is looking to turn the Mocs into a contender in the SoCon. After making the FCS playoffs for three consecutive years from 2014-16, the Mocs are looking to break through again.
This is a team that is off to a 1-1 start in 2021 with a loss to FCS Austin Peay to begin the year. Once again, Kentucky will be playing itself this week. The Wildcats have issues to correct and must fix some of their errors in previous games.
Ball security and creating more havoc plays on defense should be a point of emphasis heading into Saturday's noon tilt.
The Week Ahead at KSR
As always, this will be another jam-packed football week full of content at KSR as Kentucky gets ready to close its three-game homestand to end the season.
On Monday afternoon, we'll have coverage of Mark Stoops' weekly press conference to go along with his radio show in the evening. Practice reports will come throughout the week. Podcasts galore will be available for your consumption.
It's another busy football week in the Bluegrass as Kentucky looks to keep their four-game winning streak moving forward.