KSR Today: Kentucky basketball's roster, kickoff times, and the NBA Finals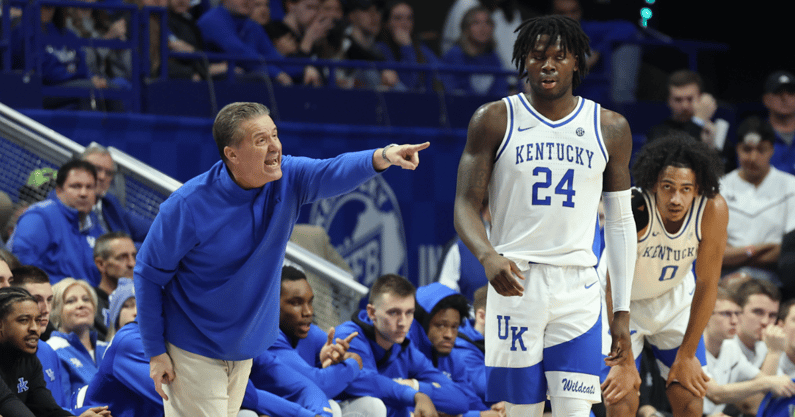 Good morning, folks! And a happy June to all of the Big Blue Nation. The sports world never sleeps, and yesterday was a perfect example of it suffering from insomnia.
That being said, Kentucky fans didn't even have to wait until midnight to know that Oscar Tshiebwe and Chris Livingston won't return for another season in Lexington, instead keeping their names in the NBA Draft pool. Antonio Reeves did withdraw his name from consideration but left his return to the Wildcats open-ended. After entering yesterday with just seven rotational players on the roster, Kentucky woke up on Thursday with… still just seven rotational players.
Which begs the question, now what?
Finding a way to convince Reeves to come back for another season will be priority number one. Attacking the transfer portal in search of some much-needed bodies will be step two — there are certainly plenty of new options out there now that the NBA Draft withdrawal deadline has passed us by. Creighton wing Arthur Kaluma is just the latest name to pop up with interest from the 'Cats. More will surely surface in the coming days and weeks.
There is still plenty of offseason left and talented transfer targets will be available, but as things stand on the morning of June 1 — about six weeks out from the team traveling to Canada to participate in the GLOBL JAM event — the vibe around the fanbase is, at the very least, one of nervousness. Five freshmen and two sophomores, as talented as they might be, aren't going to cut it. Let's see what John Calipari has up his sleeve.
To put on a bow on the three long-awaited decisions finally being made, KSR's Jack Pilgrim (who has been on top of this offseason better than anyone) was joined by Go Big Blue County's Shawn Smith late last night to break everything down during a fresh episode of Sources Say.
Subscribe to the KSR YouTube Channel for press conferences, interviews, original shows, fan features, and exclusive content.
Football kickoff times announced
Ahead of the chaos that unfolded yesterday afternoon, kickoff times for the first three Kentucky football games this coming fall were unveiled. UK will open the season with three consecutive non-conference home games featuring a variety of different start times.
Sept. 2: Ball State at Kentucky (Noon ET | SEC Network)
Sept. 9: Eastern Kentucky at Kentucky (3:00 p.m. ET | SEC Network+)
Sept. 16: Akron at Kentucky (7:30 p.m. ET | ESPNU)
With three non-conference games to start the season, Kentucky will be looking to get off to a hot start before facing a backloaded schedule in October and November. SEC play will begin in Week 4 when UK travels to Vanderbilt (Sept. 23) before returning home one week later to host Florida (Sept. 30). Those kickoff times will be released during the season.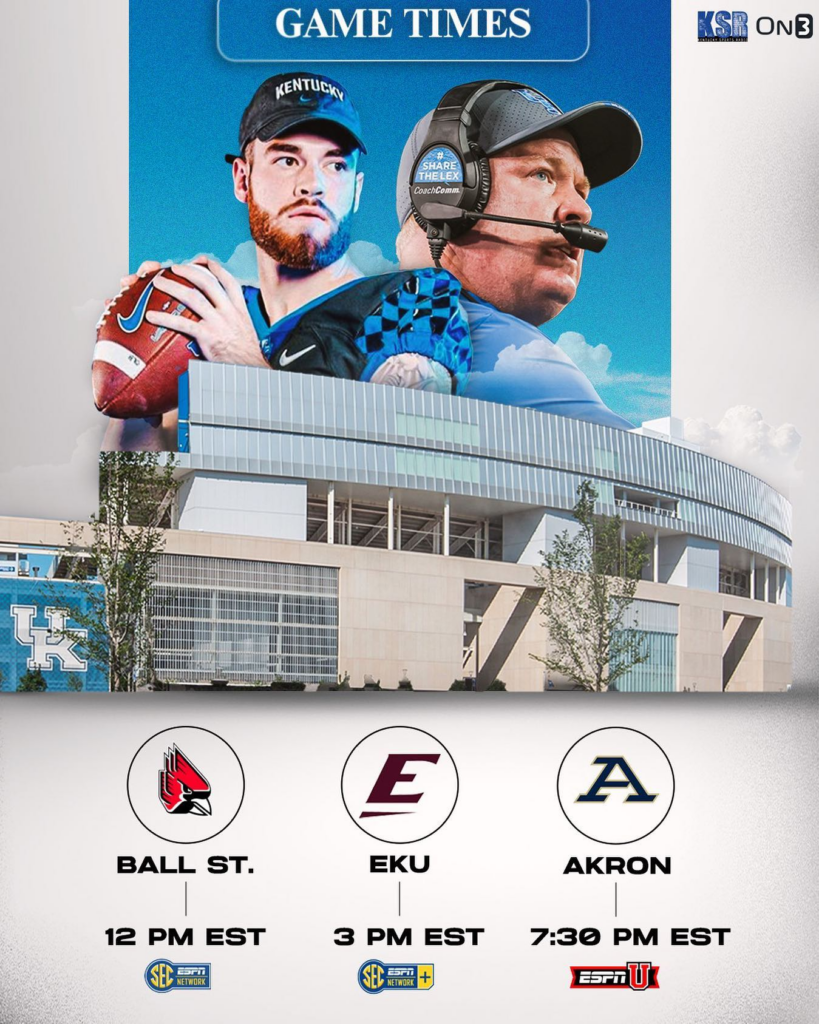 3 former 'Cats start NBA Finals runs
The 2023 NBA Finals have arrived, and a handful of former Kentucky Wildcats will hit the hardwood in hopes of taking home the Larry O'Brien trophy. Game 1 between the No. 8 Miami Heat and No. 1 Denver Nuggets is scheduled to tip off later tonight at 8:30 p.m. EST on ABC. The first two games will take place in Denver before the series shifts to Miami.
For the Nuggets, Jamal Murray will suit up as the number two option alongside two-time MVP Nikola Jokic as the franchise makes its first-ever NBA Finals appearance. For the Heat, Bam Adebayo will take the floor as the number two option next to Jimmy Butler in search of redemption after losing in the 2020 NBA Finals. Miami is still awaiting the return of Tyler Herro from a broken hand, which could happen around Game 3 if all goes properly with the final stretch of his recovery.
Miami is also engineered by president Pat Riley, a former Kentucky shooting guard under Adolph Rupp who has been a part of 25 percent of all NBA Finals throughout league history in some form or fashion. Which is absolutely wild to think about.
• Game 1: Heat @ Nuggets | Thurs., June 1 | 8:30 p.m. ET (ABC)
• Game 2: Heat @ Nuggets | Sun., June 4 | 8 p.m. ET (ABC)
• Game 3: Nuggets @ Heat | Wed., June 7 | 8:30 p.m. ET (ABC)
• Game 4: Nuggets @ Heat | Fri., June 9 | 8:30 p.m. ET (ABC)
• Game 5: Heat @ Nuggets | Mon., June 12 | 8:30 p.m. ET (ABC) * if necessary
• Game 6: Nuggets @ Heat | Thurs., June 15 | 8:30 p.m. ET (ABC) * if necessary
• Game 7: Heat @ Nuggets | Sun., June 18 | 8 p.m. ET (ABC) * if necessary
Take advantage of our KSR+ Launch Special and join the conversation on KSBoard, the KSR+ Message Board.
Baseball/softball state tournaments begin today
Starting in just an hour or so, the 2023 Clark's Pump-N-Shop Baseball and Softball State Tournaments will get off and running. Throughout today and tomorrow, a total of 16 first-round matchups between the two sports will take the diamond as dreams of making the state title officially begin.
Baseball will start its tournament at the Counter Clocks Field just outside of downtown Lexington for the opening two rounds before heading to Kentucky Proud Park for the semifinals and championship (the mess of attractions coming to Lexington this weekend has forced some minor scheduling adjustments). Meanwhile, the entire softball tournament will take place at John Cropp Stadium on UK's campus.
To help get us ready for what's ahead this weekend, KSR intern Brady Byrdwell has previewed all eight first-round matchups for the baseball tournament. You can check out his preview of today's games here and the one for tomorrow's games here. Below is a full schedule for the opening round games in both baseball and softball.
Baseball: Thursday, June 1
10:00 AM | Shelby County vs. McCracken County
1:30 PM | Bullitt East vs. Eastern
5:00 PM | Beechwood vs. Apollo
8:30 PM | Raceland vs. Lexington Catholic
Baseball: Friday, June 2
10:00 AM | Whitley County vs. LaRue County
1:30 PM | Breathitt County vs. South Warren
5:00 PM | Pikeville vs. Harrison County
8:30 PM | Pulaski County vs. Henderson County
Softball: Thursday, June 1
11:00 AM | Johnson Central vs. Highlands
2:00 PM | Rowan County vs. McCracken County
6:00 PM | Greenwood vs. Mercy
9:00 PM | Ballard vs. Woodford County
Softball: Friday, June 2
11:00 AM | Perry County Central vs. East Jessamine
2:00 PM | South Laurel vs. Daviess County
6:00 PM | Henderson County vs. Great Crossing
9:00 PM | Harrison County vs. Central Hardin
To have Kentucky Wildcats news sent straight to your inbox, sign up for the KSR Newsletter.
Discuss This Article
Comments have moved.
Join the conversation and talk about this article and all things Kentucky Sports in the new KSR Message Board.
KSBoard