KSR's NFL Draft LIVE DIARY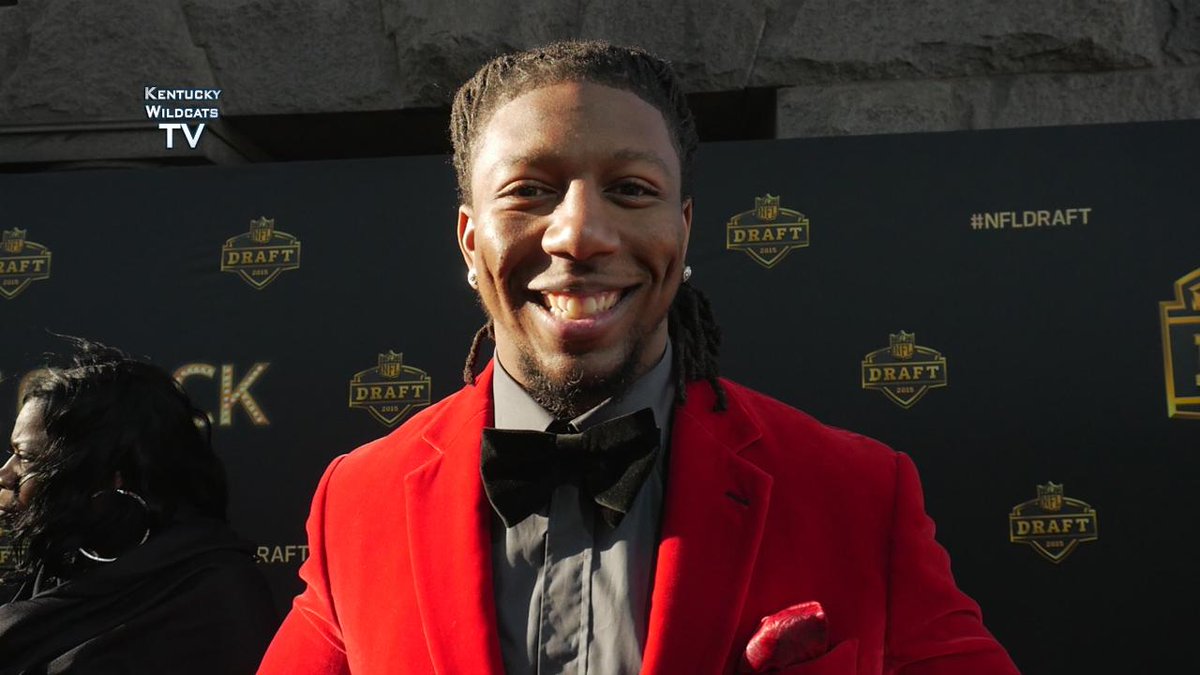 Howdy, folks. While the boys play dress up at the Ferdinand's Ball, I'm on the couch with some red wine and popcorn to take you through Bud Dupree's big night at the NFL Draft. You can watch the draft on ESPN or the NFL Network and follow along with me on the Live Diary.
10:31 (Roush):
 The Bengals didn't pick Bud so I am completely over this horseradish.  I might consider dropping my fandom, but instead I'll just going to drop this Live Diary.  Mrs. TT will wrap things up when Bud finally gets his name called.  Until then, haters gon' hate, potatoes gon' potate.
10:18 (Tyler)
: I'll be honest, I kind of stopped paying attention to the draft because it's been OVER TWO HOURS. There is only so much Chris Berman you can listen to. I wanted to express this via sleepy cat gif:
...which led to a good five minutes of looking at sleepy cat gifs. Please pick Bud, Cincy. Do it.
10:14 (Roush):
 Y'all don't understand how big of a deal this is.  Pat is a HUGE Cincinnati sports fan and could forever alter the way the BBN views the state north of the Ohio River.  As a Bengals fan, I 100% agree.
If Bud falls to the Bengals and we don't jump all over him. I'm officially no longer a fan.

– Patrick Towles (@patty_ice14) May 1, 2015
10:09 (Roush):
 We have the music turnt up (because Derby Week) and while reading Goodell's lips I could have sworn he said "Bud Dupree."  Instead the Chiefs drafted somebody else and #BudWatch2015 continues.
9:51 (Roush):
  Wide receiver Devante Parker becomes the first local player picked, going to the Miami Dolphins with the 16th pick.
9:39 (Tyler)
: Bud Watch continues, but now for some really important news: Kyle Tucker has to pee. https://twitter.com/KyleTucker_CJ/status/593946806603546625 https://twitter.com/KyleTucker_CJ/status/593952166227746816 https://twitter.com/KyleTucker_CJ/status/593952772740919296 I like to think Kyle and I are on good terms, but maybe not after I tweeted him this in response: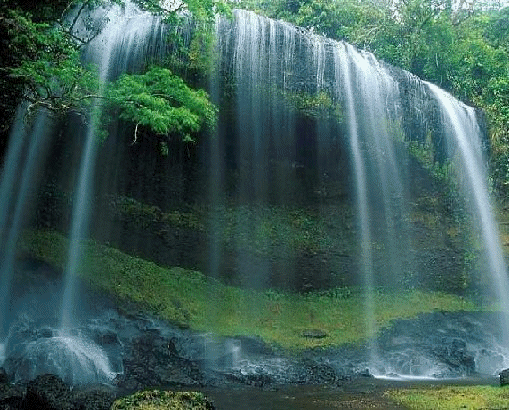 9:31 (Tyler)
: Cleveland passes on Bud for Danny Shelton.
New Orleans on the clock.
9:29 (Roush):
The Draft makes so sense.  The Browns picked a DT, when everyone had Parker penciled in.  This is stupid and I hate it.
9:23 (Tyler)
: Cleveland now on the clock and Bud Dupree and Louisville WR DeVante Parker still available. With New Orleans coming up at #13, for Bud's sake, I hope they pick Parker or someone else. Nola>>>>>>>Every other city>>>>>>Cleveland.
9:15 (Tyler)
: Aaaand the Rams pick Todd Gurley, the running back from Georgia. Okay.
9:14 (Roush):
 The Browns are two picks away.  Hopefully Kevin Costner makes the right move.
If the Browns ever do anything right they need to pick Bud.. – cj conrad (@cjconrad1) May 1, 2015
9:08 (Tyler)
: The Rams are on the clock, and Dupree visited them prior to the draft. Stay tuned...
9:03 (Tyler)
: Vince Marrow is not a fan of the Falcons' pick: https://twitter.com/vincemarrow/status/593943564578598912
9:01 (Tyler)
: The Falcons took Vic Beasley, a pass rusher from Clemson. Bud Watch continues...
8:59 (Tyler)
: Will Atlanta bring Bud Dupree home? He did wear red and black tonight...
8:57 (Roush):
 DAAAAAAAAA Bears just took a WR instead of an OLB for their 3-4.  Bud could be next at #8 for the Falcons.  Stay tuned....
8:50 (Roush):
 In case you forgot how awesome Brett Favre's Draft Day was....
Courtesy of CBS Sports
8:43 (Roush):
 The Raiders weren't stupid for a change (or were they?), picking up Bama WR Amari Cooper.  In other news, I'm taking a drink every time ESPN shows Mel Kiper's enormous head/quaff while playing Cards Against Humanity.  Gosh Derby Week is great.
8:35 PM:
Hi Friends, Roush here.  It feels good to take a short sabbatical from Derby festivities to talk about our favorite Bud.  Before moving on, what are your thoughts about the term "Thurby"?  I've spent 10 hours at Churchill today and despite my appreciation for the cleverness of the newly coined term, I can't help but laugh every time somebody on the news lisps the term out.  Regardless, Kentuckians should be happy the official Mint Julep is now Old Forester instead of Early Times. #MovinOnUp
8:27 PM
: And now we wait for Bud. Right, MKG? https://twitter.com/MKG14/status/593929870230605824
8:21 PM
: IT'S REAL! MARIOTA TO TENNESSEE!!! Y'ALLOHA!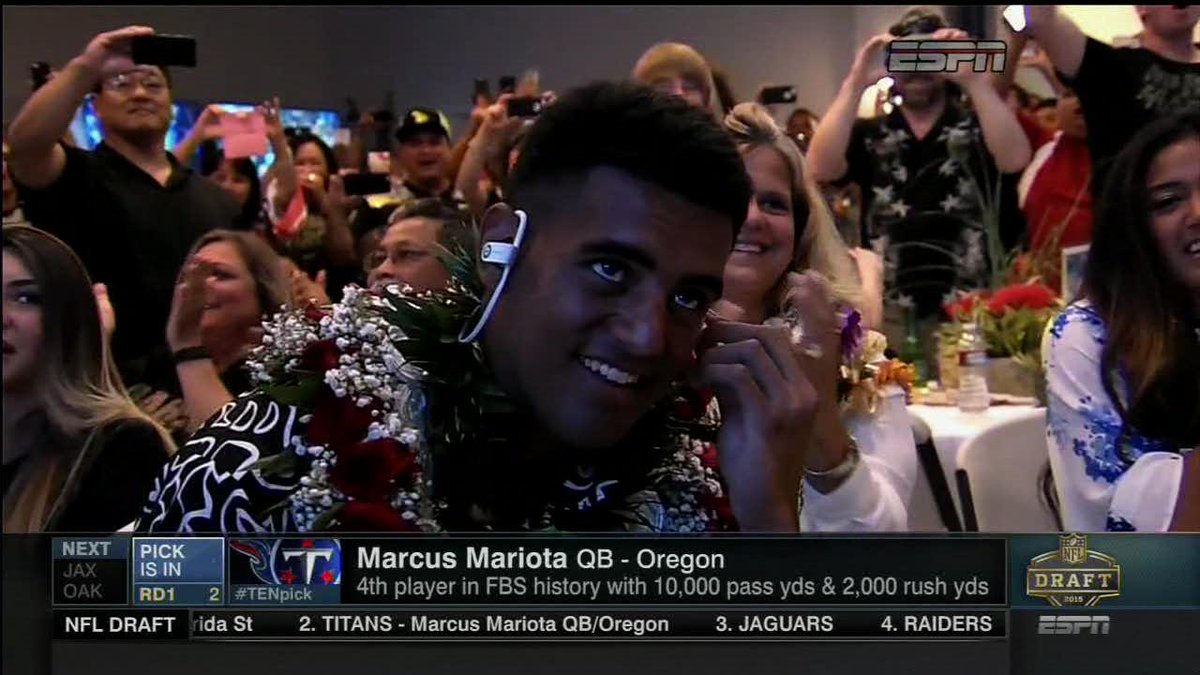 8:18 PM:
Jim Wyatt is reporting the Titans are taking Mariota! Got me like...
8:12 PM
: Jameis Winston to the Bucs. As expected. Really disappointed none of the fans at the Bucs draft party had a crab legs fathead.
8:07 PM:
 THE TITANS DRAFT PARTY IS READY!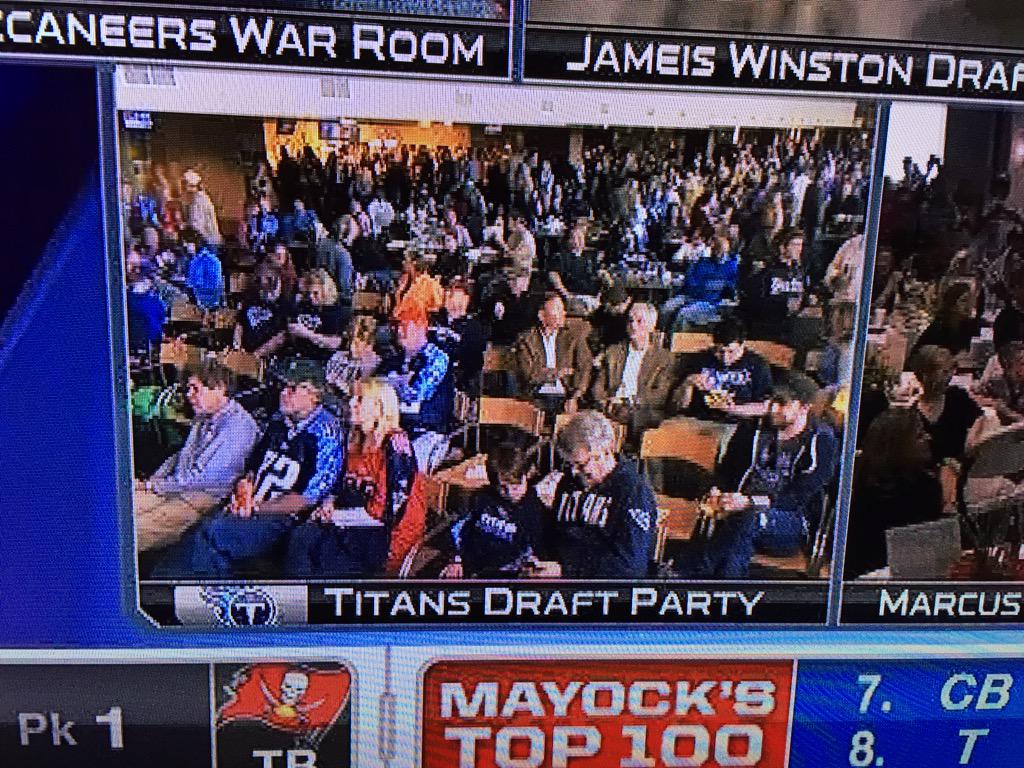 ...Once they get a snack and stop checking their phones.
8:03 PM
: HERE WE GO! ARE YOU READY?
7:51 PM
: I'm a Titans fan in that "Man I wish the Titans were good so I could go enjoy games." Of course, the Titans are the Titans, so that hasn't happened in a while. With the #2 pick, the Titans SHOULD pick Marcus Mariota, but because they're the Titans, of course they won't. If they don't, they better get the trade of all trades, or I'm turning in my three Titans shirts for more Packers gear. What do you think the Titans will do with the #2 pick?
7:40 PM:
Bud was just introduced to the crowd. It was kind of awesome: That video will be playing on loop in the Nutter Training Center for a few years.
7:38 PM:
I had to get started a little early with some fashion thoughts. We've discussed Bud Dupree's red velvet blazer already, but the star of the gold carpet was Dante Fowler and his gold spiky shoes: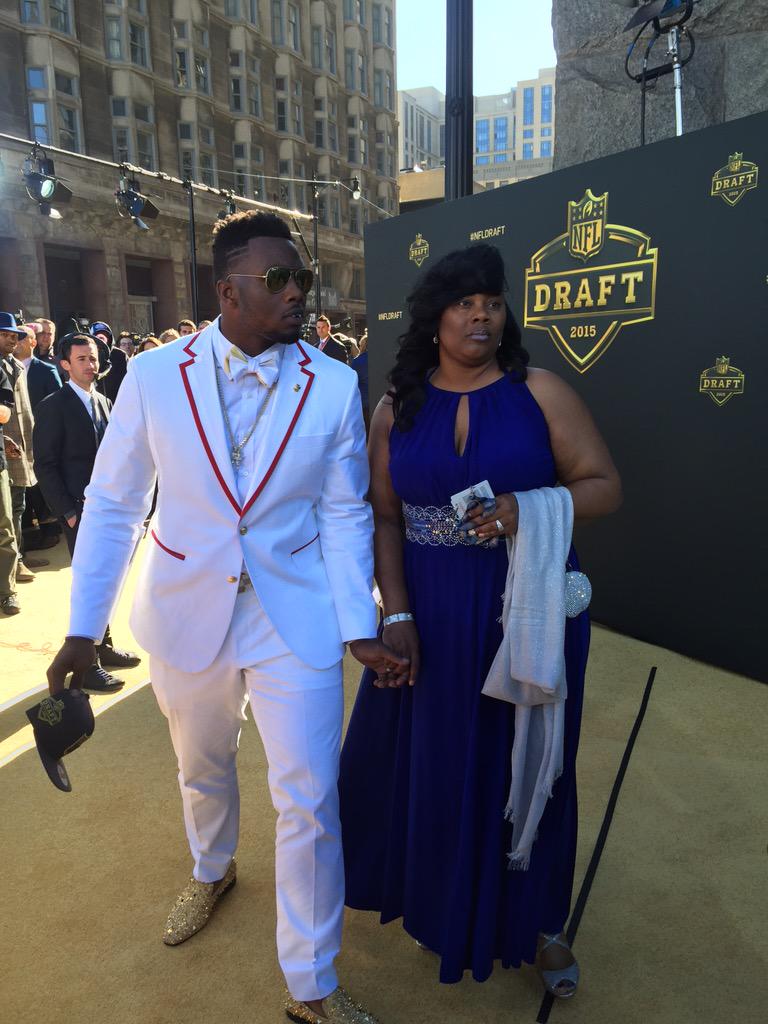 Another look: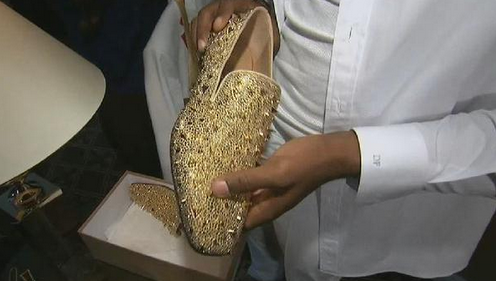 Shew wee. I guess if not now, what other event in your life could you pull those off? I also dig Danny Shelton and his family's homage to their Samoan heritage: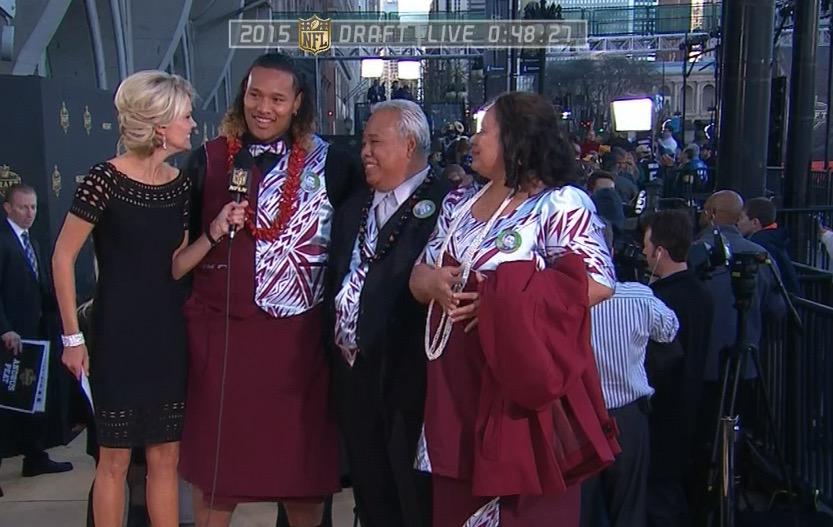 You do you, guys. Awesome.