KSR's quick takeaways from Kentucky's 76-64 win over Southern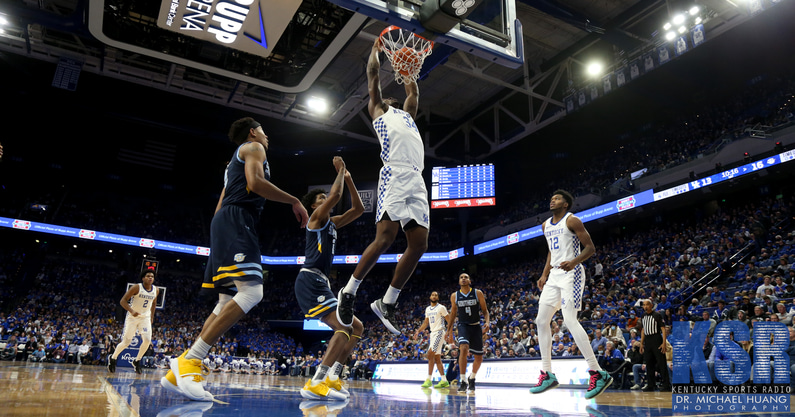 It wasn't pretty, but the Wildcats got it done, with Kentucky holding off Sean Woods' Southern Jaguars by a final score of 76-64. It was a win that pushed UK's record to 7-1 on the year, closing the team's seven-game homestand with seven straight wins.
How did Kentucky come out on top? And what does it mean for the Wildcats as they look ahead to Notre Dame in South Bend this weekend?
Southern refuses to go away
Kentucky certainly had its struggles, shooting just 30 percent from three and 60.9 percent from the free throw line, but Southern didn't make it easy. The Jaguars fought from the opening tip through the final buzzer, pressuring the ball and making tough shots. When UK would make a run, Southern would claw back and do the same, never letting the game slip away.
"A few plays here, a few plays there," Sean Woods said, describing how close his team was to pulling off the road upset. Even in defeat, the former Wildcat was proud of his team's effort.
"I'm proud of our guys of answering the bell in an environment like this," Woods said. "We've got something to build on."
"They played harder than us," John Calipari added. "Sean coached his team better than I did."
A win is a win and 7-1 certainly looks better than 6-2, but it wasn't pretty.
Davion Mintz makes his return to the floor
After missing Kentucky's last three games due to illness, Davion Mintz returned to the lineup for the Wildcats on Tuesday night.
With John Calipari praising Mintz's practice efforts leading up to tip, the super senior played 16 total minutes, finishing with nine points, five rebounds and one assist in the win. His efficiency left much to be desired — he shot just 2-9 overall, 2-7 from three and 3-5 from the line to go with two turnovers — but the energy was there. Calipari specifically praised the 6-foot-3 guard's effort on the glass after the win.
With Mintz back, Kentucky had its full roster available, minus CJ Fredrick. Bryce Hopkins was the only player limited due to injury, sitting out the entire first half and playing just two minutes in the second. Calipari said he practiced at "50 percent" on Monday and knew he'd be limited going into the matchup.
Meanwhile, Jacob Toppin (shoulder), Lance Ware (ankle), Keion Brooks Jr. (illness), and Daimion Collins (illness) were back to 100 percent.
Oscar Tshiebwe goes for 23 and 11
Another day, another double-double for Kentucky's anchor in the middle — his seventh in eight games. In yet another monster performance for the Wildcats, Oscar Tshiebwe finished with 23 points on 9-11 shooting and 5-7 from the line to go with 11 rebounds, four blocks, two steals and two assists in 25 minutes.
"Oscar was the difference down the stretch," Woods said.
Through eight games, Tshiebwe has missed the double-double mark just once (0 points and 10 rebounds vs. Ohio). Every other game he has had no fewer than 12 points and 11 rebounds.
The 6-foot-9 center's game log continues to be absolutely absurd.
17 points and 20 rebounds vs. Duke
14 points and 20 rebounds vs. Robert Morris
24 points and 16 rebounds vs. Mount St. Mary's
0 points and 10 rebounds vs. Ohio
12 points and 14 rebounds vs. Albany
12 points and 16 rebounds vs. North Florida
20 points and 16 rebounds vs. Central Michigan
23 points and 11 rebounds vs. Southern U
Beast.
A new halftime show
Introduced by former Kentucky standout and current Indiana Pacer Isaiah Jackson, UK debuted a brand new halftime show Tuesday evening.
Rather than a typical dance or cheer routine, Kentucky brought out the Indiana Pacers Power Pack, a group of high-flying trampoline dunkers that have performed at the NBA All-Star Game, among other popular events.
Darius Miller was tonight's 'Y'
With several former Wildcats in the stands, the school brought out Maysville, KY's own and 2012 national champion Darius Miller as tonight's 'Y' in the second half.
As expected, Big Blue Nation erupted as Miller was introduced at midcourt.