KSR's Takeaways: Kentucky gets NCAA Tournament monkey off its back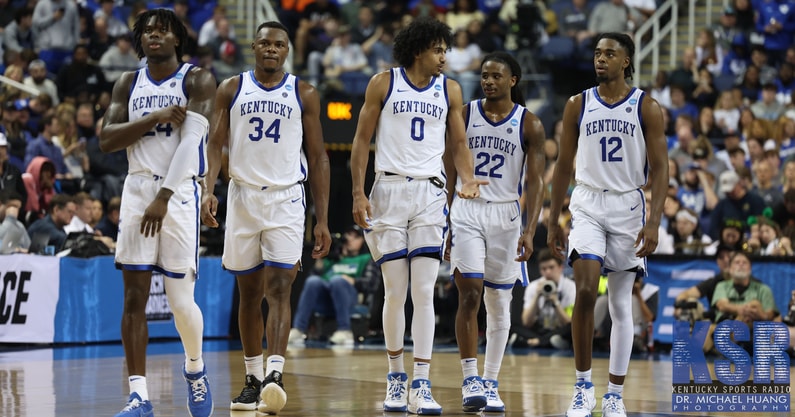 FDU! FDU! FDU!
Big Blue Nation couldn't help but cheer for No. 16 seed Fairleigh Dickinson as it pulled off the upset over No. 1 seed Purdue. The fans' beloved Wildcats were still in a rock fight vs. No. 11 seed Providence in Greensboro, but it was impossible to ignore the history unfolding on the jumbotron during the regular live look-ins. 63-58 final, Boilermakers were Purdone.
The moment was symbolic in a sense. All eyes on another embarrassing upset, exactly one year to the day following Kentucky's loss to No. 15 seed St. Peter's. Another program suffering its own how-did-that-happen moment and opposing fans enjoying it at their expense, celebrating in unison. Laughs and smiles as the clock struck zero inside Greensboro Coliseum, fairly (Fairleigh?) aligned with the Wildcats pulling away down the stretch.
Deep inhale, exhale. 61-53 final, Kentucky secures its first NCAA Tournament victory since 2019. Monkey ripped off the program's back and punted into oblivion. No more "(insert number here) days since the Wildcats last win in March Madness" tweets from talking heads looking to poke the bear, no more Peacocks jokes or tear-filled press conferences trying to describe the unthinkable.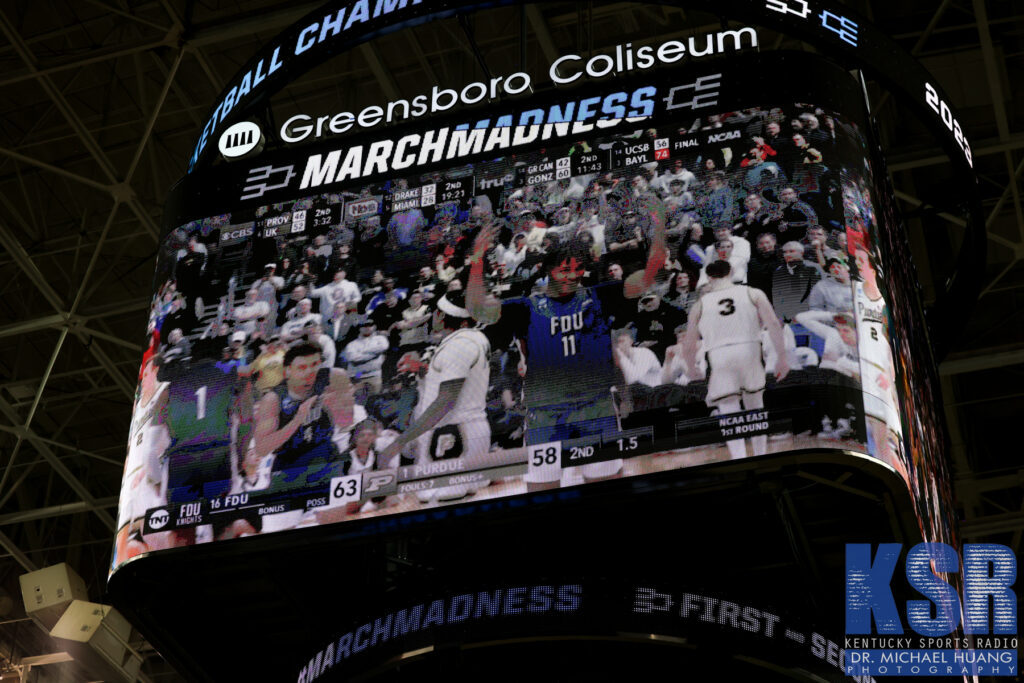 Welcome to the show, FDU Knights. You are now the national media darling. And Purdue? Well, sorry about your luck. Following up a postseason loss to Saint Peter's in the Sweet 16 — yeah, that still happened — with an opening-round loss to No. 16 Fairleigh Dickinson? Damn shame. Roast the Boilermakers for eternity.
Meanwhile, Kentucky advances and simultaneously fades into the background of half-assed memes and jumps into the foreground of 'OK, what's next?' questions. Game questions. Matchup questions. Not Is the John Calipari era over in Lexington? gotcha columns from popular-in-their-own-mind national analysts who can count the number of UK games they've watched this season on one hand. They can all talk about the Big 10 sucking wind in the NCAA Tournament (again!) and why Matt Painter his Purdue Boilermakers are frauds. National Player of the Year loses to a No. 16 seed? Couldn't imagine that embarrassment.
Anyway, how about those ******* Cats? Let's talk about 'em.
Jacob Toppin shuts down Bryce Hopkins
The Bryce Hopkins Bowl storyline was beaten to a pulp over the course of the week, and rightfully so. Player feels some type of way about his former team not giving him a real opportunity, transfers away and becomes a First-Team All-Big East member for the runner-up in his original recruitment. Those two teams matched up in the NCAA Tournament, a chance for said player to knock his former team out in the opening round, a year to the day after he didn't see the floor in a historic loss. It's a big deal.
Jacob Toppin was on the opposite side of that narrative, the guy who stole Hopkins' minutes and would have to face him in the individual matchup. His response? 18 points on 6-14 shooting and 6-6 at the line to go with six rebounds, two assists and one block in 37 grown-ass-man minutes. And he did it while holding Hopkins to just seven points on 2-9 shooting, eight rebounds and four turnovers in a team-high 39 minutes.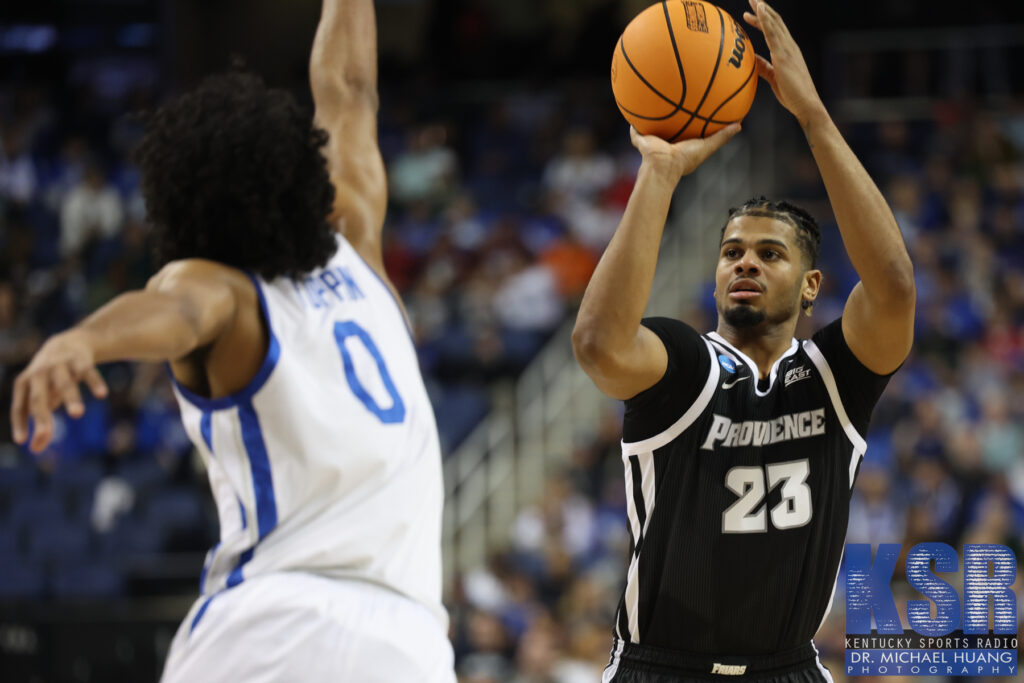 Complete domination. A very good SEC basketball player doing what he should against a very good Big East player.
Shoot 'em all, Antonio Reeves
Kentucky's got its dagger-thrower in March, and he goes by the name of Antonio Reeves — Threeves for short.
Five 3-pointers en route to 22 points, 8-18 shooting overall while adding three rebounds in 38 minutes. In a game the Wildcats only scored 61 points — hilarious considering it was a battle of two top-20 offenses in college basketball — Reeves made up over a third. Him and Toppin combined for two-thirds of the team's total points. In an NCAA Tournament game win.
And it was how Reeves was scoring, effortless and with minimal awareness of the moment. Dude was unphased from the opening tip, just launching with confidence and utilizing his green light to his advantage (and the team's benefit). 14 points in the first half, four threes. Scoring 11 of Kentucky's 17 points in a six-minute stretch, including back-to-back threes to put the Wildcats up 11 with 1:44 to go in the first half.
How did Reeves' performance stack up historically? Funny you should ask that. His five made 3-pointers were the most for a Wildcat since none other than Doron Lamb, who also hit five vs. Iowa State in 2012. Pretty fun postseason if I do say so myself.
Professional bucket-getter, now proving he can get the job done on the big stage. An average of 22 points per contest over his last six games. Heating up when it matters most.
Oscar Tshiebwe breaks another insane record
Kentucky basketball, meet your new all-time rebound leader in an NCAA Tournament game: Oscar Tshiebwe.
25 rebounds pushes the superstar center past Jerry Bird, who pulled down 24 in the 1956 NCAA Tournament, an 89-77 win over Iowa. Tshiebwe finished with 14 defensive rebounds and 11 offensive, 13 total in the first half. Most people would be over the moon with 13 in a complete game. Hell, two games.
I mean, he pulled down more rebounds than the entire Providence starting five, 25 vs. 22. Only Bill Spivey (1951) has had at least 16 rebounds in two NCAA Tournament matchups before Tshiebwe accomplished the feat on Friday — 16 vs. Saint Peter's, 25 tonight.
Big-picture, Tshiebwe's 25 boards was the most in an NCAA Tournament game since 1977, with the all-time record set by Temple's Fred Cohen in 1956 (34). Would it really shock any of us if No. 34 pulled down 34 on Sunday? No. That answer is no.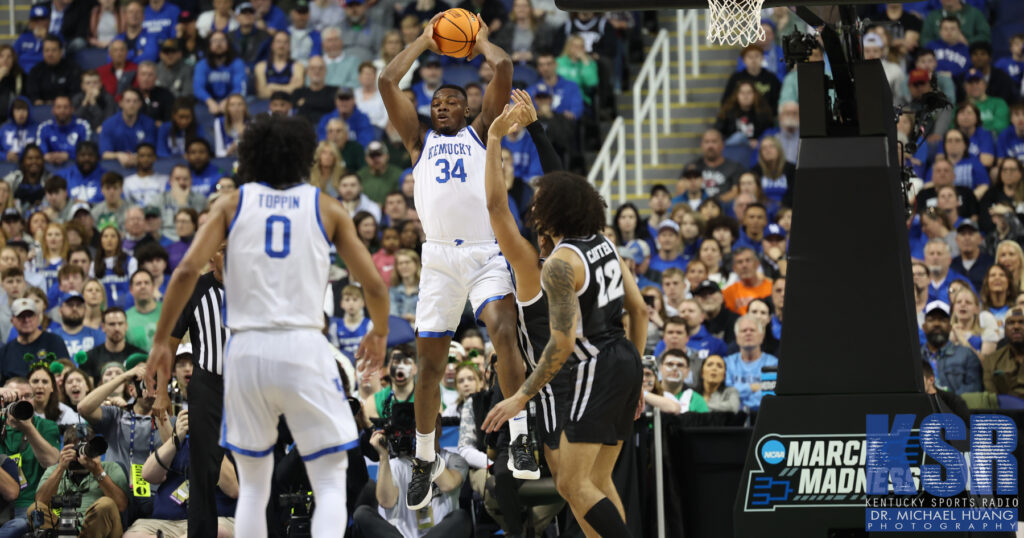 The Wildcats dominated the glass as a team, winning the battle 48-31, a plus-17 margin. That's the most for the program since a plus-27 effort vs. Abilene Christian back on March 21, 2019. Conveniently enough, the same postseason Kentucky won its last NCAA Tournament game. See, isn't it fun to get those terrible stats out of the way?
It was a ridiculous rebounding effort, led once again by Oscar Tshiebwe.
(Oh, and he also had eight points, three steals, two assists and two blocks in 33 minutes. What a freak.)
Zero bench points (and a poor shooting night overall)
The craziest part of all of this? Kentucky won in fairly (Fairleigh) convincing fashion, albeit with just 61 total points, 36.5% shooting and 31.3% from deep. And the Wildcats got zero scoring help from the bench — no seriously, zero bench points with nine total players playing. Bench pieces contributed, namely Daimion Collins with two tough rebounds and a crucial steal in seven minutes of action, but taking care of business relying solely on the starters to put points on the board is a tall task.
And the numbers back that up. Fewest points scored in an NCAA Tournament win since March 21, 2014 when the Wildcats scored 56 vs. Kansas State — the team's upcoming matchup in the Round of 32. It was the team's worst shooting performance in an NCAAT win since March 17, 2006, knocking down just 31.1% of shots vs. UAB.
Taking a closer look, it was the second-fewest points (23) scored by Kentucky in the second half of an NCAAT win ever, 21 points in the 1949 national title game vs. Oklahoma A&M being the all-time record. It was a second-half performance that saw the Wildcats shoot just 25% overall (7-28) and 16.7% from three (1-6).
And yet, here we are. An eight-point win to cover the spread and advance. Spirits are high in the locker room, Coach Cal is bringing up The Waltons during postgame and Purdue is the laughingstock of college basketball.
Goodnight, John Boy.