KSR's Thanksgiving and Governor's Cup Roundtable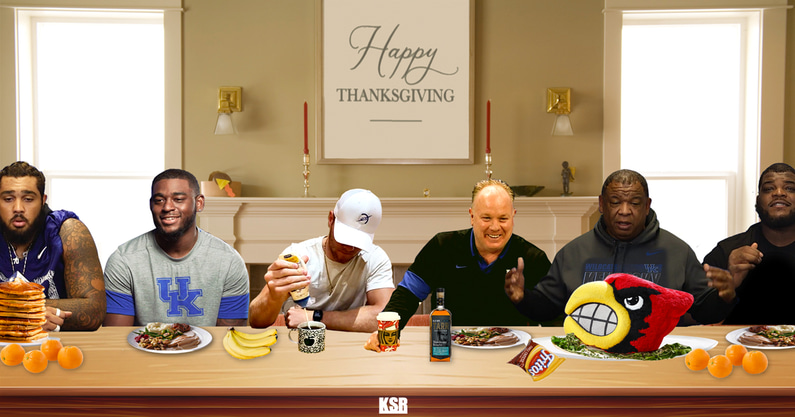 Happy Thanksgiving from the KSR Crew! As always, we are grateful for you, our readers, especially this year as we made the move to On3. There are no holidays at KentuckySportsRadio.com, so we'll have plenty of content for you throughout the day. Let's get things rolling by gathering 'round the table to talk all things turkey and Cardinal.
1. Would you rather Kentucky beat Louisville in football or basketball this season?
Tyler Thompson
I hate this question, but the answers are so interesting I feel compelled to include it every year. Both games have big meaning aside from the rivalry. For football, it's the chance to finish a special season that went a little off the rails strong. For basketball, it's a chance to avenge last year's 62-59 loss to the Cards, otherwise known as the best day of Chris Mack's life.
The easy answer here is the "Why not both?" meme, but that video is a great reminder of Mack being a goober and the Cards getting chesty about a three-point win over one of the worst teams in Kentucky Basketball history, so I'll go with hoops in this seriously cruel hypothetical.
Nick Roush
The football guy has to say football, right? Football bias aside, this is a numbers game. This year Kentucky will play 31 basketball games and 12 football games. The football games matter more, especially in a series that shifts dramatically to one side or the other. One team wins 3-4 Governor's Cups, then the pendulum swings to the other side for 3-4 years. Mark Stoops was robbed of a win in 2020. If Scott Satterfield is able to salvage a once bleak season with a win over a good Kentucky team, it would feel a lot like Stoops' improbable 2016 win over Lamar Jackson and Co. It's time to shut up Scott and his Tots and prevent that program from gaining much-needed momentum.
Jack Pilgrim
Seeing the way Chris Mack and the Louisville basketball program celebrated last year's win has me itching for a win over the Cardinals on the court. Make no mistake about it, the revenge factor is absolutely there, and I'm sure John Calipari feels the same way.
In the grand scheme of things, though, a win on the football field is infinitely more important than one on the basketball court. Sitting at 8-3 with losses to Georgia, Mississippi State and Tennessee, the opportunity for a historic season with a New Year's Six bowl is no longer on the table. That doesn't mean a great year isn't there for the taking, though.
Lose to Louisville in football, and this season becomes nothing more than a missed opportunity. After a 6-0 start, you just can't finish the year 2-4. You can't lose to your biggest rival to close out the regular season.
At the end of the day, a basketball loss would be just another regular season loss. A defeat on the football field would change the entire outlook of the season.
Adam Luckett
Well, this is pretty easy for me. A loss for a mid-week basketball game in December will have little effect on Kentucky's basketball season. A loss on rivalry weekend in football could soil what has been a strong season for Mark Stoops and his team.
There is a lot riding on this year's version of the Governor's Cup as Scott Satterfield looks for his first signature win, and Kentucky attempts to keep the momentum the program has built this season. A loss to the Cardinals could help swing the rivalry and create a weird offseason. A win would keep Louisville down and allow the Wildcats to create a ton of momentum and own the offseason heading into 2021.
Or just beat Louisville in both, and don't worry about the scenarios.
Drew Franklin
Most years I'm taking football in this scenario because football games mean more and the Governor's Cup can be the lasting memory of the entire season. In basketball, there is plenty of time to recover from a December loss; in football, a loss to Louisville can define the year.
This year, however, I'm putting more stock in a basketball win because John Calipari needs it for this bounce-back year for the program. He can't give Chris Mack another reason for a holiday house party or give the fan base another reason to complain.
Losing to Louisville in football would absolutely suck, but it could ease any concerns fans have about Mark Stoops as a candidate for other jobs.
Give me basketball for this exercise but I need two wins in real life.
Zack Geoghegan
The answer is basketball. The answer is always basketball. And while finishing 8-4 this season in football would look wildly disappointing considering the hot start, I'd argue losing to the Dirty Birds in basketball coming off a nine-win season would be even more so. This is the John Calipari Revenge Tour, and the revenge is not nearly as sweet without taking down Louisville.
Also, we can't continue to let Chris Mack get away with being incredibly lame. End that program's momentum before it can pretend to build anymore.
2. Name five CURRENT Kentucky Basketball or Football players you'd invite to your Thanksgiving this year.
Tyler Thompson
Will Levis

— To entertain my nephews with weird food combinations and give stock tips to the adults.
Marquan "Bully" McCall — May eat us out of house and home but will bring the entertainment and maybe his dog.

Kellan Grady

— To bond over our Davidson ties and being too old for TikTok.

Oscar Tshiebwe

— An awesome human being that will charm the entire table.

Daimion Collins

— He needs all the big meals he can get.
Nick Roush
I'm a pretty gracious host. That makes this question too open-ended. I'm going to flip the script and tell you who I would not want to invite to my Thanksgiving feast.
Wan'Dale Robinson

— He'll eat his food so fast, all of the best sides and desserts will be gone before I can get my hands on them.

Luke Fortner

— Sorry, but I can't have a smarty pants showing me up with fun facts at the dinner table.

Will Levis

— If you thought he had some weird eating habits before, wait until you see what he does with cranberry sauce and banana croquets.

Josh Paschal

— He's a nice guy and all, but if he won't let those kids enjoy candy, what's he going to do when I'm on my fourth slice of pie?

Marquan "Bully" McCall

— The Big Bully loves to boogie. When I'm finished with my third plate, I will be stuck in a food coma on the couch. I can't try to keep up with McCall while he tries to bust a move every time the vibe is right.
Jack Pilgrim
Oscar Tshiebwe

— You kidding me? Oscar is a living, breathing bundle of joy. The family would love him.

Chris Rodriguez

— Sometimes you've just got to let C-Rod eat. Just don't fumble the dressing or we'll have problems.

Kellan Grady

— Looking to solve all of the world's issues at the dinner table? No one is more thought-provoking than Kellan Grady.
Marquan McCall — Come on now. Bully on Thanksgiving sounds like must-see entertainment.

Daimion Collins

— The big fella is working to gain weight, and there's no better way to expedite the process than Thanksgiving. Grandma needs to get seconds and thirds ready for the freshman forward.
Adam Luckett
Darian Kinnard

— I want to see if I can eat more mashed potatoes than him.

Oscar Tshiebwe

— When not eating, I want Kinnard and The Big O to compete in rebounding and pass protection competitions.

Wan'Dale Robinson

— While breaking bread, the Frankfort (Ky.) Western Hills product can tell us how the recruitment to and leaving Nebraska really went down.

Daimion Collins

— He needs to be going to all of the Thanksgiving dinners. Put some weight on that diaper dandy and the ceiling is the roof.

Wilson Berry

— It would just be really fun to add some Australia flavor to a Kentucky Thanksgiving.
Drew Franklin
TyTy Washington

— But only if he brings Fazoli's breadsticks and America's Best Caviar.

Oscar Tshiebwe

— Obviously.

Wan'Dale Robinson

— So we can discuss his return to Kentucky for one more season.

Luke Fortner

— Fortner can answer all of my Kentucky Football questions of the last decade.

Josh Paschal

— Because he's Josh Paschal.
Zack Geoghegan
Oscar Tshiebwe

— I imagine that when it comes to large food spreads, Oscar is a machine.

Rhyne Howard

— I refuse to miss out on a chance to sit down with the GOAT while she shares stories of Matthew Mitchell dance moves and embarassing Blair Green moments.

Kareem Watkins

— I need the scoop on DJ Wagner.

JJ Weaver

— Good luck trying to pry away a turkey leg from his six-fingered vice grip.

Jacob Toppin

— If any player on Kentucky MBB seems like he could be friends with every single person he meets, it would be Jacob Toppin. There will be no bad vibes with Jacob, who hopefully brings Obi to the table, too.
3. Best way to make turkey: in the oven, in the deep fryer, or on the smoker?
Tyler Thompson
I like the taste of an oven-roasted turkey, but there's no denying the entertainment factor of the deep fryer. Any excuse to get outside, sip on a beer, and wait to see if the oil goes over the edge of the pot when the bird goes in.
Nick Roush
"Smoky" is my favorite flavor and my wife's least. I guess opposites attract? Absence makes the heart grow fonder and there's nothing I love more than a turkey with an extra kick from the smoker.
Adam Luckett
We live in America and we like things fried. Thanksgiving is no different. Throw that bird in the deep fryer and then get to business at the dinner table as the gravy tops it off.
Drew Franklin
First and foremost, let the record show turkey is the worst food on the Thanksgiving table. It's fine, but we're all lying to ourselves about it being anything better than OK. That being said, I am in charge of the family turkey this holiday season and I will be smoking the Franklin bird while watching football.
Jack Pilgrim
The potential for a dry turkey is too high in the oven, and nothing is worse than dry turkey. It tastes like paper mache and sand. Instead, give me the flavor that comes with a smoked turkey. That's good eatin' right there.
Zack Geoghegan
Traditionally I'm a turkey in the oven type of fella, but this year we're stepping into the land of deep-fried turkey. We're stocked up on peanut oil over here. Toss that sucker into a deep fryer for 45 minutes and bone apple tea!
4. What's your favorite Thanksgiving tradition (besides eating)?
Tyler Thompson
Having the National Dog Show on in the background while making stuffing balls with my sister and mom. The Macy's Day Parade and football are the stars of the Thanksgiving TV slate, but the dog show has a special place in my heart. My dog Gatsby, usually the center of attention, does not share this sentiment and glares at me throughout.
Nick Roush
I'll tell you what is not a Thanksgiving tradition in my family. In fact, it nearly ended my family before it could ever become a family. About nine months before my wedding, I convinced my bride-to-be that we should train for the Kentucky Derby Festival Mini-Marathon. "It's an easy way to make sure we stay in shape before the wedding."
Terrible idea, right? Just wait, it gets worse.
Entering the colder months of the calendar, the training becomes more stringent ahead of the April race. To hit a new milestone, I signed us up for the 5-mile Turkey Trot at Iroquois Park. The distance was within our range, but it's a hilly trek through the middle of Louisville. Still, it was doable.
Race day arrived, we were ready to roll and busting through the first mile when we reached an unexpected turn. Instead of taking a lap around the park, we were sent up the enormous hill.
"You have got to be sh*ting me," said my fiancee.
The next 1.5 miles were straight up at a steady, 30-degree incline. Unable to slow my roll and stay at my lady's pace, I pushed forward without her to reach the top of the hill. The next time I saw my bride-to-be, I was going down the incline and she was still going up the hill, hurling expletives my direction.
We did not run the Mini-Marathon, but we did still get married under one condition: There will never be another Roush Turkey Trot.
Adam Luckett
Outside of eating multiple meals and sneaking in a nap during the middle of the day, it's pretty simple for me. The Egg Bowl is the perfect way to cap off Thanksgiving. The last two times we got a brawl and dog pee touchdown celebration. After taking 2020 off due to COVID-19, we now get Lane Kiffin vs. Mike Leach.
That's some fun football to cap off a day filled with family and food. You cannot ask for anything more.
Drew Franklin
Before the Tennessee Titans came into my life, I grew up a fan of America's team: the Dallas Cowboys featuring Troy Aikman, Michael Irvin, Emmitt Smith, etc. The loyalty to the star was inherited from family members before me, and each Thanksgiving Day the Cowboys game was on the family TV within clear sight from the dinner table.
Some families turkey trot, others watch for their favorite floats in the Macy's parade. My brain always goes to Leon Lett's fumble or John Madden's turducken when I think about Thanksgiving tradition.
Jack Pilgrim
Nothing compares to a nap on the couch with football on and a full belly on Thanksgiving. Games are on throughout the day, so it's never time-sensitive. Lunch, dinner, mid-day snack, dessert, there's always time to grab a bite (or 12) and crash afterward.
The first game is a snooze fest between the Chicago Bears and Detroit Lions. Can't ask for a better food coma opportunity than that. It doesn't hurt that we get Lane Kiffin vs. Mike Leach in the Egg Bowl to close out the night, too.
Zack Geoghegan
Being as lazy as possible is an untouchable tradition. I was pretty good at it last year and especially so the year before, but I was still making more food than I bargained for then. This time around, I'll monitor a deep frying turkey for a bit before plopping my dumbass on the couch for as long as possible. Remember, there is plenty of college basketball on today too, folks.
5. Who would make a better Santa Claus: John Calipari, Mark Stoops, or Vince Marrow?
Tyler Thompson
Each would bring their own special flair to St. Nick, but I think Stoops would nail the holly jolly of it the most. He's got that long, rumbling laugh down pat.
Nick Roush
John Calipari has a bad hip. Mark Stoops' gait mirrors birds you find on the South Pole, not the North Pole. The Big Dog will ensure Kentucky has a holly, jolly signing day and a Merry Christmas one week later.
Adam Luckett
Vince Marrow could convince any kid that any present in the world was possible and turn non-believers into believers at a moment's notice. The Big Dog would spread all of the holiday cheer.
Drew Franklin
John Calipari can't be Santa Claus because he doesn't like a home-and-home schedule. Mark Stoops could pull off the costume but I worry about him slowing things down late in the night and taking the air out of the sleigh. Santa needs to hit the gas to reach all of those homes. That leaves Vince Marrow to deliver holiday cheer to all the little boys and girls, and Marrow delivers.
Jack Pilgrim
John Calipari has brought back the gift of top-ten recruits to Lexington, making him the perfect Santa Claus this Christmas. His first comes in the form of No. 1 overall prospect Shaedon Sharpe, who is set to enroll in January.
Let's hope the gift of deep NCAA Tournament runs returns in March, as well.
Zack Geoghegan
If Vince Marrow's aura doesn't embody the Christmas Spirit, I don't know what does. He also seems like the type of guy who would embrace being Santa. You already know he has the rich, deep voice to pull off a flawless "Ho! Ho! Ho!". As long as he doesn't skip town for the Bayou, that'll be the greatest gift he could ever give the Big Blue Nation.
---
Once again, a Happy Thanksgiving from the KSR Crew to all of our loyal readers!