KSR's top takeaways from Kentucky's 77-59 win over Ohio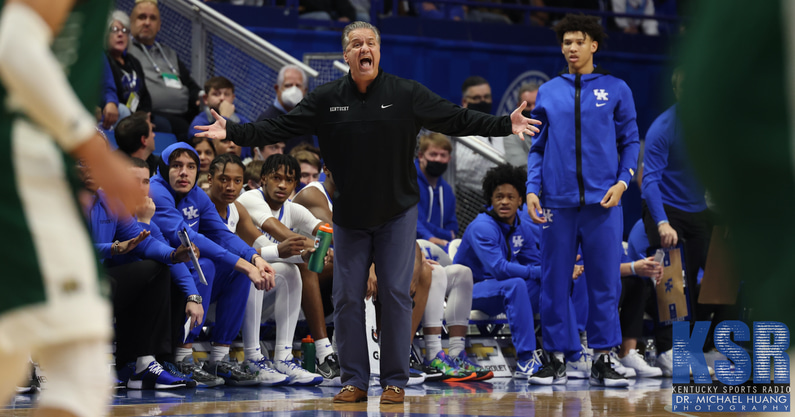 Three home games down, three blowout victories to show for it. This time, though, the Kentucky Wildcats did it against its toughest competition since the season-opener against Duke, defeating the Ohio Bobcats by a final score of 77-59.
How did Kentucky come out on top? And what does it mean for the Wildcats as they look ahead to Albany next week?
Oscar Tshiebwe deals with foul trouble for the first time
The tone was set from the start, as Kentucky's anchor in the middle dealt with foul trouble for the first time this season. Just 39 seconds into the game, Oscar Tshiebwe picked up his first foul of the game, followed by another just 26 seconds later.
Two fouls in one minute and five seconds. And that was all she wrote for Tshiebwe's playing time in the first half, leaving Kentucky with just one available center in Daimion Collins. Then he picked up three fouls in just seven minutes of action.
It was our first big test seeing what this team is without Tshiebwe in the lineup. It wasn't pretty — Ohio exposed Kentucky defensively both outside and inside — but the Wildcats still managed to lead by two at halftime.
Tshiebwe returned after the break and UK was able to regain momentum and spread the lead down the stretch. In just one half of play, the Kentucky center still managed to add ten rebounds, sticking with the 20-rebound-per-game pace he's pushing for.
There's a glaring weakness down low when Tshiebwe is out, but Kentucky still managed to win those minutes against solid competition. That's a good sign.
TyTy Washington puts up 20, gets first double-double
TyTy Washington got his first taste of real success as a Wildcat on Tuesday, finishing with 16 points (7-12 FG, 2-3 3PT), three rebounds, three assists and one steal in a win over Mount St. Mary's.
Tonight, Washington stacked another standout performance on top of his last, finishing with a career-high 20 points on 8-15 FG to go with 11 rebounds, five assists, one steal and one block.
His 3-point shot wasn't falling – he hit just one of six attempts from deep – but he did just about everything else from a scoring standpoint. He finished in transition, scored off the dribble, knocked down contested mid-range jumpers, and-one buckets, you name it.
Washington was hyped up as an instant plug-and-play scorer at the collegiate level. It may have taken a couple games, but it's clear the five-star freshman is quickly finding his footing. First 20-point night, but certainly not his last.
Keion Brooks Jr. takes over from mid-range
Ohio head coach Jeff Boals said after the game he wanted to take Oscar Tshiebwe, Sahvir Wheeler and Kellan Grady out of the game. That was his scouting report and gameplan from the start.
For the most part, that worked. Wheeler scored 11, but Tshiebwe and Grady were both scoreless. Luckily for Kentucky, though, Keion Brooks Jr. was there to pick up where they left off in the scoring department.
The junior forward finished the day with 22 points on 9-18 shooting to go with eight rebounds and one block in 37 minutes. He had five turnovers — four in the first half — but had a strong offensive performance otherwise.
The majority of his buckets came from the mid-range, getting an unlimited supply of open looks from the elbows and on the baseline, anywhere from 14 to 17 feet. Hand down, man down, it's called. Brooks took advantage
Kentucky dominates on the glass
Even with Tshiebwe out half the game, Kentucky still managed to put on an absolute clinic on the glass. At halftime, the Wildcats won the rebounding battle 26-11, led by Washington and Bryce Hopkins with seven apiece, followed by Brooks and Davion Mintz with five each.
Kentucky would end the game destroying Ohio on the boards, winning the head-to-head battle 53-17. Six players finished with at least six rebounds, five had at least seven, four had at least eight, three had at least nine, and two had ten or more. It was a balanced effort that resulted in the eighth-most boards in a single game since John Calipari arrived in Lexington.
Davion Mintz shows his value on the roster
Have a night, Davion Mintz. The sixth-year senior ended the game with 12 points on 4-7 shooting and 4-5 from the line to go with nine rebounds, three assists and a steal in 27 minutes. In the second half alone, Mintz added eight points, four rebounds, one assist and one steal.
It wasn't the case where Mintz just got hot from three at the right moment or got easy breakaway buckets in transition. Instead, the 6-foot-3 guard finished hard in the paint and converted on some of the biggest highlight plays of the game. He single-handedly made the Rupp Arena crowd explode on two separate occasions, one on a nifty up-and-under layup inside and another on a tough transition finish during Kentucky's game-clinching run early in the second half.
Mintz isn't locked into one specific role, and that's why he's so valuable to his team. He's not just a spark plug scorer, he's also a tough rebounder, defender and facilitator when those things are needed. Tonight, UK needed an all-around Mintz to fight off a pesky, talented Ohio squad, and they got him.
A quality win for Kentucky
People that only look at team logos and the names on the front of jerseys may look at this win as a disappointment or come away frustrated it was a rock fight for as long as it was. The reality of the situation is that Ohio is a damn good basketball program, one that beat Virginia in the NCAA Tournament last year and received a vote in this week's AP Poll.
"That team, I almost thought, what in the world did I do playing these guys?" Calipari said after the win. "You need tune-up games. Some teams only play tune-up games. We don't. … But this game really showed us something."
Above all else, this was an 18-point win against a very, very solid opponent just four games into the year. It's a quality victory no matter how you look at it.