Kyra Elzy and Kentucky WBB commit Cassidy Rowe continue to build bond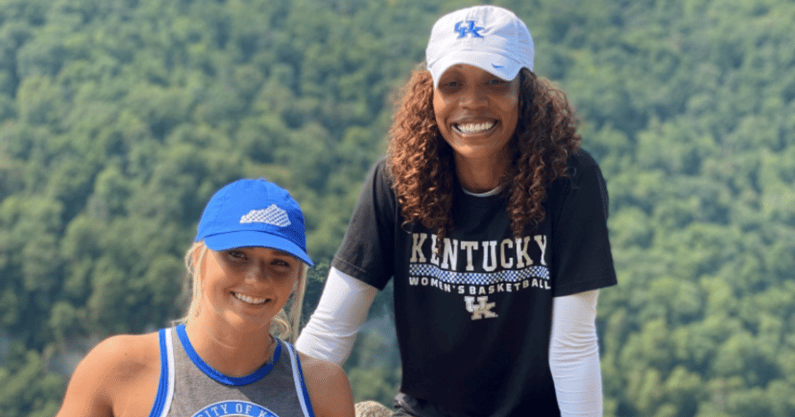 Kyra Elzy, Kentucky's Women's Basketball coach, made a nearly three-hour trip from Lexington to visit one of her incoming players from the class of 2022, Cassidy Rowe, earlier this month. A routine visit at this time of the year for the new HC, and an important one to make considering Rowe has been committed for over three years now. But instead of meeting the Rowe family at home or inside of her high school gym at Shelby Valley for a relaxed conversation, Elzy found herself hiking up and down the mountains of southeastern Kentucky.
Not by her own choice, however–Cassidy wanted to take her future head coach to her "side of the mountains", as she wrote on Twitter. Cassidy and Coach Elzy, along with Cassidy's parents, Lonnie and Susan, explored the Breaks Interstate Park, referred by some as the Grand Canyon of the South.
Prior to Elzy's visit, the Rowe family sat down and discussed what they could do to make the head coach feel comfortable while also doing something enjoyable. They settled on exploring some of the Bluegrass State's beautiful scenery while talking basketball along the way.
"She (Elzy) loved it. Said it was one of the best trips she's even been on," Lonnie Rowe, who is also Cassidy's head coach at Shelby Valley High School, told KSR earlier this week.
Cassidy has been committed to the University of Kentucky since Aug. 2018. Unfortunately, multiple ACL injuries hindered the first few seasons of her high school career and she wasn't feeling 100 percent healthy until earlier this year. Despite that, the 5-foot-6 point guard will head into her senior season with Ms. Basketball expectations.
Not necessarily expectations that are being placed on her by others, but expectations she's placing on herself. Cassidy is a tireless worker and has fought her way back into form. Her dedication has yet to meet a tipping point. No one has kept a closer eye on her development than her father, Lonnie, who spent Cassidy's most recent birthday watching his daughter put up endless shots in an empty gym.
"That's always a gift I have to get her," Lonnie Rowe said. "She says every year I want the same thing I want to go to the gym. That's my gift to her."
Cassidy specializes in two specific areas: playmaking and outside shooting. Recently, she's improved her ability to create her own shot, opening up those two qualities even more. She's been shooting three-point attempts from 25-plus feet in preparation for the next level, modeling what her idol Steph Curry has been doing in the NBA for years. Cassidy brings a skillset to the court that is especially valuable in modern basketball.
That doesn't mean she'll play right away in her first college season, though. But both her and her family understand that, which has been relayed in discussions with Elzy.
"Coach Elzy looks at her as a kid who can stretch the floor, she's a playmaker, but the biggest thing is, like I told (Elzy), is I just want Cassidy to have an opportunity and I know Cassidy is going to get that with you," Lonnie Rowe added. "One of the things Elzy and I both talked to Cassidy about is competing against two or three other kids–do something to get yourself onto the floor that they can't do."
Kyra Elzy's first official season
After being tossed into the fire last season, where she was named interim head coach two weeks prior to the start of the regular season following Matthew Mitchell's retirement (not to mention the global pandemic), Elzy is only now entering her first real stretch as a head coach. Things are semi-normal once again and Elzy has had a full offseason to incorporate her culture and team identity.
From the perspective of someone who has been around Elzy over recent years, Lonnie Rowe immediately noticed a difference in her approach when she came down for the visit.
"I can see her confidence level raising," Lonnie Rowe said. "Last year she went into the unknown basically and we discussed that. They were preparing for everything going in with Coach (Matthew) Mitchell's gameplan whereas she has a totally different gameplan even though they have similar thoughts. So she went in blind and had to go through the season like that in a pandemic year. She can't get advice from another coach about a pandemic because it's never happened. The confidence level this year I can see a big change in her because she's ready and she knows what she wants to do. She knows what she wants to get her players to do in practice."
To add on top of that, Elzy also has to mix name, image, and likeness (NIL) into her recruiting pitches. But she's in front of that too. Every new incoming player will take a class on NIL that helps guide them to success through that new financial avenue. Already, Blair Green and Rhyne Howard have embraced NIL opportunities through several public endorsements. Green is a popular player and a Kentucky native while Howard is a future No. 1 WNBA Draft pick.
For Cassidy, she can follow a similar path to that of Green by embracing her Bluegrass roots, particularly with the community she's grown up in.
"We've looked at that, but the big thing is Cass just wants to play basketball at UK and get her education," Lonnie Rowe said. "That will be just a plus for her if she can get that done and make some money off of NIL. But if she doesn't, she doesn't care. Her goal is to be on the first Final Four team in Kentucky.
"The thing about Cassidy is she's very loyal. She lives in the state of Kentucky, she wants to represent the state of Kentucky and wear the blue and white–and she'll tell you that. When she plays at Shelby Valley she represents our community, she takes a lot of pride in playing for Shelby Valley and she said I want to do the same thing for Kentucky. You won't believe the people that have reached out that want to attend her signing. It's every day we've got people asking make sure we know when she signs. Because they know she loves to represent our area, takes a lot of pride in that."
That signing will take place on either Nov. 11 or 12, and it will surely be a packed atmosphere for a beloved Shelby Valley community member with a bright future. Cassidy has been looking forward to this moment since she announced her commitment three years ago, even if the reality of the situation is only now settling in.
"I think it really set in once Coach Elzy came and did the visit and it finally set in like I'm going to be spending a lot time with this lady in front of me," Lonnie Rowe said. "When Coach Elzy left she (Cassidy) was so excited."
The excitement won't run out anytime soon either. Cassidy and her family will be on UK's campus next weekend for an official visit. There will be a lot less hiking this time around, but the smiles will be just as wide.