Leroy Neiman Passes Away at 91
The most famous painter of sports scenes (along with Norman Rockwell) in American history passed away today. Leroy Neiman was known for setting the scene at nearly every major sporting event in the world, ranging from the Olympic Games to the Kentucky Derby to the Masters. His pictures are some of the most iconic in all of sports and
Neiman even found time to paint a famous portrait of the Kentucky Wildcats.
In 1977, Ashland Oil commissioned Neiman to come to Rupp Arena and paint a portrait of the Cats in a game against St Johns: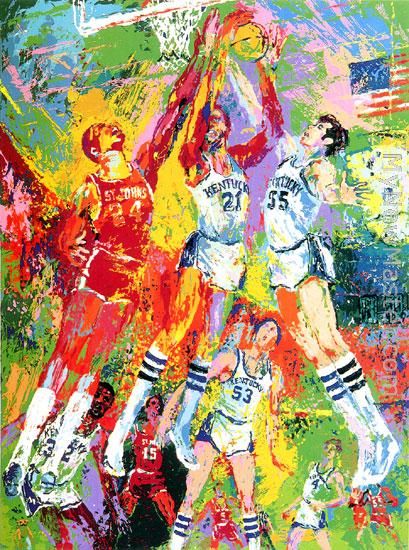 The above portrait was described this way by the great Oscar Combs in the
Cat's Pause back in 1977
:
We'll see just how popular Kentucky basketball really is during the next few months. A Kentucky oil firm has commissioned the famous Leroy Neiman to do a painting, illustrating the great Kentucky basketball tradition at Rupp Arena. There will be only 300 prints made and they will be sold at the modest price of $800 (that's right, Eight Hundred Dollars) each. Proceeds will go to scholarship and such under the direction of the UK Alumni Association
That's right Oscar...800 DOLLARS! Well now that iconic painting in its original form goes for around $4,500 online and is maybe the most famous painted image of UK basketball ever. Neiman was a legend, and his most famous portraits ("Arnie in the Rain", my favorite, is below) showcase the best talents sports have ever seen, ranging from Ali to Secretariat. He was 91.