Liam Coen: "I took these guys for granted"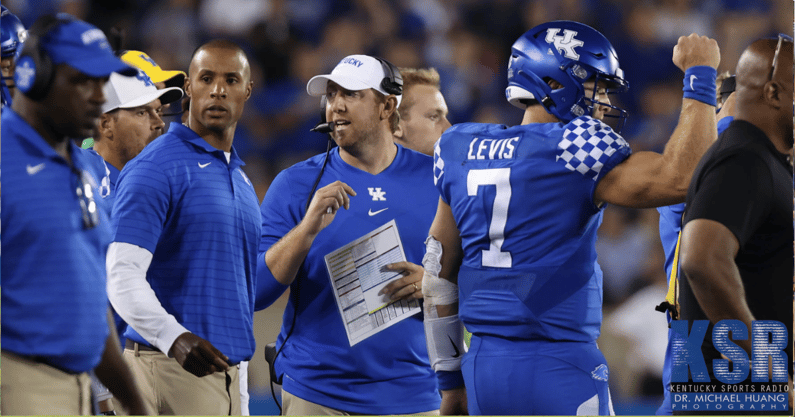 Kentucky's 28-23 win over Chattanooga on Saturday was, in a word, uncomfortable. A win is a win, but the BBN would no doubt appreciate a little less stress against an FCS opponent.
So how was the Mocs — who lost 45-0 to Tennessee in their last Power Five matchup — able to keep pace with the 'Cats for so long?
The main culprit was a poor game plan, according to Kentucky's new offensive coordinator Liam Coen.
"I took these guys for granted in a few ways," Coen said after the game. "They had a great plan on defense. They did some good things to combat some of the things we did last week, and that's on me."
Coen explained that the goal was to lean more on the passing game this week, giving a break to backs like Chris Rodriguez after the physical battle that was the Missouri game. As a result, Chattanooga was able to gum up the running game, throwing UK's offense out of rhythm.
"Our balance got off whack, and that was on me," Coen said. "I didn't call a good game."
Another issue was overcommitting to the pass, Coen added. Following a strong opening drive, he urged quarterback Will Levis to push the pace and gain confidence. But after a few missed throws, this strategy led to some crucial errors: "I got greedy," Coen said.
One such play occurred late in the third quarter, when Levis tossed a critical interception that allowed the Mocs to take the lead on a field goal:
According to Coen, the mistake was doubling down on the intended receiver, Wan'Dale Robinson, right after he converted a 23-yard first-down catch on the previous play.
"Wan'Dale just ran a 20-yard route, he's a little gassed, and then I run him on a deep play again. I mean, that's just so dumb," Coen said. "As a play-caller, I gotta be careful what I call because sometimes shot called means shot taken."
Thankfully, Levis and the 'Cats were able to make just enough plays down the stretch to salvage the W. But as game plans go, Coen said the lesson has been learned.
"At the end of the day, we need to be able to run the ball better," the first-year OC said. "That's what everything needs to work off of."
Hopefully, the near-loss will serve as a reminder of the importance of playing balanced, "complementary football" going forward. And please, for the love of God, let C-Rod eat.