Listen to Dakari Johnson on Kentucky Sports Radio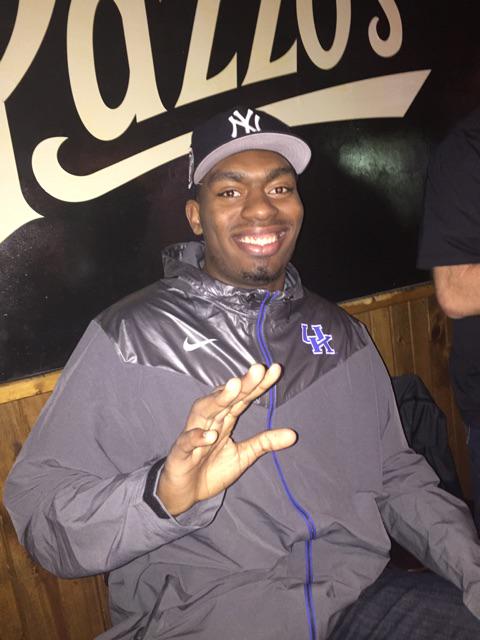 As we all knew he would,
Dakari Johnson killed it on KSR this morning
, cracking up listeners with some great stories about his time at Kentucky. I already mentioned Dakari's monthly pedicures with Devin Booker and Tyler Ulis, but here are some more highlights:
--- Dakari's been on a pretty strict diet since last season, but did share his favorite pre-diet meal:
the shrimp linguine and a Shirley Temple with cotton candy on top at O'Charley's
. Wow. He and Jared Carter really need to meet. --- If he could choose any NBA team to play for, Dakari said he's like to play for his hometown Brooklyn Nets. --- Slice is headed to St. John's, but count Dakari among his many fans.
"I go to bed every night hoping I can be as cool as Slice,"
Dakari said. --- While helping Matt out with his Sleep Outfitters ad, Dakari admitted he's always wanted a waterbed. --- Dakari says he's the best singer on the team and loves to sing Beyonce while in the shower, so
the guys challenged him to sing "All the Single Ladies" coming in from one of the breaks
. Matt took a snapchat video of Dakari singing and dancing to it, and if I can get him to figure out how to save the video of it to his phone, I'll post it for you. Until then, look it up on "kysportsradio" on SnapChat. Until then, enjoy Dakari on the podcast: In case you missed it, here are Karl and Devin's segments from earlier this week:
Karl Towns on Kentucky Sports Radio Devin Booker on Kentucky Sports Radio
Thanks to all the guys for coming on.