Little Italy's Monday News and Views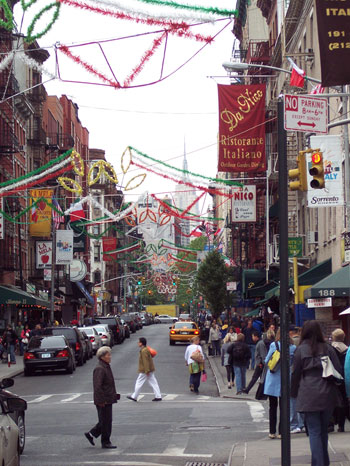 I write this late night post from the Millenium Hotel in the United Nations plaza, where I am staying for a Legal CLE conference here in New York. I came with Johnny the Bruce as we learn about Employment Law and the like, all the while trying to explore the city and look for randomness. Tonight we roamed the area around
Little Italy, a place where every five feet has an Italian restaurant
, all of which seem to be empty on Sunday nights. Most people in New York were crowded around televisions, watching the Jets lose to Peyton Manning and then getting violently angry. I saw one guy throw a beer glass to the ground and scream out a set of cuss words that would make Coach K blush, only to be told, "he is the owner, dont worry about him." While walking around Little Italy, I asked various restaurant managers (who all were at the door begging people to come in) if they knew "Calipari or Pitino" and all smiled, said "yes we do serve calimari" and I went on my merry way. Monday will be all about the intricacies of employment law (oh that crazy
Ricci
decision!) and we move towards Tuesday night, when the Bruce and I will hit Jack Dempseys to watch the Cats play South Carolina. If you are in the New York area, come join us. To the news....
(1)
: Today is a day we fans have waited to see for a long time, as
the Cats will regain the #1 spot in the land
when the new polls come out. It occurred to me while watching the game on Saturday that for the four years we have been doing this, it is the first time that UK has actually been really good. It is a great feeling and makes the games so much more fun to watch and cover. The team had a light walk-thru today and will practice some on Monday, but will not have the intense workouts that they had the week previously. The South Carolina game is one that the coaches know they must make sure the players focus on, primarily because of the three point shooting that South Carolina still brings to the table. Watching how UK reacts to the #1 ranking will be something to focus on for Tuesday.
(2)
: Recruiting is the word of the day, as football and basketball both have recruiting noise heating up. On the basketball side,
2010 recruit Doron Lamb has narrowed his list
to Kentucky, Kansas, Arizona and West Virginia. This represents a bit of a departure from past lists and showcases the fall of Oklahoma, who was once thought to be Lamb's leader. Doron is a great shooter and is a target that UK has really turned up the heat on in recent months. The big opponent has been thought to be Kansas, but Arizona has stepped up with Sean Miller to be right there as well. For UK to have the monster class that fans want, Lamb probably needs to be part of it and we hope to learn more in the coming weeks about where UK ranks on that final four list.
(3)
: This was a big football recruiting weekend, with many of UK's commitments in town for a visit before Signing Day comes. UK currently has 25 open scholarships and 21 commitments, meaning that as Joker Phillips said, "there are 3 or 4 more we want." However Phillips was clear that he wont take guys just to take them and thus could leave some open for later. The only person to make a decision this weekend was
Sam Gibson who said he is going to LSU
on his Facebook page tonight. Gibson was a bit of a longshot for the Cats, but one they had held out hope for late. The big target is still
DT Michael Thornton
, who will make a decision soon, and for UK, they hope he joins his three teammates already slated to come to Lexington.
(4)
: A source told me this weekend that
UK is trying to finalize a four-game series with Texas
to begin next season for basketball. The series woud involve four games, played in four different cities, Louisville, Nashville, Dallas and Houston over the course of the next four years. The hope is that it can be worked out for next season, but if not it may start in the year after that. Another great marquee opponent, and a chance to see UK in different locales again. Finally, it is time to start focusing on the week ahead. We play South Carolina and that really weird looking white guy thats been there forever. Plus, we released
Episode 12 of the Podcast
that you can play below. It has Drew, Will and I, joined by Woo, who gives us a lot of stories that are great and makes the experience hilarious. Make sure and listen. And if you havent subscribed on iTunes to the podcast,
please click here and do it.
Very soon, we will have features only available to the subscribers, and you will want to hear them...I would hope. More all day, as we get ready for #1. [podcast]/wp-content/uploads/2010/01/Twokeys-arkansas.mp3[/podcast]