Local QB Cutter Boley earns Alabama offer; visits Georgia on Wednesday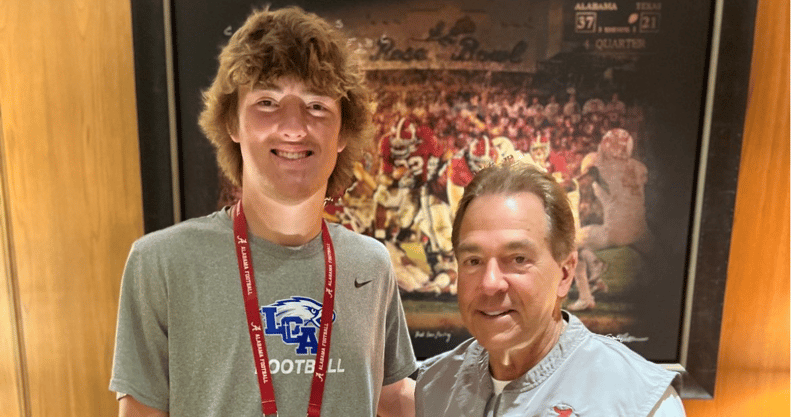 The Kentucky staff is going to have their work cut out for themselves when it comes to recruiting Cutter Boley.
A 6-foot-5, 205-pound quarterback who will play this upcoming football season at Lexington Christian Academy (KY), Boley has burst onto the national scene this spring. The class of 2025 prospect was offered by UK back in December, his second from a Divison I program (Ole Miss), and has since blown up as one of the top rising sophomore QBs in the entire country.
The hype surrounding Boley was stoked even more on Saturday when head coach Nick Saban and the Alabama Crimson Tide got involved. Bama's offensive coordinator Bill O'Brien brought Boley down to Tuscaloosa for a visit where he later extended a scholarship offer to the young gunslinger.
"Obviously, their quarterback development is something really special," Boley told On3's Joseph Hastings about Alabama. "Bryce [Young] is a Heisman winner and he'll be in the NFL as a starting QB soon. Mac Jones and Tua [Tagovailoa] are both starting in the NFL. They're obviously doing something right with quarterbacks. I want to be developed into an NFL quarterback and Alabama could do that for me."
Boley has been stacking up the offers this year, too. Michigan, Virginia Tech, Missouri, and Tennessee all offered him in June while Pittsburgh, Kansas, and West Virginia have reached out with scholarships since the beginning of 2022. More will surely be on the way, as well. Boley announced through Twitter on Tuesday afternoon that he will begin a visit to Georgia on Wednesday. An offer from the Bulldogs would not come as a shock at this point.
Kentucky is making sure to stay heavily involved though. Former Wildcats offensive coordinator Liam Coen was the one who established a relationship with Boley but that contact didn't die down once the former left for the Los Angeles Rams. New OC Rich Scangarello has since taken over as Boley's primary recruiter and the two sides have built a solid connection so far. Boley was in Lexington in January and returned earlier this month for a pair of unofficial visits.
This is a recruitment we will be talking about for the next two-plus years. Let's just hope this isn't a "Mac Jones-type" situation all over again…