LOOK: Kentucky in the College Football Hall of Fame
[caption id="" align="alignnone" width="2250"]
NFF
[/caption] In the middle of the madness on day two at SEC Media Days, I took a little break to wander through the spacious College Football Hall of Fame in Atlanta.  Even though they say Kentucky isn't a football school, the Cats are all over the Hall. Just beyond the grand entrance of helmets, Tim Couch's jersey is displayed for the special occasion.  On the ballot for the second consecutive year, it's only a matter of time before his No. 2 has a permanent home at the Hall of Fame.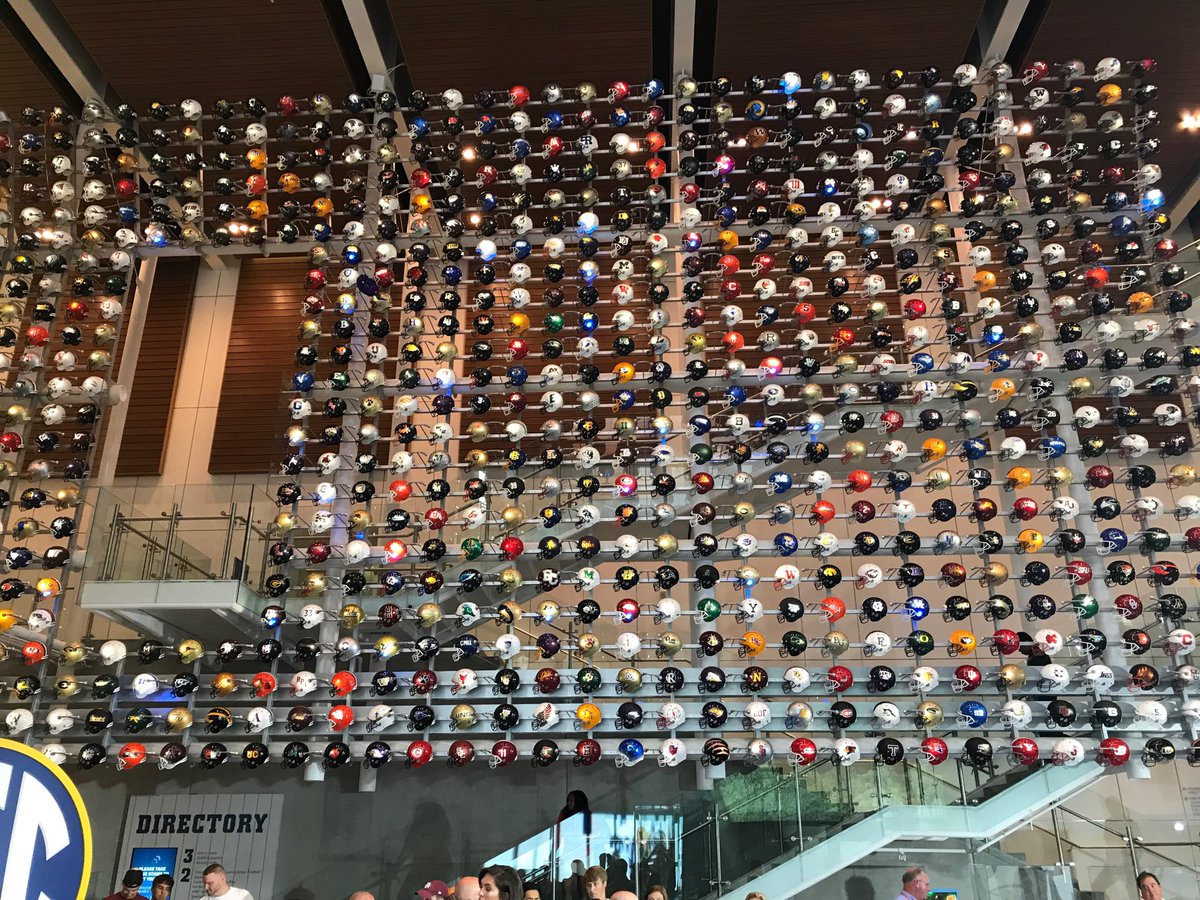 [caption id="attachment_244148" align="alignnone" width="2048"]
@SECHerbvin
[/caption] Up the stairs behind the wall of helmets is the rotunda.  Interactive displays allow you to learn about the more than 1,000 Hall of Famers.  A simple search of Kentucky will lead you to this:
After clicking on a player, you'll find archived photos and videos, like these: https://twitter.com/RoushKSR/status/1019321079209357313 https://twitter.com/RoushKSR/status/1019321640927334406 After spending time in the rotunda, the stairs take you through the heart of the museum that is filled with theaters, more interactive exhibits and tons of relics from the past, like these trophies.  Did you know there's a MacArthur Award, named and designed by the WWII general, given to college football's best team after each year?  I had no idea.
Further down the hall, you'll find the coaches' corner.  Of course, Bear Bryant's horn is tooted quite a bit, but a person who wasn't around in the 80s would be surprised to see how well-regarded Jerry Claiborne is.  He wasn't just a coach that was beloved by his players, he turned around programs and is one of the few recognized as "One Who Changed the Game," thanks in part to the wide tackle six.
Claiborne was also listed under Bryant's coaching tree.  The diagrams are creative and feature names that will surprise you, but I am disappointed one was not dedicated to the founder of the Air Raid, Hal Mumme.  Even though he probably will never be enshrined into the Hall of Fame, his offense changed college football and his disciples still dominate the landscape.
Around the corner, a timeline spanning the entire existence of college football fills a wall.  It's interesting to see how the game developed in the early years to where we are today.  One of the significant moments highlighted happened in Kentucky in 1965.
Unfortunately, time forbid me from digging into every little detail the museum had to offer, but I can safely recommend this place to any and every college football fan. [mobile_ad]