Looking Ahead To Football, Exactly One Month Before Kickoff
The University of Kentucky
football season kicks off exactly one month from right now
in what will hopefully be a packed and electric Commonwealth Stadium in Lexington. Southern Miss will bring its Conference USA preseason Player of the Year quarterback and brand new offensive coordinator to the Bluegrass, with hopes of stealing one and essentially ruining the Wildcats' season in Week 1. But before we all pile up under those lights with optimism in our hearts and pints of bourbon tucked into our waistbands, there is still plenty to be done to prepare for that first snap. For us, the fans, we're pretty much ready. Last year's tent should hold up with those zip-ties and duct tape; the coolers and grill look to be in decent enough shape, too. We'll coordinate who-brings-what to the table the week of, so long as Mike's wife shows up with her famous jalapeno popper dip. We're ready to go. The football team, on the other hand, has a long way to go before its ready to cleat up and hit the gridiron. Mark Stoops and the boys will begin fall camp tomorrow evening with nothing but football ahead. They'll practice, practice, practice. Two-a-days. Film study. Conditioning. Pads on. Pads off. Live contact and touch. All football, all the time, over the course of the next month and on into the season. During that time, the three weeks of preseason practice, several questions will need to be answered; some players will make a move up the depth chart; the new guys will adapt to the next level; and the veterans will work to improve their game. Those of us on the outside looking in will get occasional updates from coaches and select players each week, but for now we're left wondering
how the major storylines, questions and concerns will play out
. Tonight, one month from that first coin toss, let's talk about those.  
Will Matt Elam become the run-stopper Kentucky needs?
Matt Elam has not lived up to the unrealistic hype placed upon him when he signed with Kentucky over Alabama as one of Mark Stoops' most prized recruits in 2014. In his defense, too many fans wanted him to be an immediate star at a position that doesn't call for playmaking ability and star power. Elam is a nose guard and the heaviest player in the entire conference; Kentucky only needs him to fill up the middle, stay on the field, and disrupt the opponent's interior run game. That hasn't been easy for Elam thus far. It's well documented that he struggles with his weight, which has in turn affected his endurance, quickness, explosiveness and burst off the snap. His technique has also lagged behind as he has a tendency to get too upright, leaving him vulnerable to being pushed around and away from the play. Defensive line depth was able to cover for Elam in his first two seasons, but that depth is long gone. The interior line is his show now and Kentucky needs him to thrive on the new role. He's reportedly lost 30 pounds this summer and improving each day; although, he will need to maintain that weight and make it "good" weight he can use to his advantage. If Matt Elam can become a reliable and durable run-stopper, it will work wonders for the Kentucky defense. If not, Kentucky will make a lot of SEC running backs' draft day highlights.
Can Drew Barker guide Kentucky's talented offensive?
It became Drew Barker's team when Patrick Towles announced his transfer to Boston College at the end of last season. Kentucky signed an athletic QB in Stephen Johnson out of JUCO, but the offense is Barker's to run. This is the season he signed up for when committed to UK over South Carolina as one of the most prolific performers in Kentucky high school history. He now has the reins he and Stoops intended for him to have all along. Barker inherits a deep roster of weapons, too. Kentucky's offensive line should be good enough, and there are more options at the playmaking positions than ever before. (Literally, ever.) That means it's all up to Barker. No excuses. He is the one unproven piece on that side of the ball and the Cats will only go as far as QB1 takes them. It's not crazy to say the entire season falls on his shoulders.
Finish!
In Mark Stoops' three years at Kentucky, the team has two total wins in the second half (last six games) of any of those seasons. That's a 2-16 record with zero conference wins. Last year, the Cats dropped six of seven after a 4-1 start; the year before, six consecutive losses after a 5-1 start. One SEC coach questioned if UK is "mentally fragile." That is a fair question. This year's six-game slate to close the season begins with two winnable games in Mississippi State and Missouri. They could also steal one against Georgia, and Austin Peay is a must-win that shouldn't be a problem. The road contests at Tennessee and Louisville will be tough. Mark Stoops recently said, "We need to have tougher two-a-days, a tougher camp and continue to expand our capacity to handle more to endure what it takes mentally and physically to compete and to win in this league."
How good will the secondary be?
Stoops called it the best group he's had since he's been at Kentucky and it is still very young. Three of the returners started as true freshmen last year and played well given their inexperience; if they improve as expected, look out. The group as a whole has great length and playmaking ability across the board, which we're not accustomed to seeing here at Kentucky. They are little concerns around that unit heading into the season, unlike the front seven...
Who will step up at linebacker?
Courtney Love hasn't played a down in a Kentucky uniform, yet he is being called on to carry most of the load left behind by the Cats' three departed inside linebackers. He seems to have already taken a leadership role this past offseason. But outside of Love, there are several question marks in the linebacking corps. True sophomore Jordan Jones was named post-spring starter at the WILL position, alongside Love in the middle. Jones has only 10 career tackles in eight career appearances with zero starts on his resume. Incoming transfer De'Niro Laster and sophomore Nico Firios will help out Love and Jones. Together, they've combined for three game appearances and one tackle, all by Firios. Kash Daniel and Eli Brown will also compete for some playing time as a true freshman and redshirt freshman, respectively. On the outside, sophomores Denzil Ware and Josh Allen got the nod on the post-spring depth chart. Ware has the most experience of any linebacker on the roster and his play will be crucial outside. Kobie Walker could also make some noise in fall camp, as well as Jordan Bonner, Jaylin Bannerman or some of the interior reserves stepping out. In short, there isn't a more inexperienced position the field than linebacker.
Competition at wide receiver should increase effort, and in turn, performance.
The wide receiver position is deeper than it has ever been at Kentucky. That means if someone wants to take plays off, drop balls or bail on a route over the middle, the bench will become a good teaching tool. Dorian Baker, the team's leading receiver, is a player who could see his touches diminish if he isn't performing. Baker's job was pretty secure last year as the team's big-body receiver, but newcomers Tavin Richardson, Jabari Greenwood and Kayaune Ross would love to get a look in his place. Richardson and Greenwood have already jumped Blake Bone, who has played in all but one game in his career, on the depth chart. The UK receiving corps is also very experienced with Baker, Jeff Badet, Garrett Johnson and Ryan Timmons leading the way. Any of those four guys are capable of going off for big games, and hopefully will. Stoops predicts a big year out of Timmons in his senior season.
Camp starts Friday. 
Friday...

We're Back. 🏈 #UKCamp pic.twitter.com/nt45MRn9z1

— UK Stoops Troops (@UKStoopsTroops) August 2, 2016
Kickoff in one month.
[caption id="" align="alignnone" width="1200"]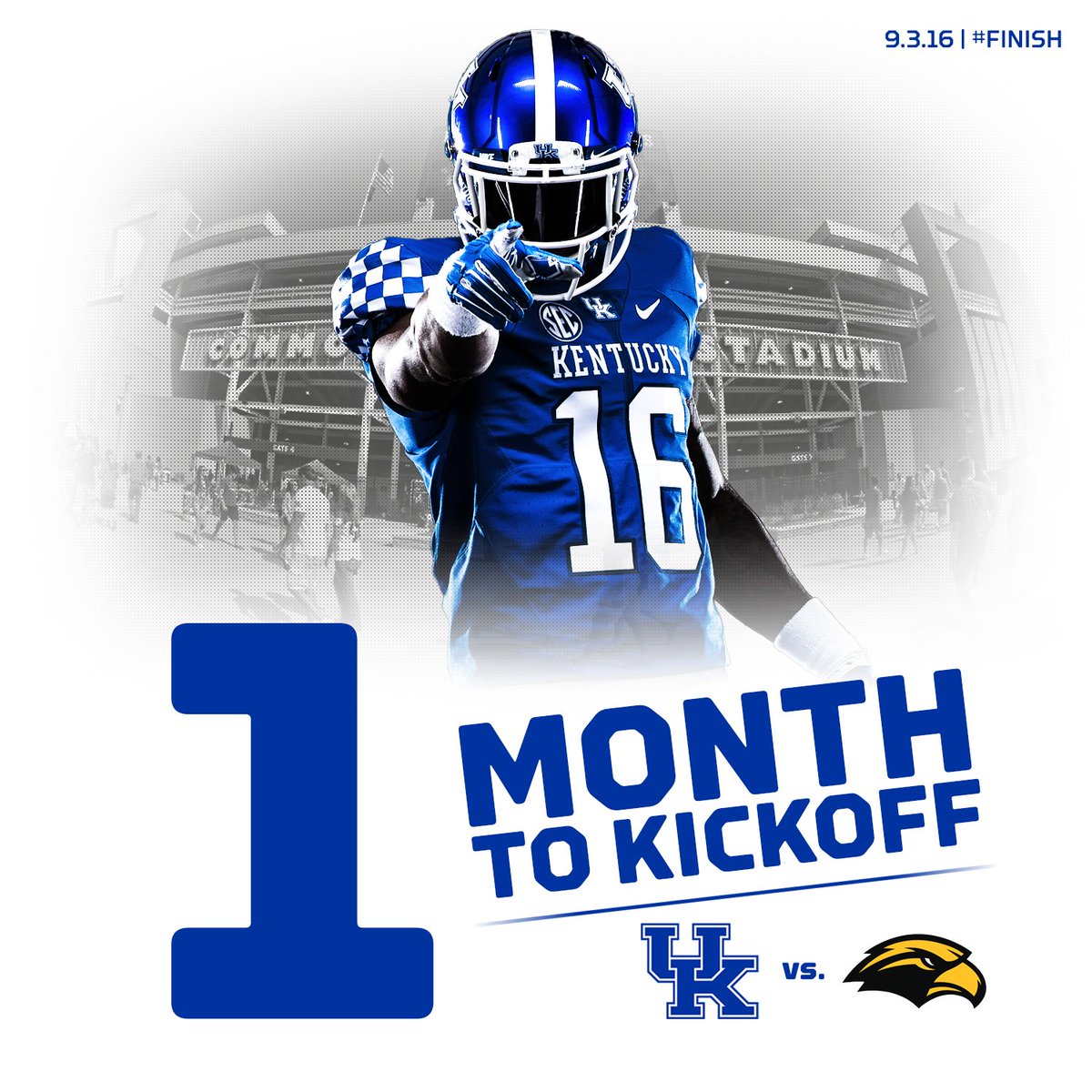 @UKStoopsTroops
[/caption]