Louisville Athletics is the gift that keeps on giving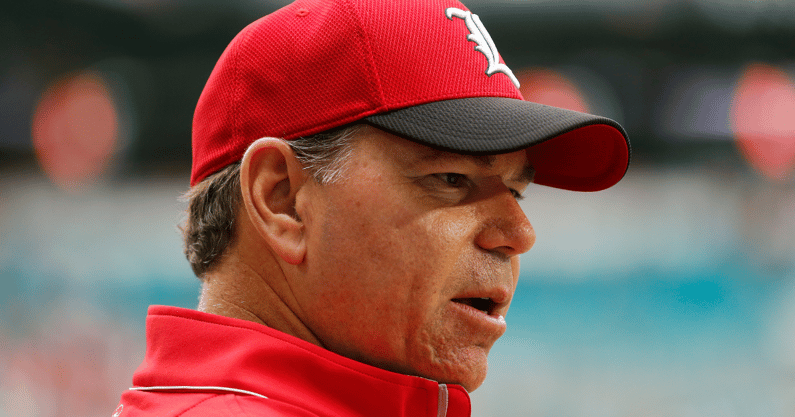 Just when you thought things couldn't get any crazier on Floyd Street, University of Louisville athletics finds creative ways to make unusual headlines.
Banners have been removed. Coaches have been extorted. Hookers have been paid. The latest development isn't as salacious, yet it's still sensational, even for the college football coaching carousel.
Since Kentucky destroyed the little goodwill Scott Satterfield created in a six-win season with a 52-21 Governor's Cup loss, every Louisville fan has been asking the same question, "Are they going to fire Satterfield?"
UofL director of athletics Vince Tyra was unusually quiet all week. Typically Tyra calls a press conference at the drop of the hat. The silence was deafening. The quieter he remained, the louder disgruntled fans called for Jeff Brohm to replace Scott Satterfield.
Finally, Friday afternoon Card fans received clarity, hearing news many did not want to hear. WDRB's Eric Crawford reported that Tyra and Satterfield had an individual one-on-one meeting and left the discussion "encouraged about the future of Louisville's football program."
"Whatever speculation you've heard about a change was, in fact, just speculation," Crawford said.
"We had a great meeting today," Tyra told WDRB News. "Scott had a very detailed game plan, a very compelling game plan, ready for the meeting. It continues the development that he's tried to do in the first three years. I think everyone feels we're getting further away from where we were three years ago and continue to put ourselves in a good spot. I think we can see where the recruiting class is. And I think we're supportive of other moves that he'll talk soon to further enhance those efforts, and we're ready to invest in those efforts."

WDRB
What Tyra didn't say is that his foot is halfway out the door.
But Wait, THERE'S MORE!
Less than 90 minutes after the 5 pm news dump on WDRB, Pete Thamel reported that Vince Tyra is a candidate for the Florida State athletic director job.
Last week's silence led many to speculate that Tyra was moving to make a change in the football program. Instead, he was working on a change of his own.
To recap, Tyra had an ace in the hole to use to appease the stir crazy Cards. Instead of using it, he's maintaining the status quo and solving his problems by passing them onto someone else.
The late-breaking Friday developments have sent the rumor mill ablaze. Now confused Louisville fans are blaming president Neeli Bendapudi for not letting Tyra do his job. "She wouldn't let him fire Satterfield!?!?!" Confusion and anger is everywhere and nobody is giving Louisville fans any answers.
On the third anniversary of Scott Satterfield's hiring, things are an absolute mess on Floyd Street. There's no scandal, but there's still plenty to laugh at from afar. Louisville athletics is the state's jelly of the month club.