Mark Stoops believes stability, familiarity with Liam Coen will reap rewards in 2023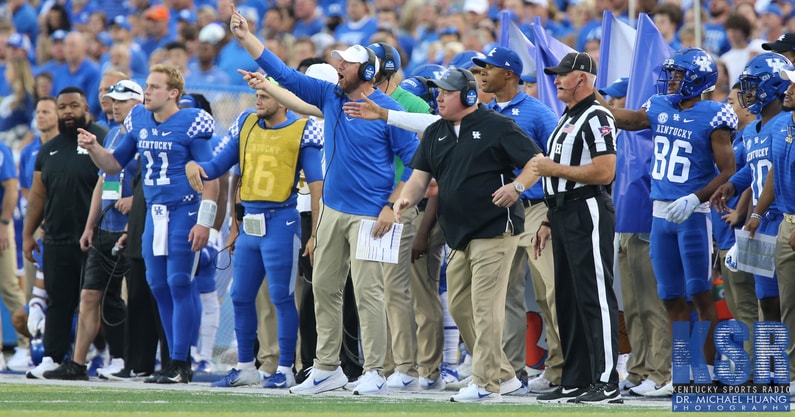 Kentucky has had four offensive coordinator changes in four years, a constant turnstile of play-callers dating back to when the upcoming seniors were freshmen. So why is it that Mark Stoops is praising the program's coaching stability and familiarity this spring?
Short answer: Liam Coen, who is entering his second stint with the Wildcats during that same stretch. The coordinator that led UK to its most efficient and explosive offense under Stoops back in 2021, headlined by Will Levis, Wan'Dale Robinson and Chris Rodriguez.
That trio of standouts is gone, but Coen is back, looking to recreate the same magic he found before he left a season ago. And Stoops' expectations are high that'll happen again, new quarterback, running back and reshaped offensive line aside.
"The nice thing is it's like, in a way, he never left because I'm so comfortable with him and he's comfortable with me," Stoops said in an interview with KSR on Thursday. "He knows just about everybody in the building so it's an easier transition than the first go-round. Hopefully it'll lead to the same success or more success on the field. It's been very smooth."
That's where the familiarity and the continuity come in, but it's deeper than that, obviously. Coen is the same person and offensive mastermind he was when he left, but he's still growing and developing. He's adjusting to the times, where the sport is going. That's what has Stoops excited — it's like a fresh start with the same person.
"Liam will evolve and I will evolve, we have to constantly keep up," he said. "That's one thing about our game. You have to strive to keep up and change with the times because it's constantly evolving. It's been great to have him back, not only the football but just his presence, the way he is around our kids. There are a lot of positive things about it. I read a quote recently I've been using with our players: 'If you don't like change, you're gonna like irrelevance even less.'"
And that's just with Coen and the offense. Elsewhere, continuity and familiarity is there. Brad White is back, position coaches are back, a ton of familiar faces to keep the other good stuff trekking along. Stoops understands the value there, as well.
"It's extremely important. It means everything to be able to keep that (continuity)," the Kentucky head coach said. "Now with the portal and all that, I think staff continuity is as important right now as it's ever been. There's going to be turnover — we deal with a lot of people, both players and staff. So there's going to be turnover, but I've been fortunate to stay stable on the defensive side of the ball, certainly with Brad and with the coordinator position. That's really helped.
"I think we saw with the instability — and that's not saying one person was better than the other, Rich was put in a tough spot last year. You can't blame Liam for getting the opportunity that he had. But that instability certainly didn't help us last year."
But it costs to keep that success rolling. Kentucky just signed defensive backs coach Chris Collins to a two-year extension that included a pay raise, along with paying top-dollar for Coen's return and the hiring of Jay Boulware to coach running backs and special teams. Stoops himself earned an extension back in November that keeps him in Lexington through the 2030 season.
And that's what it takes to compete, something Stoops plans to continue doing with the current staff he has in place.
"The way we compensate them now, and our coordinators in particular — I'm trying to lock those guys down and keep them here," Stoops told KSR. "That will mean a great deal as we move forward. I love where we're at. I love the addition to Jay Boulware with the special teams and obviously having Liam back, being able to keep Brad. Brad is the most humble guy. He doesn't talk about it, but he's had opportunities. Multiple every year, some really good ones. He's been very good and deserves everything he gets.
"So I really like where we're at. I really do feel good about it. That's what I'd like to do, keep everybody."
Discuss This Article
Comments have moved.
Join the conversation and talk about this article and all things Kentucky Sports in the new KSR Message Board.
KSBoard