Mark Stoops broke Kentucky's school record for SEC wins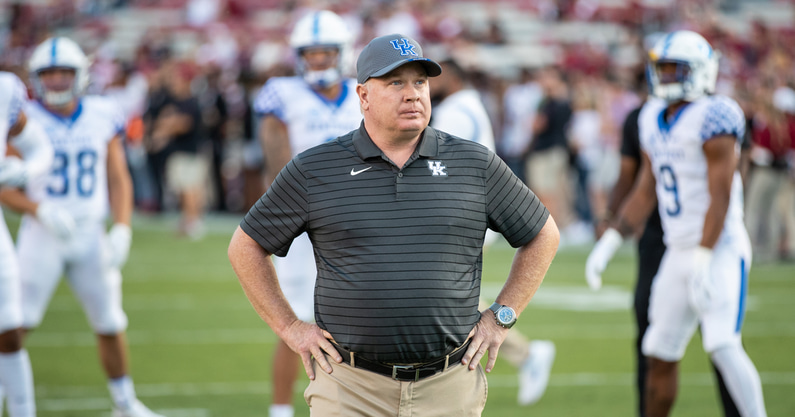 Move over, Fran. There is a new record-holder in the Kentucky Football history books.
With Saturday's win at South Carolina, Mark Stoops passed Fran Curci for SEC wins by a Kentucky Football head coach. Stoops tied Curci at 25 victories with the win over Missouri two weeks ago and he got his 26th two weeks later, today, at South Carolina.
Additionally, Stoops narrowed the gap on his chase for Paul "Bear" Bryant's record for overall wins at Kentucky. Bryant coached the Wildcats to a school-record 60 victories during his time on the sideline from 1946-53. Stoops earned his 53rd against the Gamecocks and is now 7-2 in the head-to-head series.
Overall, Stoops moved to a 53-50 record in his nine seasons as Kentucky's head ball coach. The nine seasons ties Curci (1973-81) for the longest-tenured coach in Lexington, and Stoops already holds the record for games coached with 103 on his resume.
After the game, Stoops spoke about passing Curci for conference wins.
"Tony (Neely) just told me that, to be prepared," Stoops responded to a question about the SEC wins milestone. "I'm thankful, that's all. (I'm) just right in the moment right now. I told our team (I'm) really excited for the next opportunity.
"But I am grateful. It's always a tough grind in this league and I thank all the support I've had in administration, Dr. Capilouto, and Mitch (Barnhart). It's been a team effort and we have really good people around here and we plan on keeping on going."
A few more notable stats on Mark Stoops' resume at Kentucky:
— Kentucky is 4-0 for only the second time under Stoops (2018)
— Kentucky is 2-0 in the Southeastern Conference for only the second time since 1977
— The Wildcats won an SEC road game for the seventh straight season, extending the school record for most consecutive seasons with an SEC road win.