Mark Stoops has signed new contract extension with Kentucky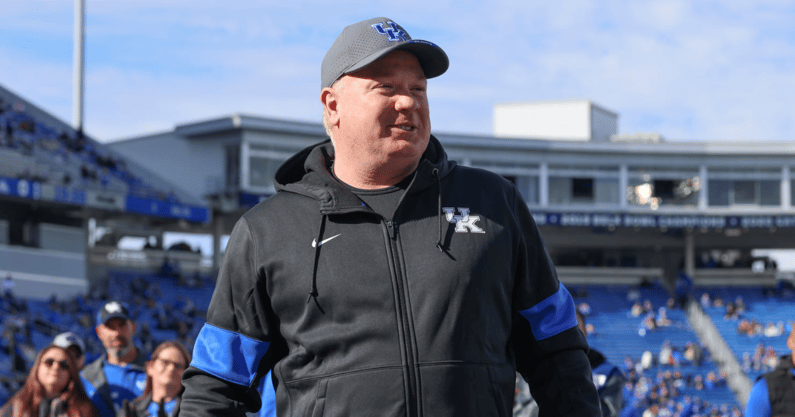 Mark Stoops is here for the long haul in Lexington, officially signing his contract extension with Kentucky Football. News first broke of his extension a couple of weeks ago, but now we know the financial terms of the deal.
According to LEX18's Keith Farmer, Stoops has signed an extension that will keep him as the head football coach of the Wildcats through June 2028. As part of the amended deal, Stoops will receive a hefty pay raise, jumping to $6,350,000 million once Jan. 1 hits–the same day UK plays Iowa in the Citrus Bowl.
Stoops currently makes $4,850,000 each season. This new deal will see his salary rise from $6.35 million in 2022 to $7,600,000 by the time 2028 arrives. And per usual, he could earn even more money than that depending on how his team does on the field. If Stoops meets the requirements to add another year to his contract, he will receive an additional $250,000 for every season after 2028.
Farmer also reports that Stoops' pool money for his 10 assistant coaches has been raised to $6,500,000.
The raise is much-deserved for Stoops, who will likely pass Bear Bryant in 2022 for the most wins in Kentucky Football history. He currently sits at a record of 58-53 with one more game left in his ninth season. Stoops' raise will make him one of the highest-paid coaches in the country. Considering he just hauled in an all-time recruiting class and is about to coach his second Citrus Bowl game in four years, he's worth every single cent.