Mark Stoops says Waka Flocka Flame is "welcome back anytime"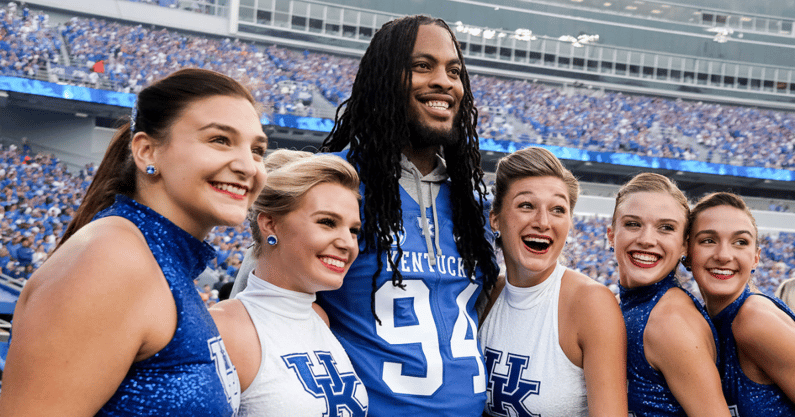 Grove Street Party has been the unofficial Kentucky football anthem since 2014, with the popular rap song blaring through the Kroger Field speakers every Saturday since. After seven long years, rapper Waka Flocka Flame – the artist behind Grove Street – made his first official appearance with the team leading up to Kentucky's matchup against the Florida Gators on Saturday.
He led the Wildcats out of the tunnel prior to kickoff and then celebrated with the team on the field following its 20-13 victory over the Gators. For one night, he was an official member of the Kentucky football program.
"Coach Stoops. Kentucky. I felt like I grew up in Kentucky, the way the love was, the energy was and how everybody gravitated with each other," Waka Flocka told Alyssa Lang on Out of Pocket following his trip to UK. "It felt like we were in the NFL. I felt like that was the Super Bowl. It was amazing. … I felt like a Wildcat."
"We loved having him."
Head coach Mark Stoops says he "loved" bringing the popular rapper to Lexington and the way he added excitement to a game that was already seen as arguably the most anticipated of the season.
"I had a chance to visit with him pregame, right after the CatWalk, he was there early," Stoops said on KSR Friday morning. "I had the chance to talk with him for a few minutes then, and then of course he was there during the game and afterward. He was a really nice man, really good guy. I enjoyed talking to him and having him around.
"You can tell he was genuinely having a great time, celebrating with the players, hanging out, hearing his song throughout the stadium. That had to be a cool experience. We loved having him."
Waka Flocka specifically pointed out how impressed he was with the team chemistry and camaraderie leading up to the game.
"What impressed me the most about the team was the whole day, just walking around and going to the locker room, the equipment room. The way they — their team spirit, it's like a brotherhood," he said. "You'd think they all have the same mother and father. That's a real family in that locker room. I felt a lot of love in the locker room. I didn't feel no separation. That was a day to remember."
"He's welcome back anytime."
Stoops appreciates that Flocka was able to notice that in the short time he was in town.
"Without a doubt. When you have 105 players, 110 players, whatever, and 40 to 50 staff (members), it is (nice)," Stoops told KSR. "It does make me proud he feels that, just coming into our situation in a day."
It was an experience Flocka is excited to have again, sooner rather than later.
"I love Kentucky," he said. "I'm definitely coming back. I want to see them play. I'm going to do it a lot this year."
And Stoops is ready for that opportunity whenever Flocka is ready to make his way back to Lexington.
"He's welcome back anytime," Stoops told KSR.