Matt Elam Throws Shade at Shannon Dawson and More from Wednesday's Practice
After the Cats' final fully-padded practice of the preseason, Mark Stoops shared a few extra words with his defense.  His skin was red and his hands were flailing.  Lucky for him, he didn't have to calm down to talk to the media after.
Instead, D.J. Eliot spoke to the media (you can watch here).  Today's practice was primarily focused on situational drills.  "Focus" was a catch-word for the defensive line, but Matt Elam made sure he got in a few more candid words.
"(Last year) In practice, I felt like the defense always got the best of him.  He's going to go down there and run what he runs.  We just gotta stop it," Elam said.
Despite throwing that barb, Elam said the players don't talk about facing Dawson much.
More notes from today…
Courtney Love's Late Rise
Coaches often praised the middle linebacker for his leadership, but rarely did they mention him as one of the top performers from practice.  That's changed the last two weeks. D.J. Eliot commended his work once again tonight saying, "he's really stepped his game up."
Who wore it better, Chris Westry or Lonnie Demaree?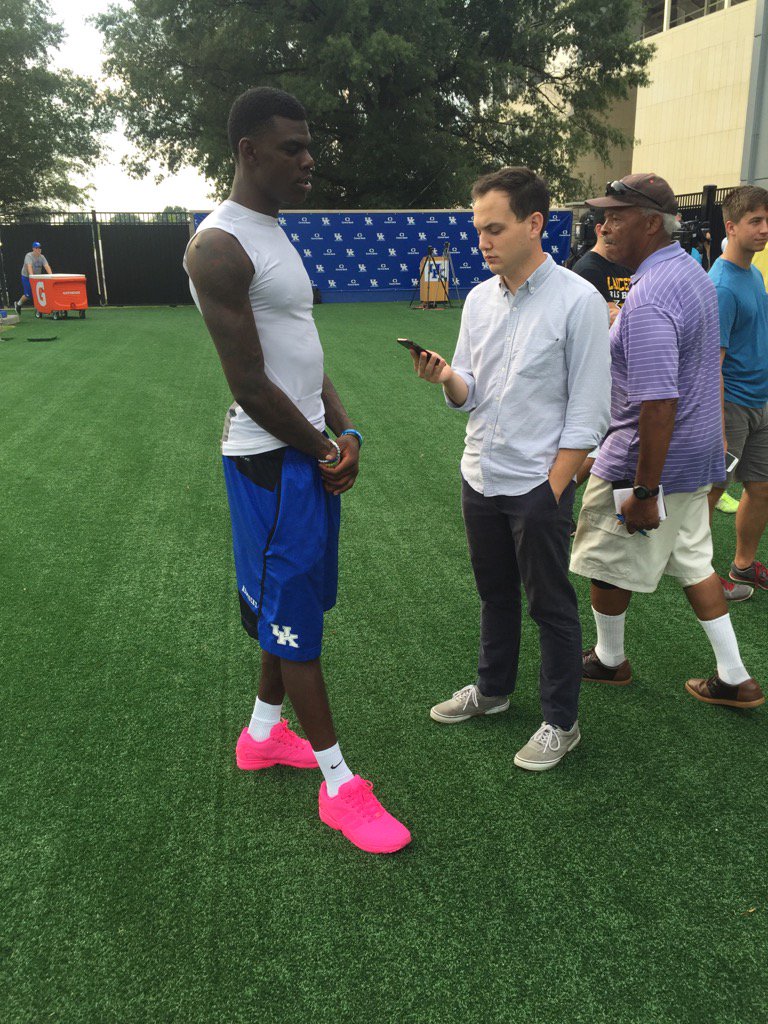 A Confusing, Difficult Interior Running Attack
Southern Miss primarily employs a zone read attack in the middle of the field.  Instead of blocking straight ahead, they step wide for "stretch" blocks, allowing the running back to read, find the hole and react.  The interior of the defensive line will face plenty of double teams, making their job difficult.
"They do a lot of different things schematic-wise to be able to help themselves," defensive line coach Jimmy Brumbaugh said.  "It really is tough because they can go outside zone, then come back inside.  Then there's gap schemes, or they can throw play-action at you.  They're going tempo.  It's going to be a challenge."
How Toth Helps Elam
What will make things even more difficult for the interior of the defensive line is going up against center Cameron Tom.  A powerful center with great footwork, Elam will have his work cut out for him to stop the slasher at running back, Ito Smith.
One thing working on Elam's side: he's been facing another elite center all camp, Jon Toth.  "Toth's learned the game and he does the little things to him that makes Matt wonder, 'hey, what are they doing here?'" Brumbaugh said.
Elam describes practice vs. Toth as a back-and-forth battle.  If Matt wins by power rushing, Toth takes it away the next play.  Learning to be creative in the trenches should pay off on Saturday.
Battling an Elite Pocket Passer
You should know by now that Southern Miss QB Nick Mullens is no slouch.  Last year he passed for 4,476 total yards, averaging 319.7 yards per game.  Mike Edwards said the past is the past, "it's a new year," but he knows what Mullens is capable of.
"I like how he reads the defense and gets the ball out pretty quick to the receivers.  Every time they break, the ball's coming out," Edwards said.
Gameday is Almost Here
"I'm counting down the days.  I'm ready to play tonight.  I can't wait," Edwards said.