Matthew Bradford's Inspiring Message Resonates with Kash Daniel
[caption id="" align="alignnone" width="1024"]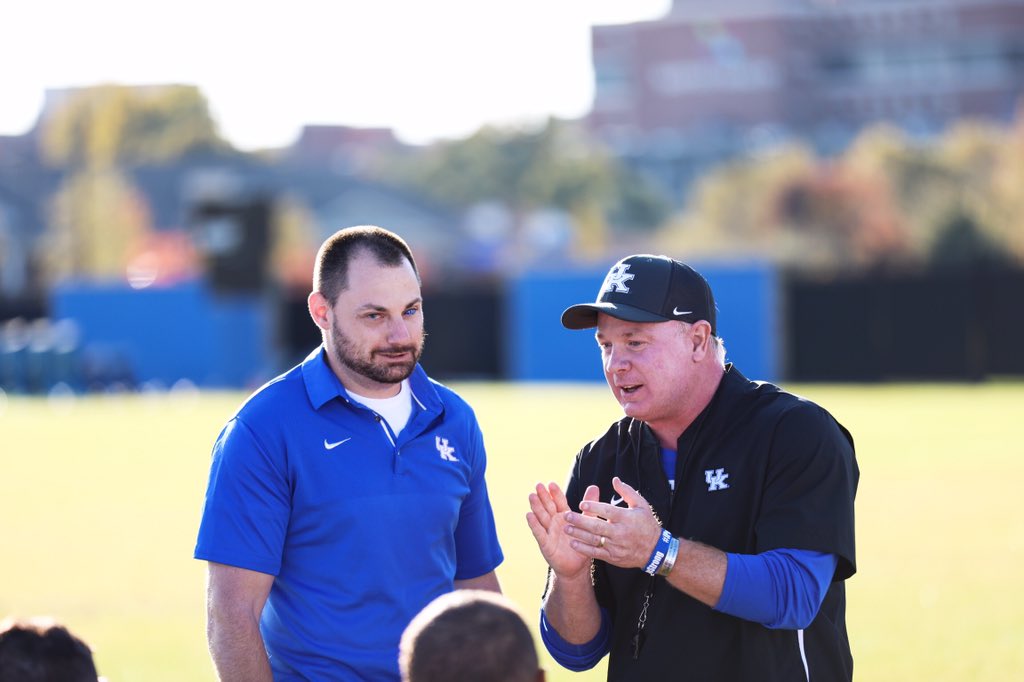 @UKCoachStoops
[/caption] Kentucky does not need to look far for inspiration ahead of Saturday's SEC East showdown against Georgia. Mark Stoops hosted a special guest after Monday's practice, Marine veteran Matthew Bradford.  The first double-amputee to ever re-enlist in military service, Kash Daniel took Matthew's message to heart. "Anytime we get somebody like Matt around us, it's great for our guys, it's great for our program," Daniel said.  "He's been through so much and has shown perseverance, heart, grit.  The first ever double-amputee to ever re-enlist with the military, that just speaks high volume of what kind of character that man has and what the United States military has taught him about mental toughness and being tough, no matter what comes your way." Kentucky's defense passed their test against Missouri's high-powered offense.  On Saturday they'll be tested by a balanced unit that was a few plays away from a National Championship. UK's middle linebacker was not at full strength against Mizzou.  Kash was forced to wear a protective club over his left hand.  It was a nuisance, to say the least. "Tackling was obviously a challenge.  As a tackler, it's different because you're used to wrapping up and I don't have the freedom of my wrist or fingers.  Roll tackling is gonna be huge this week." He's worked extra reps in practice to perfect his roll tackling form.  Kash will not let it be an excuse, thanks in part to the example Bradford has set. "When you look at what he's gone through, the guy literally re-enlisted after getting blown up by a land mine and the guy literally lost both of his limbs.  Some people are amazed I played with a surgically repaired hand.  That's nothing compared to what that guy did.  That's a scratch.  
That makes my injury look like a damn Disney film
.  For him to be able and go out and give his life almost, re-enlist and say, 'I wanna go back for some more,' it just shows that heart and that determination can't kill ya." https://www.youtube.com/watch?v=y3JMWgJEI-k
More from a Scary Defensive Practice
The Kentucky defense has been terrorizing opponents all season.  It only makes sense that the defense spoke to the media on Halloween. Mike Edwards was the man hiding behind the white mask.  Unfortunately, Tony Neely would not let the Badger start the interview until he removed his mask.
Josh Allen was not in costume, but don't let that fool you. "I'm the Boogeyman today, if you cannot tell," he said with a smirk. Kentucky's Boogeyman has raised hell in backfields all year.  Now he's made his mark in
Times Square
. His family couldn't believe what they saw online, so they went and saw it for themselves. "I'm from up that way.  I've got a lot of family in New Jersey.  
A lot of them took the trip to go see if it was true or not
.  I guess on Instagram it looks kind of fake or photoshopped.  They wanted to see if it was real.  They went up there, took a nice trip and sent me some pictures and videos.  They just thought it was really awesome." Almost as awesome as what's going to happen Saturday night.
A First Half of Teachable Moments
Kentucky's defense absolutely dominated Missouri in the second half, forcing the nation's No. 12 offense to go three-and-out eight straight times.  Mark Stoops said after the game he doesn't think he's ever seen anything like it in all of his years of coaching. The players felt good after the game, but were brought down to Earth in the meeting room on Monday.  All Matt House needed to do was play the first half film. "The second half we played well, but in the first half there's still a whole lot of stuff we have to clean up.  By the time you got through the first half, it was time to get out of meetings." Kash Daniel personally took responsibility for the 14 first half points after a pair of costly mistakes.
"Focusing on Us"
That message has been a focal point of the defense all season long.  It's not changing against Georgia. "Everybody knows what we're playing for, make history and go to the SEC Championship," Mike Edwards said.  "We're not trying to focus on the opponent.  We're trying to focus on us, play as best as we can and our game will take care of itself." https://www.youtube.com/watch?v=66p_wwuKvQw [mobile_ad]