May The 4th Be With You's Wednesday Morning Wakeup
Nerds, it is your day. It is "May The 4th Be With You" -- a play on words I respect, but not a holiday I celebrate. (I'm more of a Cinco De Mayo fan myself.) But for those of you who are down with the 
Star Wars 
stuff, get out there and slap your lightsabers together and ride your Millenium Falcolms in jubilation. Just leave some of Twitter for the rest of us today. Don't overdo it, please. May the 4th be with you.  
Charles Matthews is recovering from hip surgery.
We now know the "minor, outpatient surgery" Charles Matthews underwent last week, thanks to his mother, via the Cats Pause. Mama Matthews said it was a preventative measure and her son will fully recover within the next six weeks. "It was giving him problems during the season so we decided to go ahead and take a preventative measure," she told the Cats Pause. "We saw it coming and said, 'let's nip this in the bud.'"
Bill Clinton had the honor of meeting Tyler Ulis while in Lexington yesterday.
Our nation's 42nd President stopped by UK's Rupp Arena locker room yesterday after campaigning for his wife on campus. Clinton took time to pose with Tyler and James Ulis, as well as Devin Booker, Coach Cal and other members of the coaching staff.
Ted Cruz landed a vicious combo on his wife's face after bowing out of the Republican presidential race.
Sticking to politics for a moment, watch Ted Cruz go all Jon Bones Jones on his wife in Indiana last night.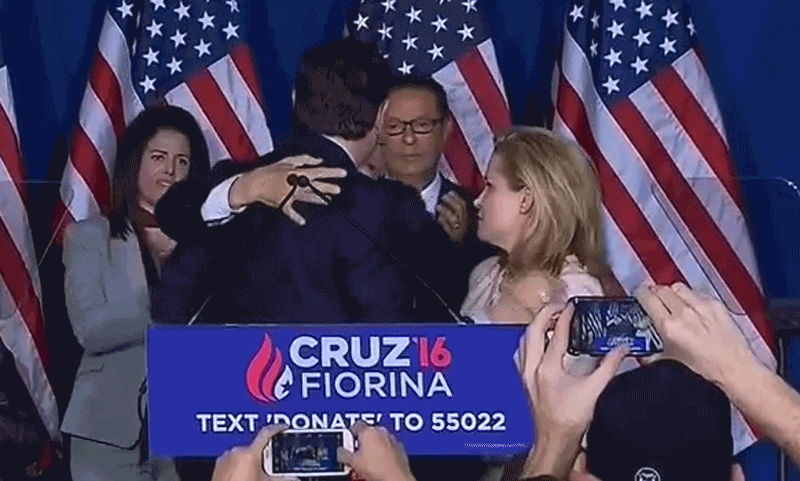 That pretty much sums his entire campaign up.
Forgive me: I was in Mexico without a phone for a week... But has Marques Bolden picked a school yet? 
It looks like Marques Bolden is still undecided, although recent scuttlebutt is trending in Kentucky's direction. Swaggy Cal is still in full pursuit even during the current quiet period, as seen in his bizarre weight room videos.
Mark Stoops ranked No. 56 among all Power Five college football coaches.
CBSSports.com is ranking all 65 head coaches of the Power Five football conferences, and Mark Stoops is toward the wrong end of that list, at No. 56. Here's what
the rankings
had to say about Kentucky's coach:
56. Mark Stoops, Kentucky (58): UK took a nice step forward in Stoops' second season, improving from two to five wins, but it remained at five wins last season. Can Stoops get this team to the next level?
The nine coaches behind him: Derek Mason, Vanderbilt; Mike MacIntyre, Colorado; Dave Clawson, Wake Forest; D.J. Durkin, Maryland; Tracy Claeys, Minnesota; Barry Odom, Missouri; Darrell Hazell, Purdue; Chris Ash, Rutgers; and David Beaty, Kansas. That puts Stoops at No. 12 in the conference, according to CBSSports.
Tune in to KSR radio in an hour...