Mid-Weekend SEC Football Update
College Football is back, and 13 of the 14 teams in the SEC are in action at some point this weekend, with Texas A&M's postponed game against Louisiana Tech being the only exception. SEC teams are 4-1 so far with the only loss being Vanderbilt's loss to conference rival South Carolina on Thursday. Let's see how the rest of the league is doing.
Thursday — #9 South Carolina 17, Vanderbilt 13 
Vanderbilt fought the Gamecocks down to the final minutes, hoping to make an impression on College Football's opening night, but ultimately, Marcus Lattimore and Connor Shaw were too much for the Commodores to handle in the end, grinding out the 4-point win. Lattimore, the Sophomore RB who is in every preseason Heisman candidate list, ran for 110 yards and 2 TD's, the last of which to give South Carolina their final score of 17 with 11:25 left in the game.
Friday — Tennessee 35, NC State 21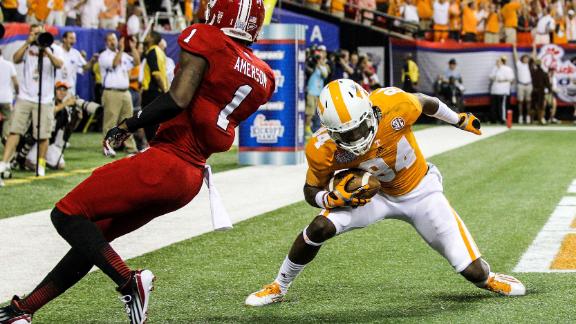 Tennessee kicked star receiver Da'rick Rogers off of the team very close to the season opener, but I'm glad that happened because now we get a chance to know that there is someone on this Earth named Cordarrelle. As in Cordarrelle Patterson, the 6-3 Junior College transfer led the Vols in receiving last night with 6 catches for 93 yards and a TD, to go along with 2 rushes for 72 yards and a TD.
Today — #6 Georgia 45, Buffalo 23
Georgia came into this game as 38-point favorites, and for a while struggled to pull away from the visiting Bulls. Georgia crawled out of the gate to a 24-16 lead, but blew the game open in the 2nd half behind the strong running of true freshman RB Todd Gurley. Gurley carried the ball 8 times for 100 yards and 2 TD's, and ran a kick off back 100 yards for a TD in the first quarter as well. Dark horse Heisman candidate Aaron Murray threw for 268 yards and 3 TD's as well.
Today — #23 Florida 27, Bowling Green 14
Florida dodged a bullet in this one, Bowling Green had them on the ropes for a lot of this game, and would have led outright if not for 2 missed FG's by the the Bowling Green kicker, and a crucial INT from the Falcons down by 3 in the 4th quarter. Jeff Driskel did a decent job replacing Jacoby Brissett early in the game, and RB Mike Gilislee ran for 148 yards on 24 carries to keep the Gators out of trouble.
Other SEC Games In Progress:
#3 LSU 14, North Texas 0 — 5:55 remaining in 1st Quarter
Auburn 7, #14 Clemson 3— 2:28 remaining in 1st Quarter
#10 Arkansas 0, Jacksonville State 0 — 12:15 remaining in 1st Quarter
Missouri 7, Southeast Louisiana 0 — 10:54 remaining in 1st Quarter
Ole Miss 7, Central Arkansas 0 — 10:40 remaining in 1st Quarter
Mississippi State 7, Jackson State 0 — 8:23 remaining in 1st Quarter
SEC Games To Come:
#2 Alabama vs. #8 Michigan — Tonight @ 8:00 PM, ABC
Kentucky vs. #25 Louisville — Tomorrow @ 3:30 PM, ESPN
Texas A&M vs. Louisiana Tech — Postponed due to Hurricane Isaac