Mitch Barnhart comments on NIL "frustrations" from Kentucky coaches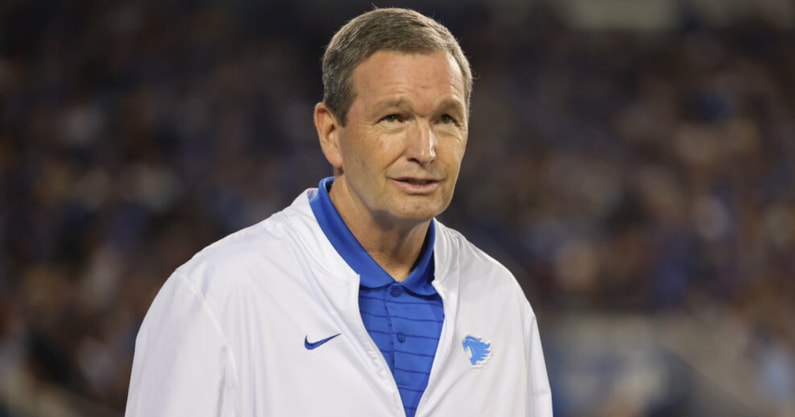 Paul Finebaum is acting as the Big Blue Nation's middle-man this week.
The popular ESPN commentator is down in Destin, FL for the annual SEC spring meetings, where he's brought several big-name guests onto the Paul Finebaum Show set. Kentucky Men's Basketball head coach John Calipari took the stage on Tuesday night to discuss a wide array of topics, including UK's status as the "gold standard", the team's early NCAA Tournament exit and what's to come for next season, and even the possibility of bringing back the Big Blue Madness campout.
On Wednesday for day two of the meetings in Destin, Finebaum hosted another important UK figure: athletic director Mitch Barnhart. The longtime AD had some interesting comments on the state of name, image, and likeness in college athletics, mentioning the "frustrations" that have been brought up by some Wildcat coaches, such as Calipari and head football coach Mark Stoops. Barnhart didn't mention them by name, but those two coaches have been vocal about a need for clarity in the new age of NIL.
Maggie Davis of BBN Tonight has the quotes from Barnhart's appearance.
"I think sometimes there have been frustrations of our coaches who want us to move a little quicker," Barnhart told Finebaum. "We've been cautious. We've tried to be steady in choppy waters.
"Take a breath every time you want to react. I've encouraged our staff to do that… That's hard to do in today's landscape because everything says go faster; get there first; make a quick decision. We have to think about the long-term pieces for what's good for college athletics."
Barnhart mentioning that Kentucky has to do "what's good for college athletics" might be the most notable point. Realistically, the school doesn't have a responsibility to do what's best for the state of college athletics as a whole. What it does have a responsibility for, however, is to do what is in the best interest of the university. But at the same time, Barnhart has earned some credibility when it comes to his long-term thinking.