Monday's Top 10: BBN's excitement, Stoops, basketball recruiting, and Lucille
[caption id="" align="alignnone" width="1200"]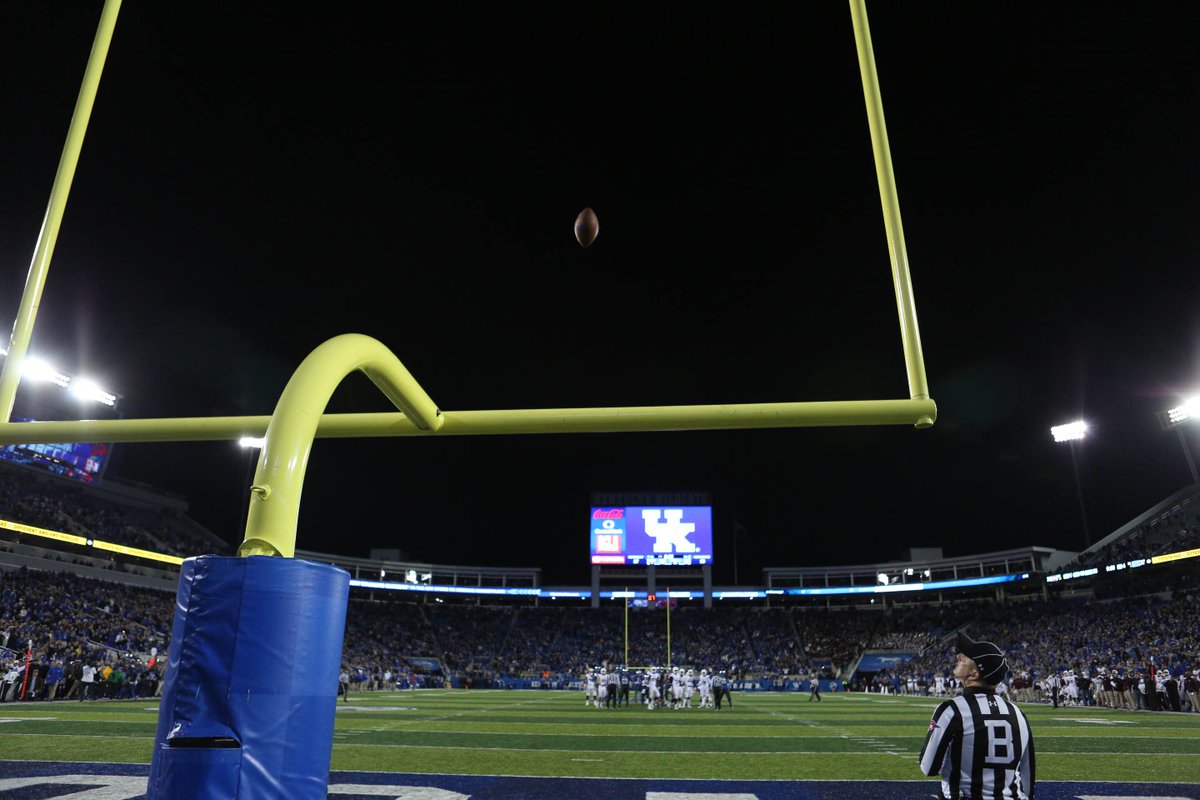 @UKFootball
[/caption] I don't know about you, but I still haven't calmed down from Saturday's big win. FINALLY, Kentucky was on the positive end of a close and wild football game. 99 times out of 100 that last field goal goes wide and we spend the week talking about the scoop-and-score, the poor clock management on the final drive, and Dorian Baker dropping another touchdown pass. But not this time! Austin MacGinnis kicked Kentucky's first game-winning field goal since 1998 and put his team at 3-2 in the SEC East for the first time since 1999. Dan Mullen finally went down!
1. We were all Mark Stoops after the game.
Arms in the air. Smiling. Relieved. Cats won.
2. Mark Stoops will hold his weekly press conference today at noon.
As he does each Monday during the season, Mark Stoops will hold a press conference today to look back on the last game and ahead to the next. Tune in here at noon to see if he is still smiling from the big win that has Kentucky in contention in the East.
3. Important injury updates today
Before Stoops takes the podium for his Monday presser, UK will release this week's pre-Missouri depth chart. That will give us a little bit of an idea on the status of several banged up Wildcats from the last game.
4. Missouri is a 4.5 point favorite and that has my attention.
I don't like to bet on the Cats, but consider me very interested in the UK money line again this week. It was pretty good to me when I decided at the very last minute (notice when I placed the bet) to take the win over Mississippi State. I'll admit that I regretted the impulse bet as soon as it went through, but as John Calipari and Young Jeezy each once said, "Scared money don't make no money."
Might have to run that one back with Mizzou giving up points to the second-place team in the East.
5. ESPN still projecting Kentucky to go bowling.
Not everyone thinks Kentucky will win two more games to reach postseason play, but ESPN's Brett McMurphy and Mark Schlabach are both predicting there will be a 13th game on UK's 2016 season schedule. In
their latest bowl projections
, McMurphy has Kentucky meeting Temple in the Birmingham Bowl on Dec. 29, and Schlabach foresees a Liberty Bowl appearance against TCU on Dec. 30. They each had Kentucky bowling prior to Saturday's win, so they were high on the Cats before MacGinnis' game-winning bomb.
6. Jarred Vanderbilt enjoyed his visit to Kentucky.
The five-star forward out of Texas took his official visit to UK for Friday night's Blue-White game and the weekend that followed. It was a "great" time, he tweeted Sunday evening: https://twitter.com/JVando_/status/790334890361315328 Last week, 247Sports' Jerry Meyer predicted Vanderbilt will ultimately pick Kentucky in the end.
7. Kansas showed Trae Young a good time.
While John Calipari had one of the best forwards in the class on campus, Kansas brought in Calipari's top point guard target, Trae Young, for his official visit. Following the trip to Lawrence, Young
told TheShiver.com
, "It was crazy. I loved it... It was a great visit." Young has now taken all of his official visits and he'll begin the process of making the decision, although he plans to hold off until the spring to make anything final.
8. Mitch Barnhart and Nick Mingione to discuss UK's new baseball stadium in Monday press conference.
On Friday we learned the University of Kentucky got the thumbs up to begin construction on its $49 million baseball stadium, and today we'll hear more details on the project from the mouths of the athletic director and the head coach. Barnhart and Mingione are scheduled to discuss the new ballpark in a 12:30 press conference today.
9. Any The Walking Dead fans out there?
Last night's season opener was intense, huh? It had all the drama, excitement and heartbreak of the Cardinals-Seahawks game on 
Sunday Night Football. 
What a great night for television.
10. Lots of good stuff on the site this week.
Tonight we'll have Mrs. Tyler's full recap of the women's clinic, which looked like a hell of a time. Then on Tuesday I'll give you the photos from the first ever KSR Halloween Costume Contest, plus we'll look ahead to Missouri with several game and team previews, and there's a basketball game coming up, too. Matt and Ryan will kick off the big week with Monday's edition of KSR radio. I took the morning off from radio to recover from yesterday's backyard football game.
I think I have a separated shoulder from attempting to be Jordan Jones.