Music City, Liberty emerge as bowl favorites for Kentucky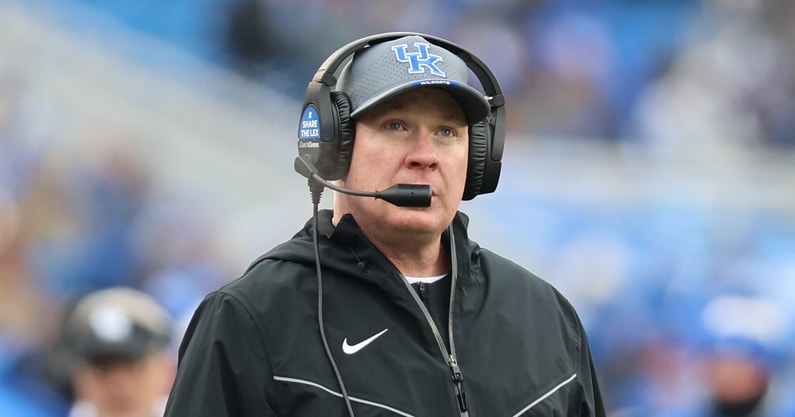 Barring a major upset in the SEC Championship game between No. 1 Georgia and No. 14 LSU on Saturday (4:00 p.m. ET, CBS), it appears Kentucky is headed to Tennessee for bowl season.
Two clear options have emerged for the Wildcats leading up to selection Sunday, with KSR's Matt Jones reporting that it will be either the Music City Bowl in Nashville or Liberty Bowl in Memphis. Again, that's assuming the Tigers don't shake things up with an upset over the Bulldogs tomorrow afternoon.
On paper, Music City is a bit of a predicament for the Wildcats, as that matchup is at the exact same time as Kentucky's home basketball game vs. Louisville on New Year's Eve (12 p.m. ET). According to Jones, though, UK may actually favor Nashville even through the scheduling conflict, assuming it is out of the TaxSlayer Gator Bowl.
The issues are more opponent-based than anything, he added.
As for the Liberty Bowl, that matchup is set to take place on the Wednesday after Christmas on Dec. 28 against a Big 12 foe. It's on the table. The Las Vegas Bowl (Dec. 17) is in a primetime window and attractive on the surface, but takes place the weekend before National Signing Day, an obvious turn-off for teams in the Pool of Six. The TaxAct Texas Bowl remains, as well — another Big 12 matchup — but doesn't make sense for the Wildcats geographically in Houston. What about the Gator Bowl? The latest projections have Mississippi State heading to Jacksonville (Kentucky has the head-to-head, but 8-4 is 8-4). Then there's the best of the bunch, the ReliaQuest Bowl in Tampa — formerly known as the Outback Bowl — but UK's late-season struggles likely killed that dream. May be forced to watch Shane Beamer soaking up the sun down there instead.
What does it all mean for the Cats? Looking at the latest national bowl projections and matchups, Nashville appears to be the likely spot, potentially against Illinois.
Kentucky fans may have a dilemma on their hands: basketball vs. Louisville or football in Nashville? Better start preparing for the very real possibility.