National Signing Day and More UK Football Notes
Mark Stoops took full advantage of the inaugural December Signing Period by inking 20 Wildcats. By doing so, the UK head coach and his ace recruiter Vince Marrow were afforded the luxury of condensing their staff's efforts on key positions and or players to complete the Class of 2018. NSD is on Wednesday. UK, like most programs with slots to fill, may have a few tricks up their Nike cladded sleeves.
The Commitments
Kentucky has received commitments from offensive tackle Nick Lewis and WR LiAllen Dailey since the early signing period. This brings the Class of 2018's total to 22. [caption id="" align="alignnone" width="1200"]
@_nicklewis_
[/caption]
Offensive Tackle Nick Lewis
Measurables: 6'9, 348-pounds (Per 247Sports)
Hometown: Jacksonville, Florida
High School: The Bolles School
Chose UK Over: Was committed to Washington State. Had over 20 FBS offers.
Lewis comes from the same high school as former UK commit and current Alabama quarterback Mac Jones. 247Sports ranks Lewis as the 53
rd
OT in the class. I trust and value Mike Leach's ability to identify pass blockers. Lewis adds a final piece of Kentucky's best offensive line haul in the Mark Stoops era. [caption id="attachment_236488" align="alignnone" width="3125"] Trussville Tribune
[/caption]
Wide Receiver LiAllen Dailey
Measurables: 6'3, 196-pounds
Hometown: Pinson, Alabama
High School: Pinson Valley HS
Chose UK Over: Louisville
Dailey is a 1
st
Team All-State (6A) Alabama wide receiver with 80 receptions, 1441-yards, and 23 TD catches on 6A state championship team. Considered a late-bloomer. Dailey's 1,441 single season receiving yards also ranks among the state's top-10 single seasons in AHSAA history. Kentucky sorely missed an explosive play WR in 2017. Yards after catch dropped from 2016. Dailey will have a chance to compete for early playing time.
The Hopefuls
[caption id="attachment_235899" align="alignnone" width="518"]
Wetumpka Herald
[/caption]
Running Back Kavosiey Smoke 
Measurables: 6'0, 215-pounds
Hometown: Wetumpka, Alabama
High School: Wetumpka HS
Smoke visited UK on January 26. His physical running style coupled with deceptive top-end speed match Kentucky's preference in running back style. North Carolina, South Carolina, and Florida Atlantic are also in hot pursuit for Smoke's services. He helped lead Wetumpka to the 6A state championship game against LiAllen Dailey's Pinson Valley. Both Carolina programs may want him; Kentucky needs Kavosiey Smoke. There's a huge difference in need and want. [caption id="" align="alignnone" width="399"]
@ChristopherOats[/caption]
Linebacker Chris Oats
Measurables: 6'4, 215-pounds
Hometown: Cincinnati, Ohio
High School: Winton Woods HS
Frequent Xavier Peters and Chris Oats compare and contrast articles have been written by recruiting services and other media outlets. Per 247Sports, Oats is the only one of the two to hold offers from both Ohio State and Michigan. Those two program's official interest in Ohio prospects is the measuring stick that Ohio players are measured by through the evaluation period. Oats led his team to the Ohio Division II state title game. Winton Woods HS also produced Kentucky's All SEC safety Mike Edwards. You can read my thoughts on his projected development here:
Prospective Wildcat Compares
to NFL Linebacker
Mark Stoops Completes His Coaching Staff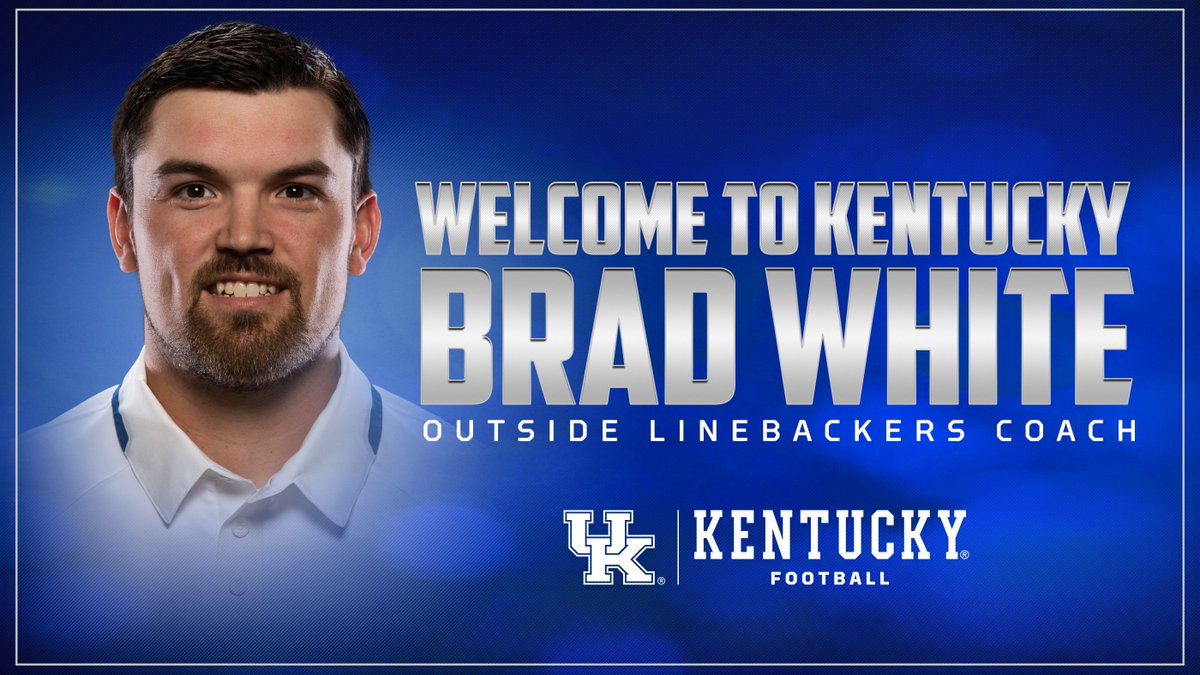 Excerpts from UK's official release after White's hiring:
"My wife and I are really excited and grateful to Coach Stoops for the opportunity to join the Kentucky family," White said. "Kentucky is a program on the rise. I've been very impressed with how Coach Stoops is building this team. I'm especially impressed with the linebackers. They are a diverse group with rising seniors and talented young players all showing they can be successful in the SEC. I'm eager to get started." Stoops confirmed that White will take over the outside linebackers, freeing up special teams coordinator Dean Hood to help Steve Clinkscale in the secondary. "When I talked to Brad, he impressed me with his expertise, his NFL experience and what a very, very good technician he is," said Stoops, who did not know White prior to the hiring search. "Brad came highly recommended from people I know at Indianapolis. In addition to his knowledge of coaching linebackers, he has 'big picture' expertise. "I'm also excited about hiring Brad because it will enable us to move Coach (Dean) Hood to the secondary, where he will assist Coach Clink (Steve Clinkscale). Dean has been a defensive backs coach for most of his career."
What This Means
-- 
White's NFL experience coaching outside linebackers will only augment the games of two future professionals-Josh Allen and Denzil Ware. Plus, UK has recruited this position at a high level. White will also greatly help Josh Paschal, Jordan Wright, and other younger players. -- Historically, Kentucky has been a linebacker developmental program. White's NFL experience and coaching competence only enhances that status. -- He coached at the Air Force Academy. White was instrumental in the development of Falcon linebackers Jordan Waiwaiole and Brady Amack, who were each first-year starters in 2010. Waiwaiole led the team in tackles with 96 in 2010, while Amack led the team with 136 in 2011. The Falcons advanced to post-season play in both 2010 and 2011, defeating Georgia Tech in the 2010 Independence Bowl and falling to Toledo on the 2011 Military Bowl. -- As you could have predicted; I highly approve of coaches that have worked at a military academy. -- This move frees up Coach Dean Hood to move from outside linebackers to the secondary. The manner in which position coaches are measured is the year-to-year improvement of assigned players. UK's OLB's were noticeably better under Hood's tutelage in 2017. The Wildcat secondary struggled a year ago. I expect the same leap from the senior laden group in 2017. Hood's move alone could impact the W/L column. Stay tuned for a heavy-football week on Kentucky Sports Radio Dot Com. [mobile_ad]