BBNBA: Fox & Monk duel it out, Herro almost records triple-double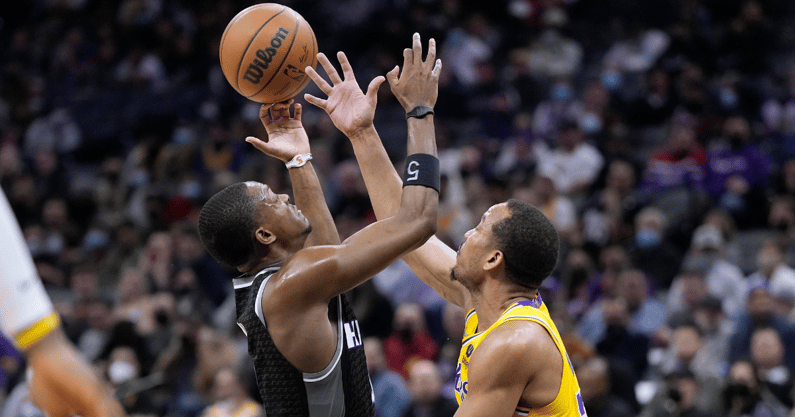 Active night of NBA hoops from this Wednesday. Some former recent Kentucky guards balled out yesterday evening. Let's discuss.
Fox outduels Monk and the Lakers
For all the hoopla regarding the Lakers' struggles thus far, LA was quietly one of the hottest teams in the NBA heading into last night's California Clash. They had won four straight and jumped back above .500 before losing to the Grizzlies on Sunday and the Kings last night to fall back to an even 21-21 at the midway point of the year.
The duo spearheading the Lakers' recent push was LeBron James (of course) and Malik Monk, the two leaders in the NBA in effective field goal percentage since Christmas.
In fact, this very website had a deep-dive on Monk's recent run go up last night, which I'd advise you to check out. I'll save most of the Monk stuff since it's all in the feature from yesterday, but he maintained his momentum on the court with 22 points and six made threes as he and LeBron were the only starters to reach double figures.
Meanwhile, Sacramento desperately needed a win vs. LA and got it, thanks to De'Aaron Fox's excellent performance and a late game-clinching three by Chemezie Metu.
Fox finished with 29 points to help snap a five-game losing streak that tanked Sacramento in the playoff race. If they want to get back on track, more results like last night's are necessary and 29-point outings from Fox wouldn't hurt either.
Herro nearly records triple-double
It's an odd formula down in Miami Beach with possible NBA All-Star Tyler Herro coming off the bench while Omer Yurtseven and Mak Strus start. But it sure is working.
Miami's top two players have been sidelined for some time now as Bam Adebayo and Jimmy Butler are dealing with injuries. Herro and others have picked up the slack, though, and the Heat won their third in a row last night to advance to the three-seed in the East.
Herro was stellar off the bench yet again and is looking like the favorite to add a Sixth Man of the Year trophy to his resume in 2022. He scored 21 points off the pine vs. Atlanta yesterday and rounded his performance out with nine rebounds and 11 assists.
Knicks Pummel Mavericks
The storied Knicks defenses from the 1970s reincarnated themselves in the 2021-22 group last night. Luka Doncic and the high-powered Dallas offense were thwarted in the Garden as the Knicks held the Mavericks to just 85 points, their lowest scoring output since before Halloween.
For New York, RJ Barrett notched 32 to lead in scoring while Julius Randle served as his sidekick, scoring 17 and grabbing 12 rebounds while dishing out eight assists. A near-triple-double for the big man as well.
Kevin Knox played just one minute and missed a shot attempt in what he probably didn't know would be his final game as a Knick. That's right, Knox's time in the Concrete Jungle is finished.
Earlier today, ESPN's Adrian Wojnarowski broke the news that Knox would be traded to the Atlanta Hawks as part of a deal to re-unite Cam Reddish with Barrett in New York.
Sad story that the Kentucky Knicks are losing their original member, but it's a fresh and exciting opportunity for Knox. He never seemed to find his footing in New York and a new start in a smaller market hopefully means less pressure and a little more opportunity for the fourth-year forward. Happy trails, Kev, and cheers to a bright future in Catlanta.
Other NBA Notes
Hornets snap 16-game losing streak. Not a 16-game skid during 2021-22 season, but a losing streak of that length to the Philadelphia 76ers. Embiid and the Sixers owned the Hornets as of late but finally fell to them at home last night. The loss was sour news, but it was good to see Tyrese Maxey return to the lineup after missing the last two weeks. He shook off any rust pretty quickly and wound up leading the team in minutes in the loss.
Johnson demoted to Spurs bench, but scores 18. He's normally a starter, but yesterday Keldon Johnson came off the bench Tyler Herro style, scoring 18 points while shooting the ball efficiently. San Antonio fell to putrid Houston and perhaps that'll be lesson enough for Popovich to put Johnson back in with the starters.
Statistics
Player
Result
Points
FG(3PA)
Rebounds
Assists
Steals
Blocks
Turnovers
Minutes
+/-
De'Aaron Fox (SAC)
125-116 W vs. LAL
29
11-21
(0-2)
4
4
0
0
3
37
+7
Malik Monk (LAL)
125-116 L @ SAC
22
7-13
(6-9)
7
3
0
2
2
29
-14
Tyler Herro (MIA)
115-91 W @ ATL
21
9-19
(1-6)
9
11
0
1
2
36
+18
Keldon Johnson (SAS)
128-124 L vs. HOU
18
7-13
(2-4)
5
1
0
0
0
24
+1
Julius Randle (NYK)
108-85 W vs. DAL
17
6-17
(1-3)
12
8
0
0
5
37
+29
Tyrese Maxey (PHI)
109-98 L vs. CHA
10
4-13
(2-4)
3
3
0
0
0
38
-16
Nerlens Noel (NYK)
108-85 W vs. DAL
4
2-4
(0-1)
6
0
1
2
0
21
+2
Isaiah Jackson (IND)
119-100 L vs. BOS
3
1-1
(0-0)
2
0
0
1
0
5
+3
Immanuel Quickley (NYK)
108-85 W vs. DAL
2
1-7
(0-2)
2
3
0
0
0
14
-4
PJ Washington (CHA)
109-98 W @ PHI
2
`1-6
(0-4)
8
2
1
1
2
19
0
Kevin Knox (NYK)
108-85 W vs. DAL
0
0-1
(0-1)
1
0
0
0
0
1
-1
Enes Freedom (BOS)
119-100 W @ IND
0
0-0
(0-0)
3
0
0
0
0
7
+5
Nick Richards (CHA)
109-98 W @ PHI
DNP – CD
–
–
–
–
–
–
–
–
Rajon Rondo (CLE)
111-91 W @ UTA
DNP – Hamstring
–
–
–
–
–
–
–
–
Today in the NBA
7:30 p.m. (TNT) Warriors @ Bucks
8:00 p.m. Timberwolves (Vanderbilt, Towns) @ Grizzlies
8:00 p.m. Clippers (Bledsoe, Boston, Gabriel) @ Pelicans
8:30 p.m. Thunder (Gilgeous-Alexander) @ Nets
10:00 p.m. (TNT) Trail Blazers @ Nuggets (Murray*, Cousins)
* — Inactive