BBNBA: Knicks hang on in ex-Cat showcase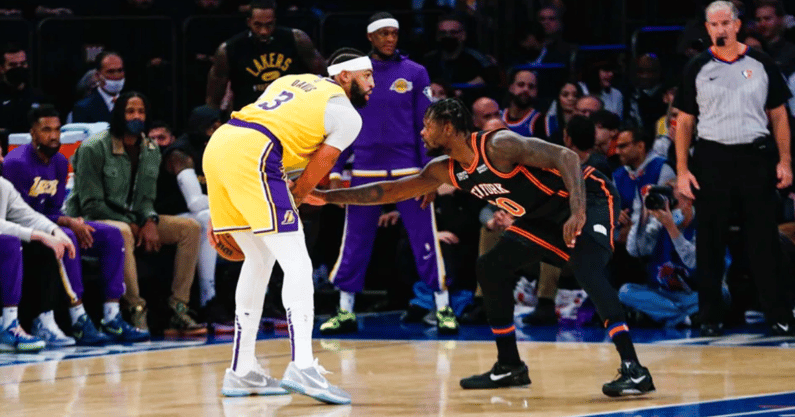 It's feast week in college basketball, but the NBA is doing its part to provide plenty of tasty matchups of its own — especially if you count Gonzaga, which is essentially an NBA team at this point.
Last night, those that switched off the Zags-UCLA bloodbath were treated to a marquee matchup between the Knicks in Lakers, featuring a bevy of former 'Cats. With another short slate of games on Tuesday, where else would we start?
Knicks jump out early, hold off Lakers push
Between the L.A. Lakers and the New York Knicks, a total of seven former UK players were dressed and ready for last night's tilt in Madison Square Garden. Barring some crazy trades (or the Heat convincing Pat Riley to suit up one night), that's the most we'll see in one game all year. Even with Kevin Knox and Rajon Rondo banished to benchwarmer status, it led to some fun moments like this:
However, the Lakers side of this equation was nearly left without its ace. Reportedly, Anthony Davis woke up Tuesday with flu-like symptoms, putting his status for the primetime clash in jeopardy. With the team already missing LeBron James (one-game suspension for assault & battery on Isaiah Stewart), some of the air started to slip out of the Laker balloon.
In the end, Davis would play — despite arriving just 45 minutes before gametime — and put up 20 points in 34 minutes. He was enough of his usual self to still put the fear of God into Julius Randle, Nerlens Noel and the Knicks a time or two:
However, Davis' punch was not enough to keep the Lakers in the game for much of the night. New York jumped out to a huge 25-point lead early, led by a 14-point, 11-rebound first-half double-double by Randle. The game had the makings of a blowout Knicks win and another huge night for the reigning MIP, who's averaging a monster 20 & 10 this year.
But the Lakers still had some steam, as they stormed back to tie the game late in the third quarter. Things got even dicier when Randle went to bench with five fouls just three minutes into the fourth. With the Knicks lead standing at six, they would have hold off the charging Lakers without their best player.
Enter Immanuel Quickley. Rocking a new headband and Tyrese Maxey-esque hairdo, IQ stepped on their throats from deep at the best possible moment:
Quickley would go on to score 12 of his 14 points in the fourth quarter, all on three-pointers, to close out a 106-100 Knicks win. Suffice it to say, the young man stepped up.
Randle ended his night with 20 points and 16 boards, while Noel added four, seven and three steals for the winning team. On the other side, Davis' 20 was supported by 12 points from Malik Monk and a Russell Westbrook triple-double. Full highlights below, for those interested in that sort of thing.
Herro's 31 powers Heat in Detroit
While the above game stole the headlines (which, admittedly, I wrote), another excellent showdown between former 'Cats went down last night at Little Caesar's arena in Detroit. It was Bam Adebayo and Tyler Herro facing off against Trey Lyles and Hamidou Diallo, with the winner taking… I don't know, maybe a year's supply of Crazy Bread? That feels right. Anyway…
Much like the Lakers, Miami trailed this one for much of the night. Perhaps motivated by Sunday's LeBron fiasco, the Pistons held a nine-point lead entering the fourth quarter. Then Herro happened.
The Boy Wonder put on a show in this one, dropping 14 fourth-quarter points and leading a 27-6 run that put the Heat in control en route to a 100-92 victory. He finished with 31 points and eight rebounds, the second time this season that Herro has scored 30+ off the bench — that's a first in Heat history. Did someone say sixth man of the year?
Elsewhere, Adebayo ended the game with 15 points, nine rebounds and five assists, narrowly missing his ninth double-double. For Detroit, Diallo reached double figures for the third straight game with 10 points on an efficient 5-7 off the bench. Lyles finished with six.
Miami is back in action at 8:00 tonight against Karl-Anthony Towns and the Timberwolves.
League News:
Here are the full 'Cat stats from the four games last night:
Player
Result
Points
FG (3PA)
Rebounds
Assists
Steals
Blocks
TOs
Mins
+/-
Tyler Herro (MIA)
100-92 W @ DET
31
12-21
(4-8)
8
3
0
0
3
33
+15
Anthony Davis (LAL)
100-106 L @ NYK
20
7-17
(1-2)
6
3
0
0
0
34
+8
Julius Randle (NYK)
106-100 W vs. LAL
20
7-17
(1-5)
16
5
1
0
4
34
-2
Bam Adebayo (MIA)
100-92 W @ DET
15
6-10
(0-0)
9
5
1
0
2
31
-6
Immanuel Quickley (NYK)
106-100 W vs. LAL
14
4-9
(4-8)
3
3
0
0
2
22
+4
Malik Monk (LAL)
100-106 L @ NYK
12
5-14 (1-7)
4
4
2
1
0
31
+2
Hamidou Diallo (DET)
92-100 L vs. MIA
10
5-7 (0-1)
2
1
0
1
1
15
-10
Trey Lyles (DET)
92-100 L vs. MIA
6
2-4 (0-0)
9
0
0
0
0
25
+1
Nerlens Noel (NYK)
106-100 W vs. LAL
4
2-7 (0-0)
7
1
3
2
0
39
-1
Eric Bledsoe (LAC)
104-112 L vs. DAL
2
1-2 (0-1)
4
1
1
0
2
24
-3
Willie Cauley-Stein (DAL)
112-104 W @ LAC
2
1-4 (0-0)
2
1
1
0
0
17
+0
Brandon Boston Jr. (LAC)
104-112 L vs. DAL
DNP – Coach's decision
—
—
—
—
—
—
—
—
Kevin Knox (NYK)
106-100 W vs. LAL
DNP – Coach's decision
—
—
—
—
—
—
—
—
Rajon Rondo (LAL)
100-106 L @ NYK
DNP – Coach's decision
—
—
—
—
—
—
—
—
Jamal Murray (DEN)
100-119 L @ POR
DNP – ACL rehab
—
—
—
—
—
—
—
—
Today in the NBA:
7:00 – Suns (Booker) @ Cavaliers
7:00 – Lakers (Davis, Monk, Rondo) @ Pacers (Jackson*)
7:00 – Hornets (Washington, Richards) @ Magic (Mulder)
7:30 (ESPN) – Nets @ Celtics (Kanter)
8:00 – Bulls @ Rockets (Wall*)
8:00 – Raptors @ Grizzlies
8:00 – Pistons (Diallo, Lyles) @ Bucks
8:00 – Heat (Adebayo, Herro) @ Timberwolves (KAT, Vanderbilt)
8:00 – Wizards @ Pelicans
8:00 – Jazz @ Thunder (Gilgeous-Alexander)
8:30 – Hawks @ Spurs (Johnson)
10:00 (ESPN) – 76ers (Maxey) @ Warriors
10:00 – Trail Blazers @ Kings (Fox)
* – inactive